Stromthusiast!
Join Date: Jul 2009
Location: Seattle
Posts: 44
Looking for a good full face helmet that doesn't yank at my ears or eyes
---
All right everyone, so I recently made a post asking for recommendations on flip-up helmets. It sounds like a Nolan or a Shoei Multitec/Hornet are the winners.

I didn't mean at all to start a flip-up safety debate. I fully understand flip-ups are a fundamental compromise over full face helmets. You guys have me spooked and so now maybe I'll go with a FF (already have one, looking for a better one)

I got a Scorpion EX400 because, regardless of price, it fit my head the best. I had an experienced salesman with 20 years on him helping me find a fit and I wasn't even looking at cost. Fit is important to me because I once wore the previous owner's helmet (it matched my Katana 750's color) and I didn't know about the importance of fit. It was perhaps one size bigger than I needed and back then I was young and stupid and liked how comfy it was (of course it was comfy, it didn't fit!). That helmet managed to fly off in a crash! I think the chin strap was too loose when I put it on and that, combined with the extra room, somehow made the chinstrap clear my face. It made my teeth chomp down and luckily I didn't bite off my tongue, but my bottom for teeth did shatter a bit. I was spitting out chunks of tooth. I still have the original teeth in my mouthand they're fine. They're just maybe 1/16th of an inch shorter than they would be, which screwed up my bite for a while until my molars wore back into place. Yes, I saw a dentist and he reshaped the bottom teeth, but the fillings eventually would chip off and I had to keep getting partial crowns like every 6 months until I just gave up on it and let my molars re-seat.

After a year with my Scorpion, which I've been mostly happy with, I'm looking to upgrade. My issue is that when I remove my helmet I have to really pull on the straps to get the padding to not pull at my ears. This makes the helmet rotate forward and the very edges of the padding by the chin bar brush against my eyelids every time. I worry that as the years tick by, my eyelids are going to get more of a workout than they should.

Some might say "go to a shop and just try on helmet until you find one that doesn't have this issue". But I argue that you can't truly know how a helmet fits until you've lived with it for many miles. What I'm hoping is that someone had a similar issue and found a helmet that solved it -- thus giving me a roadmap for my next helmet purchase.

I've spent some miles with my friend's Shoei RF1000 and it seems as if the padding isn't as extensive as it is on my Scorpion -- yet it passes all the fitment tests that would make it safe in a crash (i.e. doesn't fall below my eyebrow on downward rotation, doesn't pull past my cheeks side to side, etc.) The padding on my Scorpion hugs my cheeks down to my jawline. The Shoei only felt like it was touching half as much of my face. So maybe I already know my next helmet, but I thought I'd throw it out to the collective wisdom of the board. Thanks!
---
Last edited by OompaLoompa; 10-04-2009 at

07:16 AM

.
Arai has removable cheek pieces that can be fit to you.

I replaced an RF1000 with an Arai Vector and it's an excellent helmet.

Now all you have to do is sort out the Snell M2005 versus Snell M2010 debate.....
---
2005 DL650 (sold) | 2009 DL650A (sold) | 2008 Tiger 1050 ABS | 2012 WR250R | 2008 CRF100F
Quote:
Now all you have to do is sort out the Snell M2005 versus Snell M2010 debate.....
LOL There is no end, is there? The next thread can debate color choice - I'm a white-only kind of guy. :boxing_smiley:
---
1985 Honda CB450SC (AUG04 - SEP09)
2004 Honda CN250 Helix (NOV09 - )
2006 Suzuki DL650 (MAR07 - APR15)
2014 BMW R1200GSW (APR14 - )
Lordsmoke, still refusing to obey the voices!
I've tried on many helmets, and most of them tug at my ears. That doesn't necessarily mean that what fits me well will fit you well, obviously, but I wear an Arai Vector. It really, really, really fits me well. As in: I forget I'm wearing it. I've worn it for 10 hours at a clip and even after that much time it still didn't feel like I was wearing a helmet at all.

Expensive, but worth it, IMO.

Also, I don't know if it's a function of Arai or the dealer from which I bought it, but I've had repairs done to the visor mechanism, while I wait, for free.
Most major brands of helmet have removable interior padding, at least in their better helmets. For a nominal fee (usually $20-30), you can buy a replacement set in another size. For most helmets, there are only one or two shell sizes, and the padding is the only difference between the "sizes." For example, HJC helemts have two shell sizes: XS-M use the small shell, and L-XXXL use the large shell. The only difference between a L and a XXXL is the thickness of the padding. Sometimes your best fit will come through playing mix and match with the padding sizes. You might wear a large helmet with large cheek pads and XL liner. Remember, the "larger" the helmet size, the thinner the padding will be, and vice versa. If you can find a helmet store that stocks the padding sets on hand, they will probably let you do some in-store experimentation to find the best combination.
OompaLoompa; There is a Scorpion Modular helmet that has air bladders between the cheek pads and the shell. This allows you to buy one that comes off without retaining your ears, but when on can be pumped up to snug by pushing on a spot in the collar at the back. There is a small release valve to let the pressure out before you take it off. You can distinguish them by touch with no gloves on. This feature addresses the fact that most padding collapses with age too.
Perhaps they make a full face the same way.
http://issuu.com/scorpion/docs/scorp...AA3C52356A902C
They do! Click on page 8-9 at the bottom.
---
ADVENTURE, like beauty, is in the eye of the beholder.
The destination, can be the journey! Honest Bob
---
Last edited by honest bob; 10-04-2009 at

10:31 AM

. Reason: add text & link
As I touched on in that modular thread, for full face helmets the Shoei Hornet would likely be the choice for me, because like you, I want a helmet that fits, regardless of price, and I found that the hornet fit overall very much like the Multitec modular I've used for 3 years now. (Heck, helmets are insurance policies, and if one runs a helmet for 5 seasons, that's cheap insurance over that period.) But as you stated, you are looking for a helmet that doesn't tear your head parts from their mountings. I found the Hornet went on/off fairly well without tugging at my ears and such, although I can't put it on while wearing my glasses like I can with the Multitec. Putting the glasses on after the helmet was on worked pretty well (it's got slotted padding), and I've got some evil hooks on my bows of my glasses. Of course pulling the sides of the helmet outward when putting it on/off helps, too. What I really liked about the Hornet is the MX style chin bar that protrudes farther forward than the typical full face street helmets, giving some very helpful (for me) chin room inside the helmet, giving essentially a larger "face box" portion of the helmet fit. And the sun visor would be a real plus for me, too. If this helmet strikes your fancy, and it fits, you might want to do some research- I'm recalling, if I'm correct, some users reporting that the relatively large size of the shield may have a tendency to flex a bit in strong headwinds/high speeds. But research that for yourself, I don't know if it's an issue or not.
---
Steve.
Twin Cities, MN, USA
'18 DL650XT, previously '07 DL650 and others
"With the rights of life, liberty, and the pursuit happiness comes responsibility, to yourself and others. With responsibility comes accountability. Without responsibility, without accountability, we cannot and will not be a free and civilized society."
-Me, Steve T.
Another "I got this and I love it" story.
Motorcycle Superstore blowout of the little known Italian made race helmet; Vemar VSREV, great helmet, fits me well, great visibility.
http://www.youtube.com/watch?v=47LCLoidJh4
---
06 DL650
00 XR650R Plated.
I have the EXO 400 and am mostly happy. The summer venting lacks a bit, and after wearing it all day my head would ache slightly. I just upgraded to a Shoei Hornet DS in August and am very pleased with overall comfort. I love the weight, shield size, venting and overall looks. The large fits my head just right (XL for the EXO 400), with no aches after wearing all day long. There is a bit more noise, and shade will catch a bit of wind if I turn my head side to side, but all within tolerable ranges. I was able to find a dealer that had one in stock for me to try on. Slightly more comfortable getting on and off than the 400 but of course we're all built different. Hopefully you can try some different selections. Good luck.
---
09 Wee with stuff
09 DR 650
---
Last edited by Indyrider; 10-04-2009 at

02:14 PM

.
Arai XD3 ... Love it!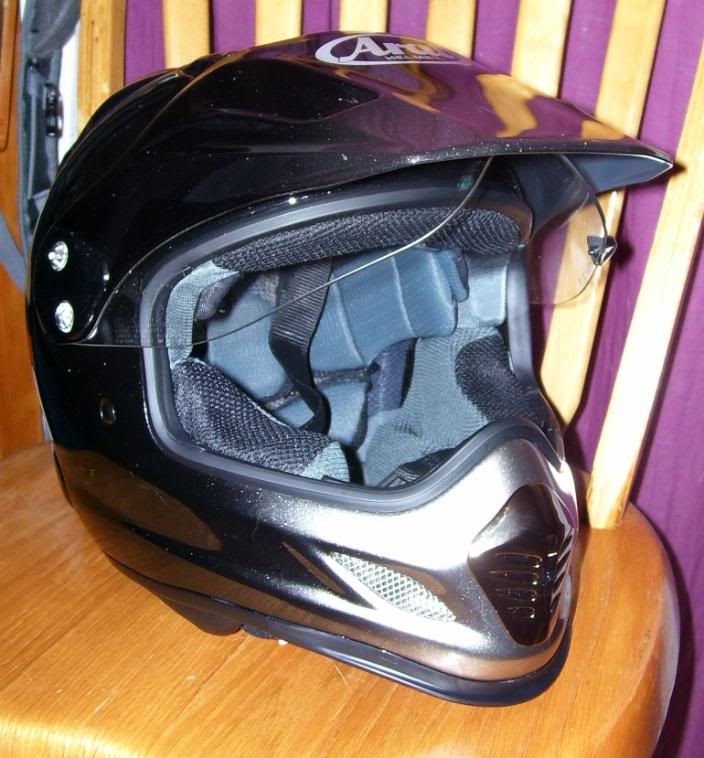 With the "emergency removable cheek pads" pull the tabs and the cheak pads come out even with the helmet being worn. (for emergency personnel's easy removal in event of accident)
---
Nothing is more destructive of respect for the government and the law of the land than passing laws which cannot be enforced.
Albert Einstein

14 DL 1000
15 Capo