Tiger Stripped My Wee
---
So I removed all the stickers last night and tiger stripped my new wee. Let me know what you think. I think it turned out pretty good. I did about 40 miles on the dirt this morning and I think it helped it handle better
Stromthusiast!
Join Date: May 2009
Location: Redondo Beach, Ca
Posts: 43
I like the stripes, but I'm not so sure about the silver paint. They might look better on an orange (tiger) or white (zebra) bike. The stripes themselves look great! What did you use, tape or paint? Black reflective tape would look really cool at night!
---
Last edited by Warhammer; 08-16-2009 at

01:45 PM

.
Not my kinda thing, but interesting. I do like how it seems to make the bike stand out more. That is certainly not a bad thing, particularly for a color that tends to blend in with pavement, particularly on cloudy days.
---
2017 Honda Africa Twin DCT
2013 Honda CB1100
2015 Honda Grom
I was curious about the title of your post and then I saw the pics and realized that you "striped" your scooter, it wasn't "stripped" by a tiger.

I had visions of a story about a Triumph Tiger.....a can of whup-ass...and a Wee...
---
2013 DL650A
2009 DL650A-Gone to a good home
2009 KLR-Gone to a good home
Well, I like it!
---
Nice looking job. Waiting for reply to post asking what the stripes are. Are they signmaker's vinyl?
I like it. Siberian tiger.
---
2006 KLR650 - sold
2009 DL650 - lovin' it
Yes, the stripes were cut from high gloss automotive grade vinyl so they can always come off down the road if I want to change it. I wish it was the reflective vinyl, but it is not. I had it laying around so the price was right....free. I have already started getting the looks which is good as it means people are seeing me!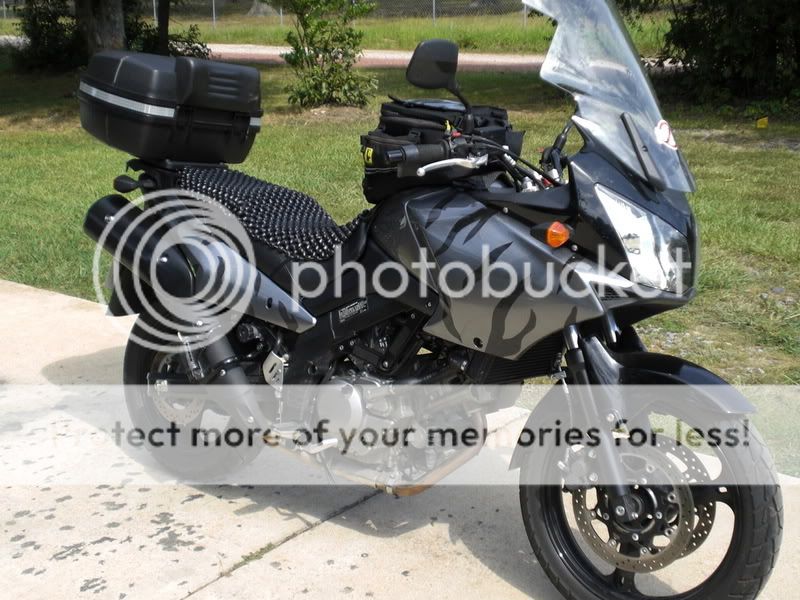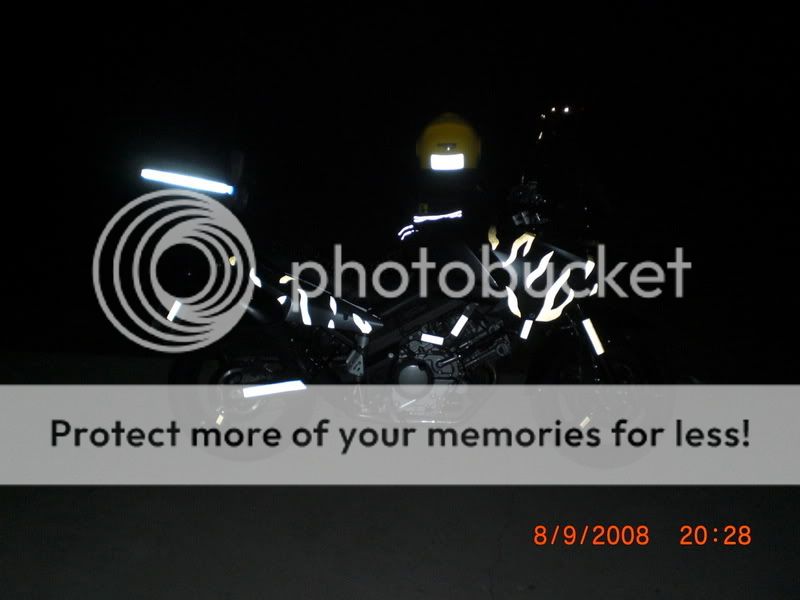 I used the black 3m reflective material on mine. It has held up pretty good for a year now. The second and third photos are illuminated with a camera flash. It's not quite as bright with headlights shining on it, but even a little bit of extra visibility helps. The brighter stuff on the top box and helmet is SOLAS tape.
---
2007 DL650 52k RIP 8/31/10 :sad1:
1983 Mercedes-Benz 300SD 273k
1960 Ford f250 62K
Silver Strom Club #37 :mrgreen:

The thing is Bob, it's not that I'm lazy, it's that I just don't care.
I kinda like it.

However one thing to keep in mind. The stripes on animals, such as tigers and zebras and the dazzle paint on battle ships etc., serve the purpose of making the outline of the striped object confused, especially when in partial shadow or mixed light.

As such you have, in some situations, camouflaged your motorcycle and made it harder to see or recognize as quickly.
---
Truax

[SIZE="2"]DL 1000K9[/SIZE]

Former Bikes:
2008 Concours 14
2007 Triumph Bonneville
1982 Kawasaki 440 LTD
1977 Yamaha 750 XS
[SIGPIC][/SIGPIC]