The Big Dog Ride!!!! Did it......
---
Yeah, before my clutch failed, I had a good time with the Big Dog Riders, riding the toughest stuff I have ever put the Wee Strom on.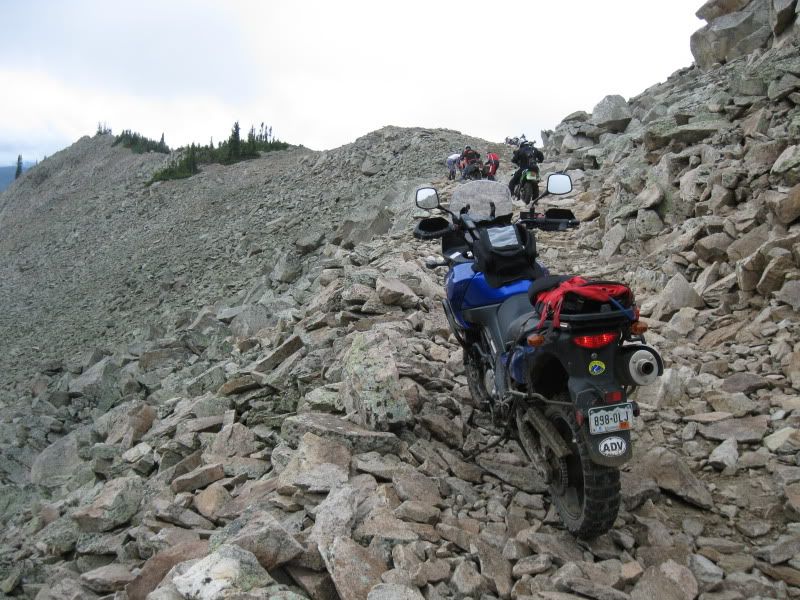 There is a reason why they call it the toughest, Big Bike Ride in the World.....they weren't kidding.
CLICK HERE
What a great group of guys. I was one of two Stroms at the event, but the only one to complete the "A" Ride....which is the SOB of challenges.
I want to fully report that the WeeStrom performed amazingly!!!! Yeah, I buned up my clutch, but that is the result of three years of very, very tough and challenging riding. (by this point, a BMW GS would have already gone through two final drives!!!!) And a new clutch is going to cost me a whopping $150 (if I do my own work, which I will).
Man I love my bike!!!!!!!
---
Big John

2007 DL650 - Gone but not forgotten
That's crazy.

Congrats and Well done though!!!!

There is no way I'd try that on my Strom. On my previous DRZ maybe..

Ken
---
2007 DL650 Gray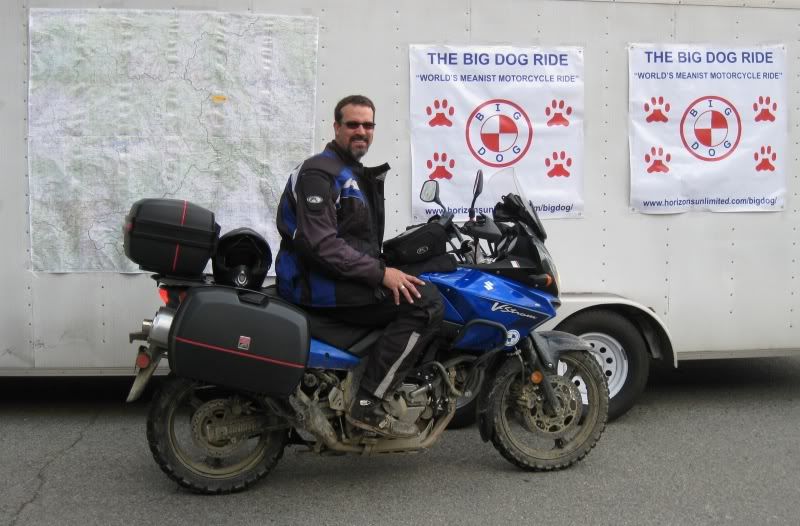 ---
Big John

2007 DL650 - Gone but not forgotten
I'd say "More power to you!" but it honestly doesn't look like you need any more! Well done!
---
Stromless
'97 Honda Valkyrie
I believe in ... gravity!
"Everyone brings something to the party."
- Snoopy
Is this what they mean by off road ? The pic looks like a bad goat trail.
---
05 / 650 in blue
88 / KDX 200 in green
81/82 DT 175 Yamahussies
79/SP 370 Suzuki-bad bike-no keep
78/ GT 750 water pumper
75/Suzuki 125 RV
That's awesome. I'd never ride my Strom on that so props to you.

You'd think they could have spelled "meanest" correctly on the posters.
---
"How rare that we can point ourselves inevitably west and go, go, go. Run out the highway and the hills. Slide our fingertips over the creases and the valleys of the impossibility that is America. You canít grasp its vastness from a plane. Itís diversity from a map. You have to put your feet on the ground. Your hands in the dirt." - Zach Bowman

My SmugMug galleries (copy & paste)---> https://meefzah.smugmug.com/
You're a stud boy! Awesome job.
---
Greg "Pinkman" Pink
Leesburg, FL
K4, Flat Black Club #135
I love it....now gents, this guy's got balls with HAIR!!!! Good to see a real rider mix it up with the best. F the clutch...just speed shift that bitch and roll.

I'd love to make a run like that but it would have to be a on a bike that I didn't care about trying to keep nice. Riding that crap is surely going to trash that plastic/paint but it looks fun as hell.

jeff
---
Present only:
My VStrom 1000 K7
Stock bikes: a
purple '74 RD350 in great shape,
'72 H1,
1975 GT550,
All-original 1975 H2 750 triple (purple of course),
Modified bikes:
1974 H2 750(my go-fast), a scary fast & fully ported street machine!
'82 Yam 650 Turbo- running 18PSI, Be sure to be pointed where you want to go!
'75 GT550 built up & ported,
'75- H1 wrist-rocket- HOLY GOD ALMIGHTY!
'75 S1 Kaw 250 baby triple w/ lifted and ported 350cc cylinders/28mm flatslides
To-Restore list: '72 H1, 1-'75 H1, 1974 GT750
I purchased the Strom to be a bike that is truly an Adventure Bike that I am not afraid to take anywhere or try anything. When you think about it, our Stroms are beloved and prized, but for $8k...they can also be a bike that can be ridden hard without too much grief when the stratches come. (Think about the grief of a $25,000 BMW 1200GSA?)

Anyway, yeah.....a clutch is nothing! A new Barnett (twice as good as stock), will only cost me $150 or so.....no big deal!!! In 10 days (order, delivery and the work)...I will be back at it.

By the way, I just can't say enough good things about the Givi engine guards and the TouraTech belly pan. Both had to show their stuff and they both passed with flying colors. The guards saved my left side after I hit some slick clay and dumped the bike after a rain storm. (Still sore on my left side but the fact that I was only going about 15 mph and I was completely ATGATT....not too bad.) The TouraTech pan allowed me to do plenty of surfing when the clearance wasn't enough.

By the way, I post all this....not to tout myself....but because I want folks to know that the WeeStrom is plenty dirt worthy and an Adventure Bike that anyone can be proud of. The bike is awesome!!!!
---
Big John

2007 DL650 - Gone but not forgotten