swingarm rubber chain pad
---
It's #9 on the parts diagram. Don't have a pic to post here, but how often do you change it out? I noticed mine didn't look too good when I replaced chain and sprockets.
Just wondering
---
2009 Suzuki DL650
2005 Yamaha RSTD
2002 Triumph Bonneville
1980 Yamaha XS650 chopper

The Best Bike is the Bike You Like
FORUM GODFATHER.....R.I.P. PAT
Join Date: Jan 2006
Location: Evanston IL USA
Posts: 38,049
I changed mine at 50,000 miles. As long as it is changed before it is worn clear through so the chain won't be sawing aluminum, it's okay. It seems the wear is worse on the bottom, especially for those who prefer loose chains, so make sure you look there.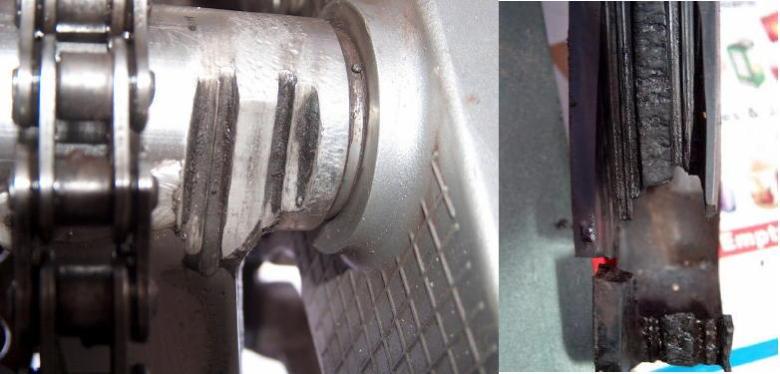 Stromthusiast!
Join Date: Jun 2015
Location: Richland County Wisconsin
Posts: 1,053
I'll for sure look on the bottom.
Thanks
---
2009 Suzuki DL650
2005 Yamaha RSTD
2002 Triumph Bonneville
1980 Yamaha XS650 chopper

The Best Bike is the Bike You Like
Stromthusiast!
Join Date: Nov 2016
Location: Anderson, SC
Posts: 104
So, from looking at the diagram, am I to assume that replacing that requires removal of the swingarm?
Sent from my iPhone using Tapatalk
---
2015 V-Strom 650XT ABS
1969 Triumph Bonneville
Stromthusiast!
Join Date: Feb 2012
Location: Santa Clara, CA
Posts: 153
Wow.. I didn't even realize there was one on the bottom. Seconding the above question. Thanks for bringing this up eagleeye.
---
2011 DL650
FORUM GODFATHER.....R.I.P. PAT
Join Date: Jan 2006
Location: Evanston IL USA
Posts: 38,049
It's one piece. The swingarm has to be released from its pivot to change it. It can be done without removing the exhaust pipe, but just barely.
Stromthusiast!
Join Date: Mar 2011
Location: Pasadna area
Posts: 13,770
Eye, checked my '04. 93K miles and it is worn but not severely.
I'd imagine that checking the bearings while taking it apart might be a plan.