Get A Bicycle.....
---
I was out wiping off some tools earlier when I spotted my bicycle sitting in my boat ( was the most convenient out of the way spot for it at the time). I remember when I got the Strom last year I had not been on a motorcycle for nearly a year and a half and was not feeling as confident as I should have been. So I went out and bought the bicycle. It may sound strange but riding the darn thing really brought my confidence back. I was able to hone some skills that I had either lost or was not really proficient in in the first place. Namely turning in a tight circle in one lane of the street. Also I would ride it around and around the car in the driveway. I have minimal distance between the driveway and the grass when passing the car coming in and found that uncomfortable. For some reason, possibly not wanting to drop the Strom in a tight turn, scraping the Wife's car, falling over and looking like an ass in front of the neighbors,this really bought me some confidence.

Just thought I would throw that out there. Might help someone else, either a new rider, a casual rider like myself, or mabey even an older rider just getting back in the swing of things.
---
If you keep doing what your doing your gonna keep getting what your getting.....
Super Moderator
Join Date: May 2005
Location: Central OHIO "Go Buckeyes"
Posts: 16,675
Sure can't hurt, in particular a mountain bike or the equivalent.
---
BRIAN "GO Buckeyes, GO Wildcats"!
2015 DL650 XT "Hector"
1997 Honda Valkyrie 1500
custom
"Dolores"
Bicycles
---
I have been on two wheels since age 5 and still ride my bikes...I will always keep one in ready to ride condition at all times for JIC or if I get a mood to go ride 10 miles at 10 MPH for a workout...Currently have a Giant Hybrid with 700cm wheels and 21 speeds...
Last summer I started riding my bicycle again (and stretching and lifing some light weights) to get ready for a long tour to Newfoundland. I think it really helps to get in better physical condition and also a bit more alert mentally, good thing for riding a loaded touring bike for long days (especially at my age). I think it helps your balance too and it really helps when you drop the bike. You don't have to struggle so much.
Like any exercise routine, it takes a while to get in the groove but after a short time it's not so bad and you look forward to it.
Definitely going to start again in the Spring when the weather warms a bit.
---
Henry

"Rock bottom will teach you lessons that mountain tops never will..."

2016 V-Strom DL650 (red) 'Sweetness'
2011 V-Strom DL650 (white)
Yeah I have a bike sitting ready to go for years now, haven't really ridden it in 15 years or more, need to get on it soon and get fitter, walking every day but I think the bike will push me to a new level.
Stromthusiast!
Join Date: Jul 2010
Location: Ankeny, Iowa
Posts: 92
Usually put more miles on my bikes then my motorcycles..........

Rode 20 miles just today (32 degrees). Can't get enough of them............

Ended up with about 4300 miles. Most on my road bike (pics too big to load).
Quote:
Usually put more miles on my bikes then my motorcycles..........

Rode 20 miles just today (32 degrees). Can't get enough of them............

Ended up with about 4300 miles. Most on my road bike (pics too big to load).
Nice!!
The last year or so I've gotten back into biking. Rode a mountain bike a fair amount back when I was racing, for conditioning, but lately have been doing a lot of road riding. If I can get into good enough shape I may try some local crit races.
Hope to hit 5000 miles this year, we'll see...
---
Rich Desmond
'07 DL650, '01 DR-Z400S, '99 SV650 (race bike), '80 GS1000S, '85 RZ350, '08 Ducati 848
Bikeless 4 now
Join Date: Mar 2014
Location: SE Phoenix
Posts: 1,230
Stromthusiast!
Join Date: Mar 2011
Location: Pasadna area
Posts: 13,916
I have a bike I got from a friend when he upgraded. The tires are still flat!
Am I lazy or what?
bicycles can be lots of fun. can provide a good workout. I'm lucky to be able to ride trails from my house. I see some interesting critters. Horned lizards, tarantulas, coyotes, snakes and stuff. Working for Dept. of Trans. for years on Ca highways I noticed some drivers lacked basic common sense so I stay off paved roads mostly.That's White Mountain Pk in the background. a few miles north of Bishop, Ca.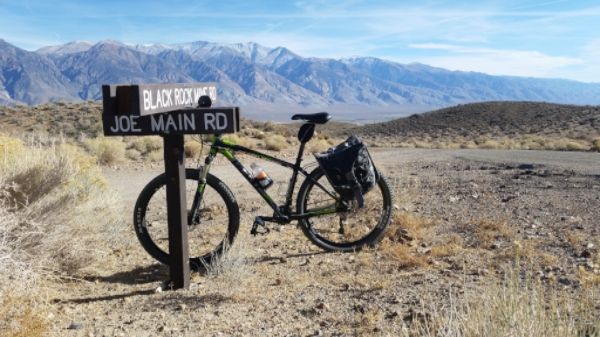 ---
14 tooth for me