Editorial Content
Join Date: Jan 2014
Posts: 78
The Best Motorcycle Helmets
---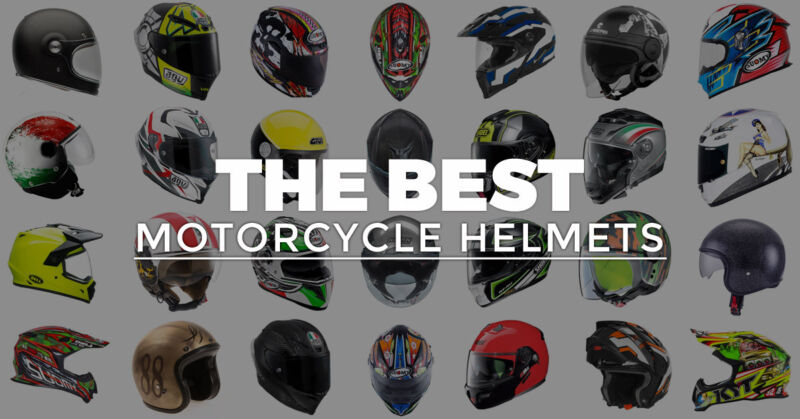 Quote:
At Motorcycle.com we strive to research and test all of the latest bikes and gear. Over the past two decades, our experienced staff has developed a keen sense of quality and a critical eye for proper functionality. Because helmets are easily the most crucial safety item for any rider, we wouldn't even consider riding without one, and since we spend so much time testing motorcycles all over the world we tend to spend a lot of time inside a lot of different helmets.

This experience has helped us understand what makes a truly great helmet. Although it may seem obvious to the most experienced riders out there, we also realize that picking the best helmets out of today's large sea of choices may not be so easy for everyone else. It is for that very reason that we've prepared this guide to help you pick the best helmets for your riding lifestyle.
Read more about
The Best Motorcycle Helmets
at Motorcycle.com.
Stromthusiast!
Join Date: Mar 2011
Location: Pasadna area
Posts: 13,913
Scorpion, No BS helmets at a reasonable price. I've got the broken one to prove they work as designed. And I didn't sacrifice my first born to afford it.
Stromthusiast!
Join Date: Jul 2014
Location: Antioch Ca.
Posts: 12
Scorpion without a doubt. I had a scorpion exo 400. Best helmet I ever owned. Vented well ,easy to clean and the face shield is a snap to change. And very comfy.
The article says, "some studies suggest that the Snell standard may be unrealistically high resulting in extremely stiff helmet shells that may be less able to absorb smaller low-speed impacts." This may have been true with the obsolete M2005 standard. The shock absorption requirement was changed with the M2010 standard. There should be no M2005 helmets remaining at retailers.
---
"Older people who are reasonable, good-tempered, and gracious will bear aging well. Those who are mean-spirited and irritable will be unhappy at every period of their lives.

"Let each of use properly whatever strengths he has and strive to use them well. If he does this, he will never find himself lacking."

Marcus Tullius Cicero
44 B.C.
Stromthusiast!
Join Date: Sep 2015
Location: north san diego county california
Posts: 974
DOT and/or snell rated. after that, whatever turns y'on. i've worn arai, shoei, scorpion, etc., each with strengths and weaknesses.

kinda like bikes, dontchya see?
---
don't die wondering.
Quote:
Originally Posted by
steveinsandiego
View Post
DOT and/or snell rated. after that, whatever turns y'on. i've worn arai, shoei, scorpion, etc., each with strengths and weaknesses.

kinda like bikes, dontchya see?
Agree. At some point your head will be ripped from your shoulders and the helmet becomes an easy way for the EMT to carry your skull. Before that point, any DOT or snell will do.
$tromtrooper
Join Date: Mar 2008
Location: Lost Angeles, Peoples Republic of California
Posts: 7,758
The quietest helmet I ever had was a Scorpion EXO 700
Stromthusiast!
Join Date: Jun 2016
Posts: 30
I've got to have a visor on my helmet. got one on my new helmet and I don't know how I made it without it for so long. Actually i do know how i made it so long, black gaffers tape right above my field of vision so I could tilt my head and block a low sun. I like the visor better.
---
2004 DL650
That's kind of a dopey article. It sounds like it's going to be a comprehensive list, but when you read the article, it's more like "we like specific premium helmets, and these are three new ones we found today on Ebay". Even more perplexing is that one of them is an open face helmet. It may well be the top of the line open face helmet, but that's akin to saying "I have a top of the line papier mache ballistic vest".

It's pretty easy to say a $500-700 Shoei is a good helmet because, duh, of course it is. I'd be more interested in knowing how the budget minded helmets like AFX, HJC, Scorpion, etc stack up, because those are typically the ones I buy. Like steveinsandiego said, once they pass the DOT or Snell certification, how much extra real world protection does a Schuberth offer over a Scorpion? They certainly might be more comfortable, but when it comes down to cranium vs asphalt, how much more protection does that extra $600.00 buy?

I've been wearing AFX-90 helmets for years because they're comfortable on my weird shaped head. I believe they've discontinued that model though, so it looks like it might be time to shop around again. I'll have to check out the Scorpions.....
---
"No matter where you go, there you are."
Stromthusiast!
Join Date: Mar 2011
Location: Pasadna area
Posts: 13,913
Sometimes folks are paying a premium for the fancy graphics on the helmet.
That's just window dressing.
Those poor gullible folks that use that 100 dollar head argument sure get hosed for their ego.