Looking for a weather and climate profile
---
Hey, you guys up there in Canada--we're planning a trip up to Moose Jaw, SK in mid-July. The UMCI (United Motorcycle Club, Int'l) is having a rally up there in July. We're not having any luck coming up with much info about Moose Jaw. Can anyone fill us in regarding weather, normal temperatures at that time, and what kind of terrain it is up there--like, hilly, flat, trees, open prairie, etc. Any useful information would be greatly appreciated. Thanx in advance.
---
'09 DL650
Stromthusiast!
Join Date: Apr 2008
Location: Calgary, Canada
Posts: 124
If I'd been a member longer, I'd roll off something like "what, did you lose a bet?"
But I'm new, so I'll try to keep it in tow. But I will say that if my further responses don't thrill you, try posting in the "Canadian Troopers" section for more action.
Moosejaw...the very definition of "open prairie." The two nearest major cities are Regina (75km to the east) and Calgary (700 kms to the west)...and you'll be able to see them both from wherever you pull in.
Trees? Not many.
Hills? Not so much.
Tall buildings? No.
Sunsets that last two hours? Yes.
Optical illusions that appear close, but are really still 50 km away? Yes.
The Southwest Saskatchewan tourism site might be helpful (Be patient. The server is run out of Pete Ternopolsky's basement or something, so the connection is slow for everyone, not just Yankees
)
linky
But beware, they lie. For example, they make it sound more interesting than it is. Also, they have a weather link that says the average temp in July is 25C (77F). No, it's usually more like 30C (85F). And with no wind, no shade, and no precipitation for two months, it's hot. Here is a more in-depth (and reliable) weather
link
, gives you real daily data from Moosejaw in 2007.
I shouldn't joke too much, because Mrs. CowtownBB is from Saskatchewan. Of course, she had the good sense to leave...oh! OH! Stop it!
Really, you will never meet nicer or more resourceful people than in Saskatchewan. They are terrific people, and have a real sense of community. Even if they have a lot of funny names for their towns.
Sorry. Anyway let me know if you need more info, or help. One thing I will mention, beyond your "weather? terrain?" questions, is that booze and smokes will be at least twice the price you are used to paying in USA. Again, that's not prejudice against you Yankees, that's just the way it is. Also gas has been over $5/gallon here for a long time, if you do the conversions, so don't be too impressed when you see $1.29 at the stations. But like I said, nice people, guaranteed a good bunch will host you.
"Saskatchewan summers are usually warm and dry. High temperatures range from 15 C (60 F) in May to the mid-30s C (90-95 F) in July and August. We average the most sunshine of any Canadian province; nights tend be cool."
Terrain is flat, you could kick a dog in the ass and still see it running away two days afterwards. It's the only place I've been where I've seen a whole train all at once.
[sarcasm, dripping wet sarcasm]BEWARE, it can be windy there. That's right wind !!! It's so flat you get prairie winds blowing which can be powerful. We don't have AAA, it's called CAA up here and they might not have too many flat bed tow trucks available for windy days.[/sarcasm]
Enjoy your stay folks, say hi to Mac for me.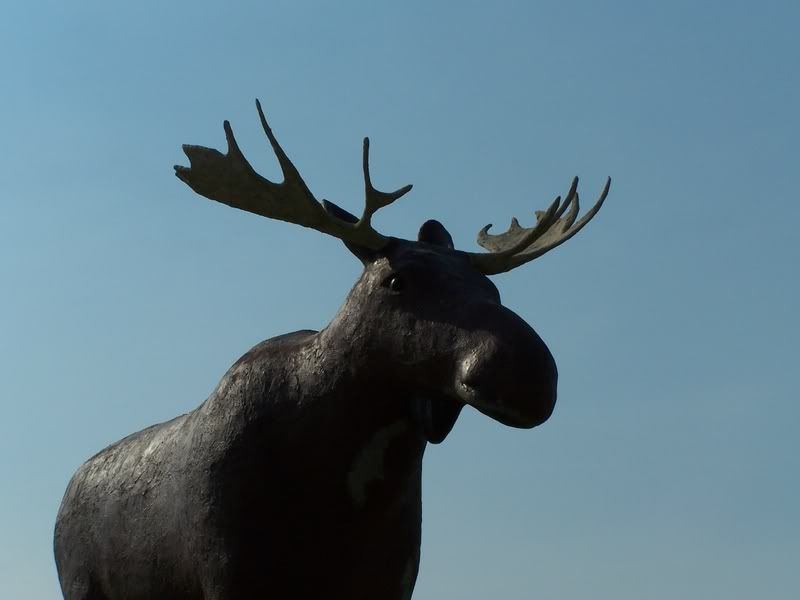 ---
Ian

'07 KLX250S - Road
'00 CBR600F4 - Track

"The World is a book, and those who do not travel read only a page" - St. Augustine

---
Last edited by The Shepherd; 05-24-2008 at

12:34 AM

. Reason: Grammar
So did they finally repair Mac's jaw? Last time I was through there, his jaw was partially missing (last year in April)....
---
[I][SIZE="2"]Now Wee-strom-less...
[/SIZE][/I]
[I][SIZE="1"][COLOR=DarkGreen][FONT=Franklin Gothic Medium]"A car is a means of getting around that can be enjoyed
A motorcycle is a means of enjoyment that can be used to get around"[/FONT][/COLOR][/SIZE][/I]
Moose Jaw. In midsummer. Well, I suppose that's a better choice than midwinter. But if I were you I'd make a "mistake" programming my GPS and end up on the Icefields Parkway in Alberta by accident. Just sayin'....