V-Strom turn signals suck
---
Since I've had my V-Strom I thought the turn signals were poor compared to other bikes. My wife even commented that they're hard to see. Inside the enclosure is a standard 1156 bulb just like most other DOT-approved signals so what's up with that?

A little sleuthing reveals that it's because the turn signal housing is miniature black hole. Pitch black plastic - no reflector of any sort. So for nearly nothing, I made some crude reflectors from an aluminum pie pan. The difference is pretty amazing. Yeah, it would be better if they were parabolic but hey, beggars can't be choosers. And no, I don't think there's a chance they will short out since the positive wire goes into the back of the insulated bulb socket.

Penny-tech - you bet!
---
Jim Randall
DL650, SV650, KLR650, DR350S
[SIGPIC][/SIGPIC]
---
Last edited by jim.randall; 05-22-2008 at

02:44 PM

.
I put white reflective tape in mine.
---
Sent from my Hewlett-Packard 75C, using the Flying Merkel motorcycle app.

Stromin'Nroman NC28729, USA

DL650A K7 (Greywolf Moto Lab's R&D test mule) June 1, 2012 - present
DL650A K7 April 23, 2007 - January 6, 2012, RIP

"Look here brother, who you jivin' with that cosmik debris?" Frank Zappa, 1975
Yup - I put some SOLAS tape in mine - works great.

Take care,
Bob S.
---
DL1000K6 - Gray
Only motorcycle riders understand why dogs ride with their heads out the window.
Shortly after I purchased my then new 046Fiddy I changed the blinker bulbs out for 21Halogen bulbs. . .
Snipped the original wires, made up some connectors for the pins on the back of the bulbs and slipped them in the housings.
Big improvement over the stock POS bulbs sans reflectors.
Initially I was worried about vibration and heat but in 4 years I haven't lost a single bulb
(even when a fast moving truck blew my bike off the stand last year)
to vibration and I haven't seen any signs of heat being a problem.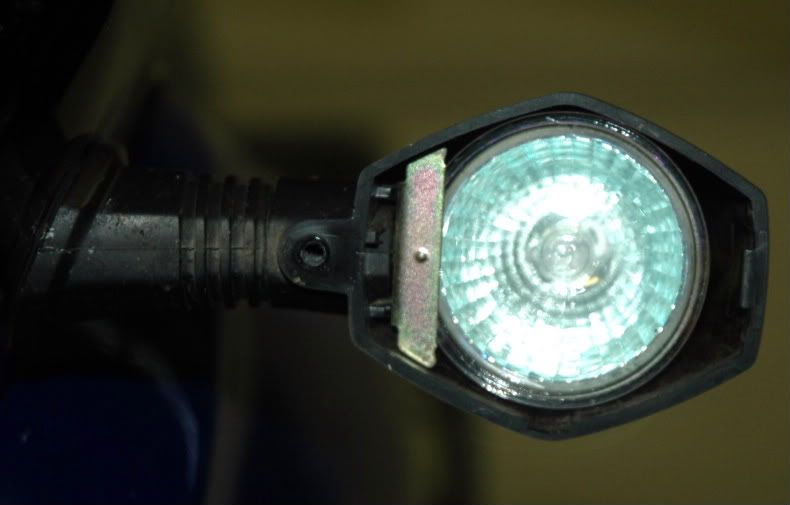 ---
:hand: [I]Experience is a hard teacher because the test is first, the lesson afterward. [/I]
I took the easy way out and installed 50 watt halogen bulbs.
---
05 / 650 in blue
88 / KDX 200 in green
81/82 DT 175 Yamahussies
79/SP 370 Suzuki-bad bike-no keep
78/ GT 750 water pumper
75/Suzuki 125 RV
Wow, you guys make my 5 minute tin-foil job look retarted...

But the tin-foil did work wonders as far as brightness...

And I don't think there is an easier / cheaper way.
---
[SIGPIC][/SIGPIC]
And Hawaii!
I used egg carton with crumpled tin foil
---
"Pain is weakness leaving the body"
"Nothings possible until its done!"
"If ya can't afford the fine, take the lead!"
I used aluminized pipe wrap. Anything shiny or reflective will do.