Show us your graphics, lettering or symbols
---
Show us the graphics, lettering, symbols or stickers you have added to your bike, helmet or whatever.

Tell us where you got your graphics, lettering, etc., and how easy or difficult they are to apply or remove.

And if there is any hidden meaning you are proud of, you can see if anyone understands your message :mrgreen:.

Time to show off!
---
Cory
07 DL650A
Pleasanton CA
This is the only sticker I currently have. Made it myself from reflective 3m Scotchhlite.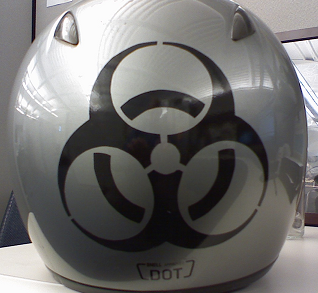 I thought the symbol for toxic waste was very appropriate.
---
[FONT="Tahoma"][I]Ride hard, stay safe![/I]
[SIZE="1"]DL650K7 Gray "Whee!"Strom
[/SIZE][/FONT]
[SIGPIC][/SIGPIC]
FORUM GODFATHER.....R.I.P. PAT
Join Date: Jan 2006
Location: Evanston IL USA
Posts: 38,049
http://decalzone.com/
has many images and lettering can be ordered with some of them. Application tools and instructions are also available. Smaller stickers are pretty easy to apply. Larger ones require a wet application to be able to adjust the sticker before everything dries.
---
Last edited by greywolf; 05-20-2008 at

10:27 AM

.
More with 3M Scotchlite black reflective material:
---
'07 DL650 ABS
'04 Yamaha V-Star 650 Classic Silverado (gone)
'04 Yamaha TTR225
'03 BMW F650GS (wife's)
'92 Honda XR250L
'86 Honda VT500c (gone)
Personally, I'm a little anti-sticker...except when it comes to the new Stromtrooper sticker. I made my avatar into a sticker and put it on the back of my helmet. It's made of b&w reflective tape, so at night it's one big reflector. As far as being easy to apply, I learned the hard way that reflective material, except for SOLAS, doesn't like to stretch. Round surfaces, like a helmet, can have a problem with creasing...and forget about it if you get an air bubble.
The only other sticker I have is a magnet from Deal's Gap.
http://picasaweb.google.com/bobosmit...51608274277746
---
=-=-=-=-=-=-=-=-=-=-=
2014 Suzuki DL1000
=-=-=-=-=-=-=-=-=-=-=
SEARCH is your FRIEND
Put those yellow StromTrooper.com stickers for sale on the site, and I'll be sure to stick it on and post a picture!
Otherwise, I did take the time to desticker most of the bike. I left the chrome "S" (might take it off too), VIN, and "V-Strom" stickers, thats it.
I need a graphic to cover my scratches from a fall...tired of explaining what happend :rolleyes1:

Fred
Just look at my Avitar. Other than that, I have a RIDE SMART sticker on the back fender that is reflective.
---
Totaled on June 9 2012 08 Victory Vision Tour Premium.
No longer riding due to injuries on June 9 2012.
As a child I fell in love with the story of the AVG.
http://en.wikipedia.org/wiki/Flying_Tigers
And I'm a big fan of WWII aviation to this day.
https://www.stromtrooper.com/forums/s...ad.php?t=15966
This is were I got the decals.
http://www.decalzone.com/cutout/fixe...7.png&aspect=g
I know these are far from unique but I have gotten alot of PM's about them, and they do fit the lines of the Strom well.
I gave the bike a good coat of paste wax before putting them on. Hoping it would make them easier to remove if I screwed it up or they just came out looking stupid. I cut them out and positioned them using electrical tape, then started at the back. Slowly pealing the backing and using the provided tool to keep it as smooth as possible. larger bubbles I poked with a pin and worked the air out, but time and sun took out all the small ones, and they came out really smooth with no air pockets. The decal is rapped around the front of the fairing were I used a razor at the seam to cut off the excess and give it a more open mouth look.
As a side note : These graffics were not invented by the AVG. I'm not curtain but I think it was an Austrailian squadron who created it. I've also heard that there was an RAF squadron that used it.
---
K7 Wee
Off-road member #26