LED Project Complete w/video
---
So I've been working on this LED project for a couple of weeks and I got lots of help from the board in a couple of different threads. Here's the result: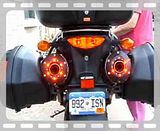 12 LEDs in each exhaust cap
6 tied to the brake lights
6 tied to the tail and turn lamps
I love the way the turn signals wig/wag!!!
Advice to others:
Exhaust endcaps are not interchangable nor can they be rotated 180 top to bottom. If you take yours off and modify them make sure you mark not only which pipe but also the orientation.
Every theing else, although a bit tedious, went pretty smooth.
Thanks to Brisbonian for the inspiration.
Thanks to Trooper32 and msi1259 for technical input.
This site abounds with resources! Aint it Great.
I think I'll make another donation...
---
Peace carries a big gun!
www.k-diggityrides.blogspot.com
'04 1k Blue
---
Last edited by Vstromper; 05-18-2008 at

10:25 PM

.
Gotta have it!
---
WOW! That looks great! How about a write up for a How-To. I'll put it on mine too. Did you take any pics while doing it?
I still have a couple of packets of LED's in different sizes left over from my last project. This looks like the perfect place for them.

Don't stop there, what's the next project going to be? I just love the new and innovative projects us Strommers are coming up with.
Congrats
---
I am duly inspired to attain the level of farkles you have adorned your bike with!!:cool
When can I make an appointment for my installation?

Talk about conspicuity!
---
Steve.
Twin Cities, MN, USA
'18 DL650XT, previously '07 DL650 and others
"With the rights of life, liberty, and the pursuit happiness comes responsibility, to yourself and others. With responsibility comes accountability. Without responsibility, without accountability, we cannot and will not be a free and civilized society."
-Me, Steve T.
I never understood why you were doing this. Sounded crazy. I mean why not just use a set of hyperlights?

But now I know. It is a crazy idea but damn, sure works good. That is about the neatest looking set of rear lights I've ever seen. That video tells it all.

Whoever thought of this first is not a normal person :mrgreen:.
---
Cory
07 DL650A
Pleasanton CA
Man, that looks sweet. The video is 10x better than a bunch of static photos. Thanks for posting.
---
Trevor
07 DL650
Farkles: Emgo mirrors, T-Bags magnetic tank bag, MadStad w/ Givi windshield, Stebel airhorn w/ Pat Walsh, Blue Seas fuse box, RAM camera mount, Garmin Zumo 550, Givi E460 top w/ LED brake light, Givi E21 sides, Acerbis hand guards, Dynojet PCIII, Superbrace, Pazzo shorty levers, Hot Grips, Elka rear shock, Richland Rick Mirror Extenders, Custom Saddlemen Seat, Murph's Center Stand
Join Date: Mar 2008
Posts: 36
Next!!
---
That looks great. With your experience, you should be able to do mine in about 10 minutes... maybe 12. I'll buy the LEDs.
Pretty neat farkle. Do you do luggage too ??
---
05 / 650 in blue
88 / KDX 200 in green
81/82 DT 175 Yamahussies
79/SP 370 Suzuki-bad bike-no keep
78/ GT 750 water pumper
75/Suzuki 125 RV
My LEDs lights came on Saturday so I'm getting ready to start this upgrade. Just a few questions on your install.

Did you run your LEDs in series or parallel as jimding suggested? Did you use a 7812 or a LM317 voltage regulator or a resistor? Any photos of the back end of the exhaust cap so we can see how everything is connected?
---
[B]Doug - Woodbine, MD[/B]
[SIZE="2"]08 DL 1000 Silver
[/SIZE]
[SIZE="1"]Previous
05 BMW R1150R
00 BMW F650[/SIZE]