Seasoning and Scrubbing Tires
---
I want to post this one here, as I want everyone to contribute if they have knowledge or comments.

Ok....so the Trailwings are gone with 8,450 miles and my Presa Detours arrive tomorrow.

I scanned a thread a couple of months ago on ADV.....something about running new tires on the flat and straight, getting them hot while brand new to 'cure' them. Something about this will harden the rubber and hence....the tire will last longer.

Is there anything to this????

Also, when the Strom was brand new, I really took it easy on the twisties the first 200 miles....allowing them to scrub in. Can scrubbing in be accelerated? For instance, can the tires be scrubbed in quicker if you drop the PSI to 20 lbs and riding dirt road for 5 miles or so?????

To all these questions and topics, what advice can you give me?
---
Big John

2007 DL650 - Gone but not forgotten
Stromthusiast!
Join Date: Dec 2005
Location: Gold Coast, Australia
Posts: 3,717
Find a dirt road.

Alternatively, an unsealed car park and do figure-8's.
It you have access to sand a couple of inches deep, that's even better.

That'll scuff up the the tread you normally use - be careful still at extreme lean angles, I do the initial scrub, then progressively steeper lean angles at sane speed on road for the first few 100k's until I've got to as near the edges as I'm ever likely to get. I'm lucky though I have some twisty hill roads close to home.

You can certainly speed the process up a lot.

Can't comment on the curing, best guess is that's unlikely to help much.

Pete
Let Valentino Rossi ride your bike for 5 minutes.
Problem solved (except that you may need another new set of tyres which actually doesn't solve the problem I guess.
)
Stromthusiast!
Join Date: Jul 2006
Location: Sydney AUSTRALIA
Posts: 1,446
You should take it easy for about 100klms as the tires can have varing amounts of a "release " coating which helps them be removed from the molds when they are made .Be very careful in the wet when they are new two things happen they do not get hot enough, and slip with the coating
---
Graham Downunder
Stromthusiast!
Join Date: Jan 2007
Location: Sandy, Ore. USA
Posts: 942
What about scrubbing the entire surface of the tire with some fine grit sandpaper?
---
2007 Suzuki V-Strom 650, "The Grey Mule"
2012 Suzuki GSX-R750, "Shoot to Thrill" (sold 2017)

Author, "[URL="http://www.taesia.com"]The Taesian Chronicles[/URL]"

BLOG "[COLOR="DarkSlateGray"][B]Two-wheeled Astronaut[/B][/COLOR]": [url]http://www.ruckerworks.com/category/motorcycling/[/url]
I ride thru a few miles of this with every new tire.
Scrubs them in quick.
Now I get lousy tire life, so maybe the "curing" thing may have some merits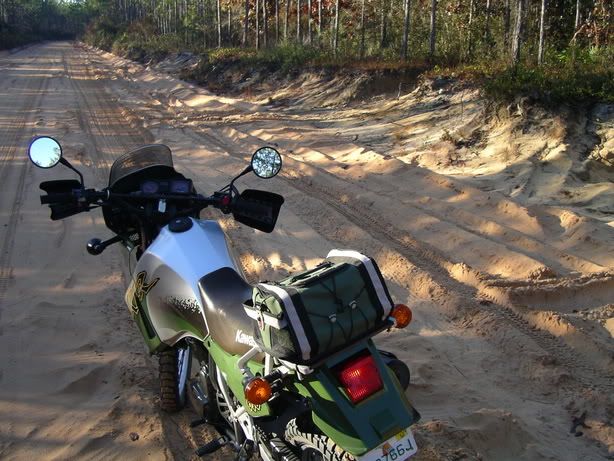 "Curing" a new tire? Come on, who makes up this stuff? (Do I sound skeptical? Maybe there is merit to ultra soft track-only race tires, but I dunno... just sounds bogus.)

I do not like that squirrely feeling of a fresh tire, not even to spend a few miles wearing the gunk off. I toss the bike on the center stand, idle the bike in 1st gear, and take a wire wheel in a hand drill and clean that rear tire from tread edge to tread edge. That only takes a quick minute.

Front tire I do the same thing, but it just takes a bit longer because the tire isn't elevated, I have to spin it by hand.

This process is a bit jerky, taking the wire wheel to the tire surface, but it does a nice job. No heavy pressure, just scuff up the surface, wearing in that fresh skin and removing the release compound.
---
Steve.
Twin Cities, MN, USA
'18 DL650XT, previously '07 DL650 and others
"With the rights of life, liberty, and the pursuit happiness comes responsibility, to yourself and others. With responsibility comes accountability. Without responsibility, without accountability, we cannot and will not be a free and civilized society."
-Me, Steve T.
Scuffing your tire does nothing. Don't waste your time. The "slippery" aspect (as mentioned) is caused by the junk they use to make the tire. To get rid of it you need to run the tire through a few heat cycles (usually three is good enough). So, jump on her and ride for 20 minutes, stop and have a snack, ride another 20 minutes, stop and meditate, ride back home. Tire is "broken in" and you are good to go, no scuffing required.

-GW
---
GrayWolf
--------------------
"I wouldn't take a million dollars for the experience, but I sure wouldn't give a red cent to go through it again" -Chester Russell
--------------------
2005 DL650 "Maelstrom"
2003 KLR650 "Lou"
1978 Triumph Bonneville 750 "Boomer"
Stromtrooper Offroad Club Member #3
Blue Wee-Strom Club #69
I agree with stevet. "Curing"? What a load of crap.
Here's how the pro's break a new REAR tire in:
1. Ride to a gravel road. (if you don't live on one like I do)
2. Stop
3. Leave bike in first gear.
4. Pull front brake lever and hold firmly.
5. Rev the piss out of it and release clutch lever quickly.
6. Hold for 10 seconds.
7. Ride out of the hole you just made.
8. You're done.
9. Go riding. Preferably on more of those glorious gravel roads.
For the front:
1. Use DA sander with 80 grit on the edges just enough to dull it. Ride it to do the rest.
---
"Build a man a fire and he'll be warm for the night. Set a man on fire and he'll be warm for the rest of his life." - Confuseus
---
Last edited by jackpiner57; 05-16-2008 at

11:18 PM

.
I had to laugh....thats exactly how I was taught to break in a new rear tire..thirty years ago........I'm kinder and gentler now...I go for a couple of slow rides an hour of being judicious and you're done. With likely a big grin on your face......but then...the old method used to put a big grin on my face as well.