Cheap mirror upgrade!
---
Unsatisfied with my factory mirrors (isn't everone?), I took them off and donated them to my dual-sport for proper trail demolition...one down, one to go. Anyway, I wanted a good replacement but the extenders are pricey for what they are and I didn't actually care for the mirror heads anyway. I looked into the Buell mirrors, but didn't like those that much either.
Finally, I found a good affordable replacement that I really really like. I was in Iron Pony's storefront and found the BikeMaster Supersport mirror with 10mm threads, and they looked to be the perfect width.
The style isn't bad, and the mirror head is wide instead of boxed which I like. They fit great, go to about the end of the grips and my rear-vision is now just perfect, I can see just the edge of my jacket, but pure wide road on each mirror, literally perfect. Best of all they were $12 each so for $25 I have a nice mirror that's cheap to replace should I ding one. Heck, for that price you could order two and have backups on hand.
Anyway, thought I'd pass it along for anyone that's looking for an affordable alternative that works.
---
Never met a dog I didn't like, a machine I couldn't break, or a woman I couldn't tick off.
Thanks for the tip....can you post pics of your Strom with these mirrors?
---
1995 Honda CB750 - sold
2005 Honda Rebel -sold
1990 Honda PC800 -sold
2007 DL650 - sold
2011 DL650A - current
Join Date: Sep 2007
Posts: 36
Quote:
+1 on installed pics.
+2 on pics
---
Big John

2007 DL650 - Gone but not forgotten
Are these mirrors flat or convex like the originals ??
---
05 / 650 in blue
88 / KDX 200 in green
81/82 DT 175 Yamahussies
79/SP 370 Suzuki-bad bike-no keep
78/ GT 750 water pumper
75/Suzuki 125 RV
I'll get some pics soon.
water warrior - they are flat, IIRC.
---
Never met a dog I didn't like, a machine I couldn't break, or a woman I couldn't tick off.
Ok, here's some pics....snapped when I got home from work so excuse the lack of sexy.
They're not the most sleek mirror on the market, mind you, but I wanted something that looked like they might have come on the bike, that work, and are easier to replace than a $50 stem.
---
Never met a dog I didn't like, a machine I couldn't break, or a woman I couldn't tick off.
Banned
Join Date: Jan 2007
Location: Utard
Posts: 944
Those look great. Thanks for posting the pics.
Join Date: Oct 2007
Posts: 218
Thanks for the pic's.Did thread size match up with OEM mirrors?I'll bet they would be better for vision as well as turbulence?

thanks again,
wolf1
those look nice...almost like the EMGO mirrors I picked up from Dennis Kirk.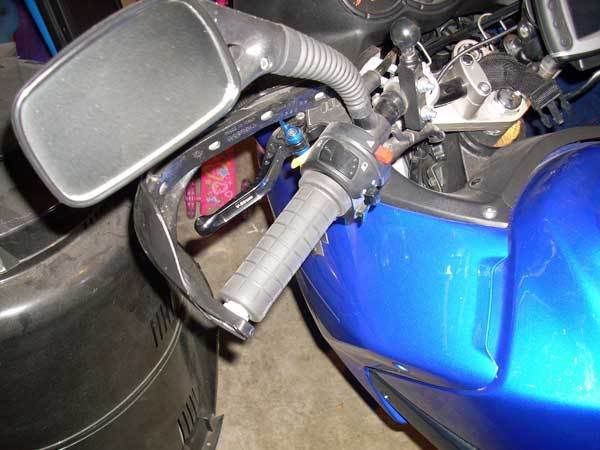 ---
Trevor
07 DL650
Farkles: Emgo mirrors, T-Bags magnetic tank bag, MadStad w/ Givi windshield, Stebel airhorn w/ Pat Walsh, Blue Seas fuse box, RAM camera mount, Garmin Zumo 550, Givi E460 top w/ LED brake light, Givi E21 sides, Acerbis hand guards, Dynojet PCIII, Superbrace, Pazzo shorty levers, Hot Grips, Elka rear shock, Richland Rick Mirror Extenders, Custom Saddlemen Seat, Murph's Center Stand