Stromthusiast!
Join Date: May 2008
Location: Oklahoma
Posts: 18
V-strom's ability to adjust mixture for altitude?
---
I just bought a new K7 DL1000. I live in Oklahoma "650 feet Above Sea Level". It runs fine here.
My question is does these bikes compensate for altitude? I plan on riding mine to Colorado this summer and will hit altitudes as high as 14,000 feet.
Will the bike adjust the fuel mixture automatically or will it run rich?
Will I have to get a fuel management computer "Power Commandar" and carry a laptop with leaner maps?
Does the V-Strom have an 0xygen sensor? I know my friend BMW does, but haven't noticed one on the V-strom.

I'm sure there's plenty of V-Strom's that have already laid tracks over most of the mountains in Colorado, so I would love to hear how the V-Strom does up there.
Unless you are planning on living at 14,000 ft I would not worry about it.
You may have more problems than your bike at 14k feet. Altitude sickness can manifest itself in some really strange ways when people living at low altitudes visit high places. They say it takes about 3 weeks for the body to generate additional red blood cells to adjust to less oxygen.

I've not been to 14,000 feet, but it does fine up to ~10,000.

Congrats on the new bike, and welcome to the Oasis!
---
The frightening thing is not dying
The frightening thing is not living

[I]T Bone Burnett[/I]
Stromthusiast!
Join Date: May 2008
Location: Oklahoma
Posts: 18
I take dirt bikes to Colorado almost every summer. I usually do have more problems then my bike at altitude. But I re-jet my KTM 525EXC for the about 10,000 feet, so it runs REALLY good. I know what to expect, now that I've been that high a few times and your right my body doesn't like it. I just want to make sure the V-Strom's fuel injection will compensate at altitude, otherwise it may have some issues with the passes and Pike's Peak.

The only place I can think of that I will be at 14,000 feet is if I ride up to the top of Pikes Peak on my V-Strom, which is something I've wanted to do. There's also a few passes around 12,000 feet that I will be going over on the V-strom. I will probably be loaded down with luggage, so it will be working and needs to be running right.
There is no oxygen sensor in the Strom. However it should have a barometric pressure sensor that will compensate for the elevation change.
---
Go hang a salami I'm a lasagna hog

[SIGPIC][/SIGPIC]
The 1K Strom handles the altitude chang with no problem at all.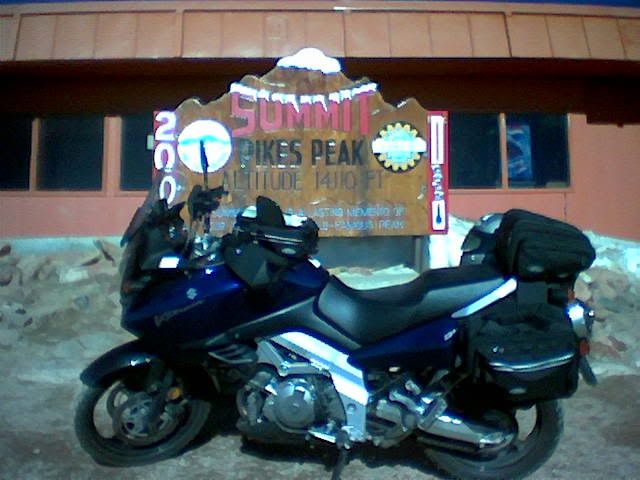 I live at 6k feet and am up and down from near sea level to 10k feet quite often and from 6k to 14k several times a year.
I wouldn't worry about it at all.
---
Peace carries a big gun!
www.k-diggityrides.blogspot.com
'04 1k Blue