The Perfect Backpack?
---
When I first got my strom it didn't have luggage, so I just used my cheapo 'coldwater canyon' backpack, and still use it now because I'm used to extra padding and material on my spine in addition to my olympia jacket. I find backpacks a great place to carry light clothes, for even more spine protection. The 'coldwater canyon' backpack is on it's last legs. Anyone use a high quality backpack that they ride with and like? What brand?
I don't like using backpacks, because despite the fact you feel like it makes you safer, it actually is much more dangerous.

One of the purposes of head-to-toe motorcycle protective clothing is to allow you to literally slide across pavement, to not get caught up and start tumbling and rolling.

If you wreck while wearing a backpack, that backpack is gonna catch the asphalt and start you tumbling at whatever speed you were going when you wrecked. And tumbling is how you start breaking bones and getting internal injuries.

Get yourself some quick-release luggage and use that instead.
Thanks for caring and sharing, I have gobi sidecases (on the way), pelican topbox, bags connection tankbag already. I also wear a full riding suit. If a backpack w/ padding built into it and a rain liner or 2 ends up hurting me worse than I would have been w/ out wearing it, I'm willing to take that risk.
I've got a Camelbac Cloudwalker small backpack with of course water.
I have an old Salomon soft pack I use to get my crap to and from the bike, water bottle, coffee mug, lunch, laptop, and notepads. Normally it fits in my Givi E360 side case. On the weekends I'll take the side cases off for day rides and few Mondays I've been to lazy to pop them back on the bike for the morning commute and just wore the pack on my back. Hate the way it feels, to much weight up to high. And it's a pain in the arse to get the shoulder straps over the shoulder pads in my jacket.
---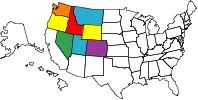 "there's no fighting in here, this is the WAR ROOM!"
2015 ktm 690r
The Divide, been there done that
Past bikes-
05 dl 650
07 dl 650
ktm 990
I commute every day and got really tired of wearing a backpack. I also don't like putting my laptop in the cases because of vibrations. I have killed several cameras and other laptops this way. So I bought a Chrome messenger bag. I have put about 1000 miles on it now, and it beats a backpack hands down. It is so stable, and does not put any strain on the shoulders once sitting on the bike.

It is also huge, I can easily fit a couple of gallons of milk in it if needed.
---
'06 DL1000 Farkled
'04 XR650L

Osprey
---
I have several Osprey packs, from small daypacks to a large trekking pack. All are top quality construction and extremely well designed. Osprey pioneered many of the more useful design elements seen on modern packs.

You might also check out Axio or Bobblebee packs. Both are hard-shell, and Axio even has a motorcycle-specific model.
---
2010 Triumph Tiger 1050se
2009 DL650A - sold
2005 DL650 - dearly departed
"I am enthusiastic over humanity's extraordinary and sometimes very timely ingenuities. If you are in a shipwreck and all the boats are gone, a piano top buoyant enough to keep you afloat that comes along makes a fortuitous life preserver. But this is not to say that the best way to design a life preserver is in the form of a piano top. I think we are clinging to a great many piano tops in accepting yesterday's fortuitous contrivings as constituting the only means for solving a given problem." - R. Buckminster Fuller
I picked up the
Ogio NoDrag bag
... My Chrome messenger bag wouldn't fit in my V46 case when loaded, so I had to down-size. Also, because of my extra girth, I couldn't effectively secure the chrome bag across my mid-section and using the second shoulder strap didn't seem to add much to its stability.
The NoDrag does a fine job when I need the trunk for extra groceries and the belt does fit across my midriff.
I still have yet to use the bladder option but I have used it with my ipod and threading the cords can be a "fun" venture.
---
[I][SIZE="2"]Now Wee-strom-less...
[/SIZE][/I]
[I][SIZE="1"][COLOR=DarkGreen][FONT=Franklin Gothic Medium]"A car is a means of getting around that can be enjoyed
A motorcycle is a means of enjoyment that can be used to get around"[/FONT][/COLOR][/SIZE][/I]
Thanks for the suggestions so far. I must have checked 15 sites that sold backpacks today. Nothing I've seen so far has resembled the backpack I want. The backpack I've been daydreaming of, with fairly heavy or stiff back padding, waterproof, capacious, and a reflective patch and/ or piping. Relatively light. The search will continue on the net and also the flea market(s) this weekend. 14 liter Engage xl tankbag was ordered earlier for more travel room. Made the mistake of ordering the 50% smaller 7 liter engage bag 1st. Looks good. Too small for my purposes. I'm keeping it in case I get a used 1000 strom to hang out w/ my 650. After I got my luggage I rode w/out my trusty backpack and felt naked on the bike. The coldwater canyon should have a little life left, I definately heard a tear from a shoulder strap last week. All things must pass.