Stromthusiast!
Join Date: Apr 2008
Location: Grand Junction, Co
Posts: 129
backrest
---
Hi, I am looking for alterantives that aren't going to cost me an arm and a leg for a backrest. I can't believe how much some of these aftermarket ones are. Is there no Suzuki one that I can use? Posting from Iraq. Can't just run to the shop. Thanks
Join Date: Feb 2008
Posts: 33
http://community-2.webtv.net/CHERDAN...omAccessories/
Scroll down a bit to see Dan Vesel's backrest. I don't have one myself but have heard nothing but praise from the people that have bought them. They run around $125, last I heard.
Good luck out there in Iraq, brother.
+1 on Dan's backrests. I have the one he makes that attaches to the luggage rack and for the money it works great. Easy on and off, I usually leave it off until my wife and I ride somewhere together and then mount it. But now that I have mounted the Pelican back there I don't use it much.
---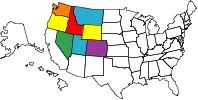 "there's no fighting in here, this is the WAR ROOM!"
2015 ktm 690r
The Divide, been there done that
Past bikes-
05 dl 650
07 dl 650
ktm 990
Stromthusiast!
Join Date: Jul 2006
Location: Sydney AUSTRALIA
Posts: 1,446
If this is for your back I would try a kidney belt first works for me
If this is for your pillion ,get a topbox with a backrest on it.
---
Graham Downunder
I got the Dan Vessell special. I like it lots. Just got it about a month ago and as far as I recall it cost me about $140. That included shipping.
Here's a silly little thing I tried to help alleviate back pain on long rides.

Last fall I did close to 650 miles in one day, the second such trip in one week. On the first trip I wore a back belt/kidney belt (Aerostich) and it did help keep back pain at bay by helping keep me from slouching, and helping keep my back straight. Funny thing was, I was needing to stop to pee about twice as often as normal- the belt squeezes around your midsection and puts pressure on your bladder.

On the second ride, instead of the kidney belt, I stuck a note on my tachometer that simply said "BACK", and every time I looked down to see the gauges I saw that note, and sat up straight. By the end of the trip I was "re-trained" of my slouching and my back felt much better than it had in the past.

I'll need to do this note trick again this spring.
---
Steve.
Twin Cities, MN, USA
'18 DL650XT, previously '07 DL650 and others
"With the rights of life, liberty, and the pursuit happiness comes responsibility, to yourself and others. With responsibility comes accountability. Without responsibility, without accountability, we cannot and will not be a free and civilized society."
-Me, Steve T.
Stromthusiast!
Join Date: Apr 2008
Location: Grand Junction, Co
Posts: 129
Thanks
---
Thanks so much for the repllies. The backrest is for passengers, daughter and wife. I have soft luggage all around and don't prefer a hard case, but am not opposed to a backrest for the passenger. I find with topcases, as with women's purses, the bigger they are the more you will always have in them. I'm trying to keep weight and bulk down. I will try the link you guys provided and look that over. I'm on a military budget and am trying not to overextend on this too much. Thanks
Join Date: May 2007
Location: Birmingham, AL
Posts: 7
Another +1 for Dan Vesel's backrest. $140 -- including shipping -- got me the backrest to me in 4-5 days. Great service! Great product. Easy to install. Looks good. Gives one more place for soft luggage to fasten to.

YMMV
---
J Goertz
Birmingham, AL
'07 DL650, silver, of course
'00 Triumph Legend TT 900
'96 Triumph Trophy 1200
Stromthusiast!
Join Date: Apr 2008
Location: Grand Junction, Co
Posts: 129
backrest
---
I went on his link and I think I'll order that one. It looks like the cheapest best solution so far. I just saw the first pic of my strom in the garage. My wife bought if for me while I'm over here. Can't wait to ride!
Join Date: Oct 2007
Posts: 218
Everything I have purchased from Dan Vesel has been first quality including customer service.Did 600 miles this weekend and maybe there is backrest coming for this broke dowm bike rider.