4 piston Tokico calipers...what brake pads?
---
A p/o changed out the 2 piston calipers for 4 pistonTokico's(front). They are looking a little thin and I went to order some, but hesitated....not sure which one's fit? Do most Tokico's use the same pad?
I was thinking these:
2007 2008 Suzuki GSXR 1000 Tokico Brakes Ceramic Pads GSXR1000 Front | eBay
Here are my calipers: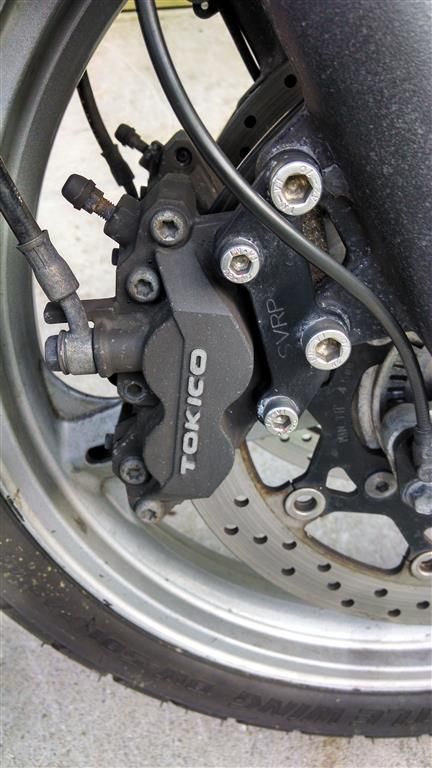 ---
15 DL650XT
"You do your own thing in your own time"
This shows what model GSX-R calipers fit
SV Racing Parts | Store
Those pads you're looking at are unknown brand (probably Chinese) that fit Tokico calipers, they are not Tokico pads. We don't know about their ceramic compound. The original compound is the organic, and the HH temperature upgrade is sintered metallic. I'd buy Galfer or EBC pads, at higher cost, and be confident in knowing that I have excellent brakes.
The letter ratings represent the coefficient of friction at 250F & 600F. I think the stock pads are GG. Don't go lower. Some of us like the feel of HH on the fronts and GG on the rear. Some like all HH. Some like all GG.
http://faculty.ccbcmd.edu/~smacadof/DOTPadCodes.htm
---
"Older people who are reasonable, good-tempered, and gracious will bear aging well. Those who are mean-spirited and irritable will be unhappy at every period of their lives.

"Let each of use properly whatever strengths he has and strive to use them well. If he does this, he will never find himself lacking."

Marcus Tullius Cicero
44 B.C.
---
Last edited by PTRider; 09-17-2014 at

12:17 AM

.
I just ordered them from Blair.....I have to admit, $80 for a set of brake pads made me cringe....I know they are excellent quality.....I must be gettin cheap in my old age.........
---
15 DL650XT
"You do your own thing in your own time"