How bad is this sprocket....do I need a new chain?
---
I'm doing the popular 16T sprocket upgrade and discovered the original is kinda hooked. I have 20,000Km on the bike (I rode 11,000 of them) and I wonder if I should be replacing the chain/rear sprocket while I'm at it?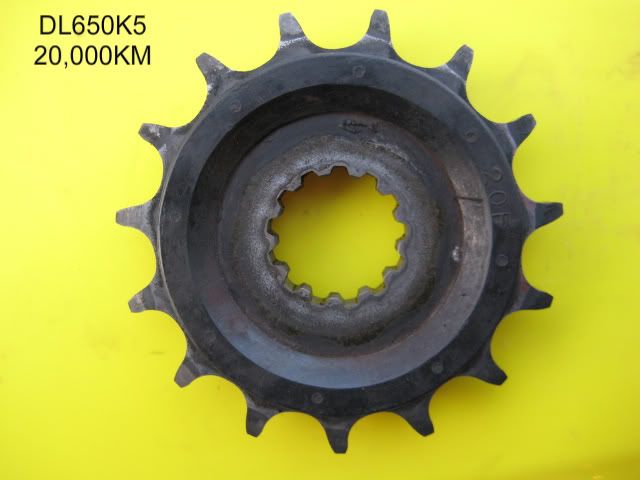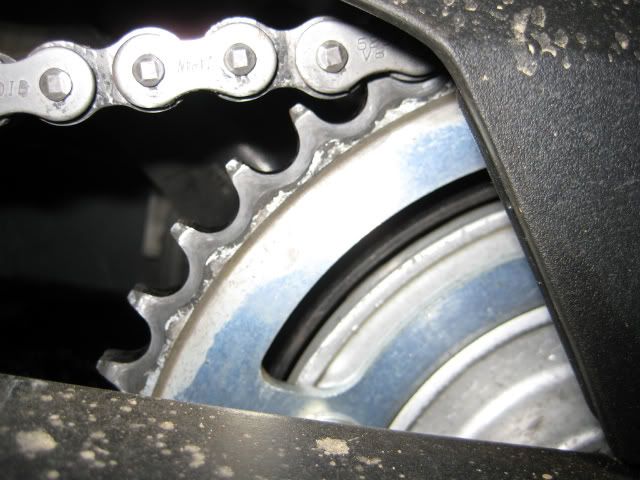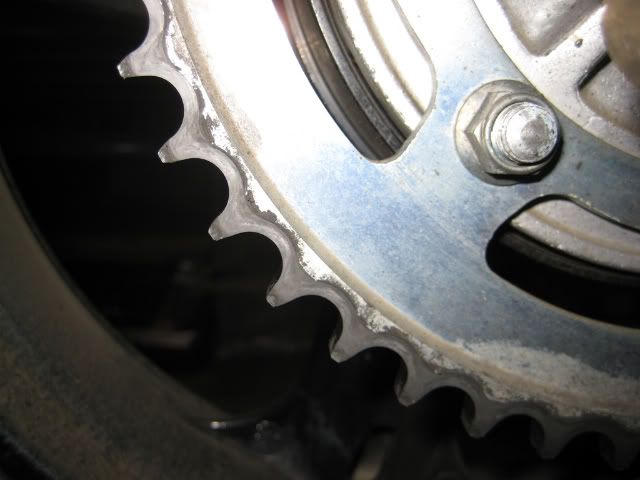 Also, does this clutch screw assembly require any lube? It was filthy and full of grit.

Thanks for any help
---
http://alaskanproposition.blogspot.com/
2005 DL650 Blue
Just my opinion, but the chain and rear sprocket look ok. There doesn't appear to be the same wear on the rear sprocket as the front. I'd check the chain link spread and if its ok, then just change the front sprocket.

By the way, you won't regret changing the sprocket either way. When I changed mine, I boosted my average mpg from 47 to 50, with only a very minimal acceleration loss. You will need to relearn your tach to speedo mental gearing math.
Join Date: Sep 2005
Posts: 241
Does the chain have any rust trails from the rollers? Can you pull the chain off the rear sprocket more than 1/2 the height of the teeth?

Anymore I replace the chain/sprockets as a set. In your case if the chain passed inspection you'd probably be ok with just changing the engine sprocket.
FORUM GODFATHER.....R.I.P. PAT
Join Date: Jan 2006
Location: Evanston IL USA
Posts: 38,049
Replace the chain and both sprockets. There is visible sprocket wear and the chain is kinked. The rear sprocket may be okay but taking a chance with such an inexpensive part is usually false economy. The clutch pushrod should be greased. A cleaner chain lube would be a good idea as would checking the area more often.
Listen to Greywolf
Join Date: Apr 2006
Posts: 1,376
Your chain and Sprockets are JUNK REPLACE THEM.
+1 on what Mortaine said. Your chain is stretched otherwise your sprocket wouldn't show the directional wear that it does. Regardless what anyone says always replace both your chain and sprockets. If you don't you will just wear out your new chain faster.
---
Keep the Rubber Side Down.
Jim
Present Rides
1986 XR600R,1986 VF1000R,1999 CBR1100XX,2006 CRF450X,2007 DL1000 V-Strom
[IMG]http://i412.photobucket.com/albums/pp210/cbrxxcess/Motorcycles/North%20American%20V-Strom%20Rally%202009/Canadamap.jpg[/IMG][IMG]http://i412.photobucket.com/albums/pp210/cbrxxcess/North%20American%20V-Strom%20Rally%202010/VisitedStatesMap.jpg[/IMG]
It has been a long time since I've had a chain driven bike but the old rule of thumb was when changing a sprocket change both and the chain. I've seen sprockets a lot worse off than yours and you could probably get quite a few more miles on it but when you do change, do the whole thing.
Stromthusiast!
Join Date: Oct 2007
Location: Ca
Posts: 249
As Greywolf and some others have said, it looks bad enough to change. Sprocket definitely looks hooked and should be changed. Change the chain at the same time too.
On the clutch spring, mine was dirty and grity like your as well, I cleaned it up with WD40 to get rid of all the grime and then went to Dupont Teflon spary lube, It has kept it farily clean since.