Suggestions on gps mounting postion
---
Well I convinced the boss (wife) that "we" need a gps, maps are just old technology you know. If we spend money on something we can both get use from she is happy. She didn't realize we could use it in her car as well as the Vstrom, she is all smiles now. So I have settled on the iway600c and I'm asking for suggestions on where is the best place to mount it. I have been looking at the Powerbar Plus
http://easternbeaver.com/Main/Produc.../powerbar.html
with the Ram mounting kit. Anyone else tried this method? Looks like a really clean way to go. Pictures might help me out. Thanks
---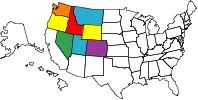 "there's no fighting in here, this is the WAR ROOM!"
2015 ktm 690r
The Divide, been there done that
Past bikes-
05 dl 650
07 dl 650
ktm 990
i used a swmotech mount that bolts into the windshield hardware. it allowed me to center the gps just above the instrument panel. i wired it directly from a fused blueseas distribution block. btw, it's a 2610, but they make compatible adapters for most gps's.