Todays ride,
---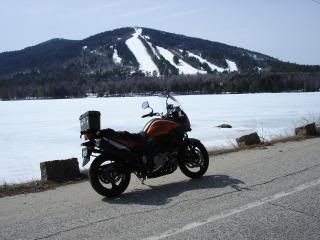 First good ride of the season...........Sun's out, 60 degrees and the snow is melting. Life is good !!
..........td
---
2017 Triumph Tiger 800 XRX
2012 V Strom 650 Fox orange
2013 Yamaha FJR 1300, old mans crotch rocket
2004 Polaris Sportsman 500 ATV green
N1ATF
Spot 3
Join Date: May 2012
Location: Avondale Az
Posts: 491
Wow! I'm happy winter is finally thawing for you. Here in Phoenix, I swear we are just the opposite from most the country. I've been riding to work most every day since last October, today was 95 and we are going to be flirting with 100 degrees here in just a few days.
I'm almost ready to lay low until it cools off again. Enjoy your riding season! How long is it up there , so far North?
---
My two wheel history
'72 Honda XL250
'73 Yamaha RD350
'75 Yamaha XT500
'76 Yamaha XS650
'78 Yamaha XS750
'77 BMW R100/7
'76 Triumph Bonneville T140-V
'07 Triumph Bonneville America
'11 Suzuki V Strom 650

Damn. I wish I had thought of that screen name first. I am a pretty man. Hah!


Escape the cage!
---
Note to self: Never ride a motorcycle in stilettos and a miniskirt.