All the Kings Horses & All the Kings Men
---
couldn't put my Glee back together again
Last Sept. I was on my way from NJ to Maine to enjoy the leaf seasons colors and eat lobster and other seafood for a week.
Well the best laid plans, struck only about two hours from home. Due to a poorly placed direction sign, I made a bad decision and tried to merge to my left and didn't make it. I took the best emergency route and went up the middle of the median. It was a soft grassy piece(like the grassy knoll) and I did good riding it out, but was running out of real estate and had to get stopped. Slowing down caused the bike to start sinking, and I took a dump on the right side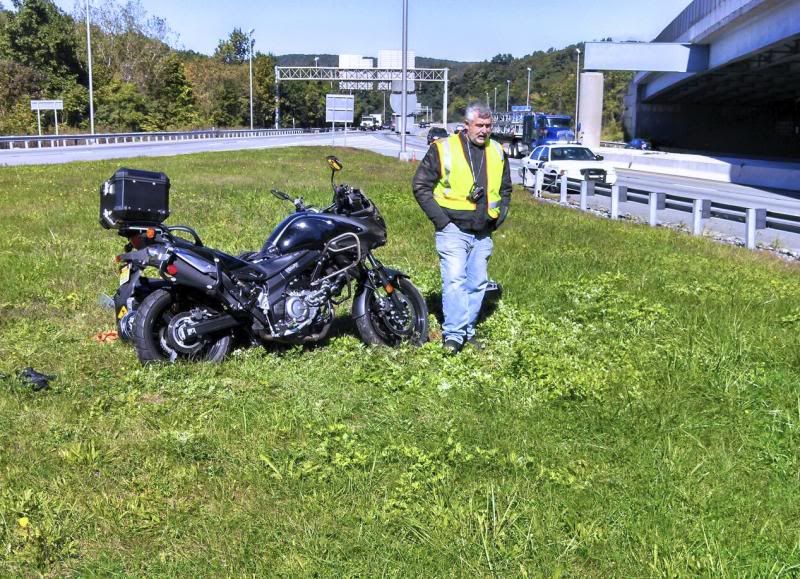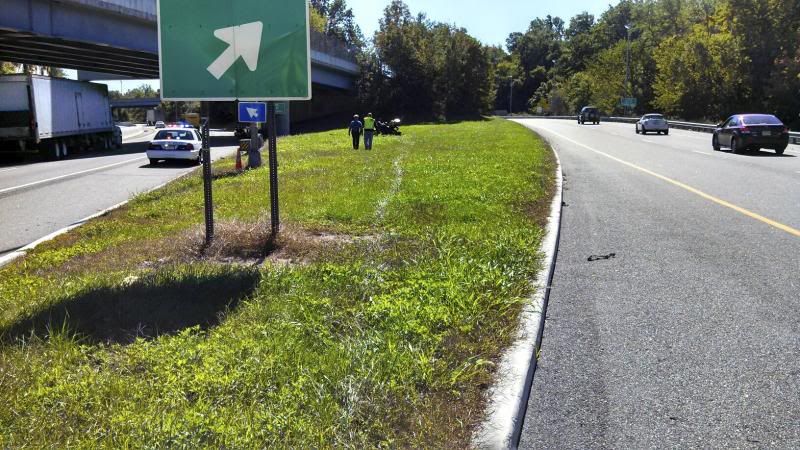 I was doing the 65mph limit when this all started and according to my GPS was down to 35 when I got off. I was really lucky and came out of it just with some nicely bruised shins, which I believe smacked the crash bars. My helmet visor, broke from it's swivel attachment and the helmet got gouged pretty good, but it did it's job.
The bike took some nice damage, but landing on grass, saved a lot more damage. I actually rode it home. The crash bars distorted pretty good on the down side(right), caused by digging into the sandy soil. Surprisingly, the saddlebags, detached and hardly were damaged, except for a small dent on one of the lids. The windshield, front panel that it's attached to and the right side, lower cowling, all got busted.
I would learn later on, when I removed the other damaged parts,the cowling brace's center arm bent back about 3 or 4 inches. It was the most costly replacement part, $170 online, the plastics were really reasonable, because they were non painted pieces.
You can see in the pic of the two braces, in the bottom photo, the new brace on the top, the old one, is bent, where the paint is chipped.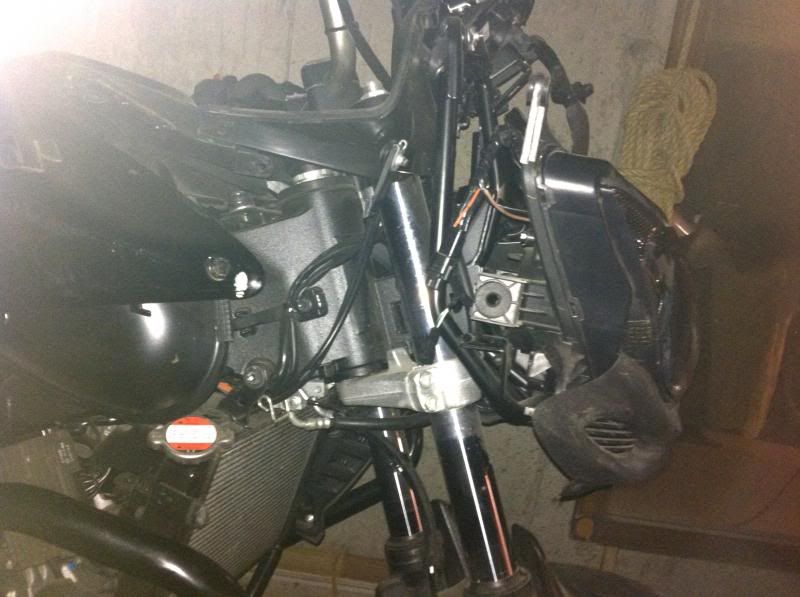 I'll be putting it back together, at my leisure, even though, I had it pretty much ready to go today. I got a good deal on the classifieds here, for better crash bars and a excellent skid plate.
I did real good with the insurance settlement and the actual cost of everything to repair it. I was able to pick up an 09 Wee for a good price, shortly after my accident, as a fill in, and will be putting it up for sale and reregistering the Glee. Hopefully, this will be a better riding season. I'm hoping to make a cross country journey late summer.
Like the Sgt. on Hill Street Blues, would say, "Be careful out there"
Good to see that you escaped with relatively minor damage to yourself.
Good luck with the rebuild!
Stromthusiast!
Junior Trooper
Join Date: Mar 2014
Location: Charlotte, NC
Posts: 6
Sorry to hear about your accident but glad you escaped with only minor injuries! Bikes can be replaced and rebuilt, lives on the other hand, not so much. Good luck on the rebuild and safe travels in the future. Hopefully at the very least, you had a chance to enjoy the trip prior to the unfortunate incident, the lobstah in Maine is wicked good!
There are two kinds of riders, those who have fallen and those who will. Here's hoping you don't fall again anytime soon.
---
Richlandrick
http://www.adventuretech.biz/

Stromthusiast!
Join Date: Jan 2014
Location: SE Tenn
Posts: 288
All I can say is glad youre ok and my belief in angels is strengthened.

Good luck with rebuild and happy to see you stay in the game.
Stromthusiast!
Join Date: Jan 2010
Location: Baltic, Ct
Posts: 6,637
Nice job NOT center punching that arrow sign

Get riding
If you had been a squid, those helmet scars would be on your brain! Very glad you were wearing the gear.
---
1980's-XL80s
1983 Nighthawk 550
1990's Vulcan 750
1983 GS450L
2004 DL650

There are still faint glimmers of civilization left in this barbaric slaughterhouse that was once known as humanity... Most of them ride V-Stroms.
Stromthusiast!
Join Date: Mar 2011
Location: Pasadna area
Posts: 13,803
Another card carrying member of the OSIC club. ( Oh Shit I Crashed)
Glad your injuries are minor and yes the headlight part of the bike is fragile.
I got replacement parts for mine from some place in Florida for good prices on line.
$tromtrooper
Join Date: Dec 2005
Location: Sconsin, USA
Posts: 3,944
Sorry to hear about your crash and glad you are ok.

I headed to Maine last September too. It was a tad early for leaf peeping, mostly cloudy in Maine, and frigging cold (ice on the mc cover most mornings). I had rain from Eastport to Madawaska and then to Millinocket. Loved every minute of it. The lobster was great and so was the hot dog at Rosie's.

There's always this September.
---
2020 Eastern V-Strom Rally (website) - May 14 - 17, 2020
__________________________________
2006 Suzuki V-Strom DL650K
1986 Honda Shadow VT700C
1974 Suzuki TM-250
1966 Triumph Bonneville T-120R
1965 Suzuki 80
I am having a hard time visualizing how this happened.

You have the 2 lane interstate running off to your left and the 2 lane exit running to your right. You indicated the direction sign was poorly placed, presumably seen last second, so rather than remain on the interstate or hard merge to the right you rode into the grass dividing the two? Was this target fixation?

I clicked on the link expecting the bike to have been totaled given your title (....they 'couldn't put him back together again') but I'm glad for you that it wasn't.