Mounting Duratool Case
---
Hey all,

I got myself a Duratool top case for Christmas and i was wondering how i should go about mounting it. I don't have a bracket or anything so i am considering just bolting it directly to the back rack. Anyone here have any experience with this? What about a parts list i need to get from the hardware store? Any advice on placement? I bought the 22" wide version btw.

Thanks,

Keith
This is how I did mine. I made the quick release mounts to work with my homemade luggage rack, but I'm pretty sure I could adapt the design to work with the stock luggage rack. All the pieces were made from laminated ABS plastic and the standard aluminum "L" channel that you find at places like Lowe's.
The case locks in place where the two ABS blocks slip under the luggage rack, and the single threaded knob at the back secures it. When you unscrew the knob and pull the case to the rear, it comes right off.
https://www.stromtrooper.com/members/...k-release.html
---
"No matter where you go, there you are."
Thanks, BugMagnet. It was actually pretty easy. The only power tools I needed to make everything (including the aluminum luggage rack) were an electric drill and a scroll saw; the rest was done with a coping saw and files.
---
"No matter where you go, there you are."
Rc in nc. Who makes those soft side bags you have on your bike, very cool.
Thanks Roger
Hi Roger. Those are Nelson Rigg CL-850 soft bags. Very well made, and very roomy.
---
"No matter where you go, there you are."
WOW thats a nice install. A little beyond my abilities i think though!
This how I did mine on the stock rack, just undo one wing nut and it is off.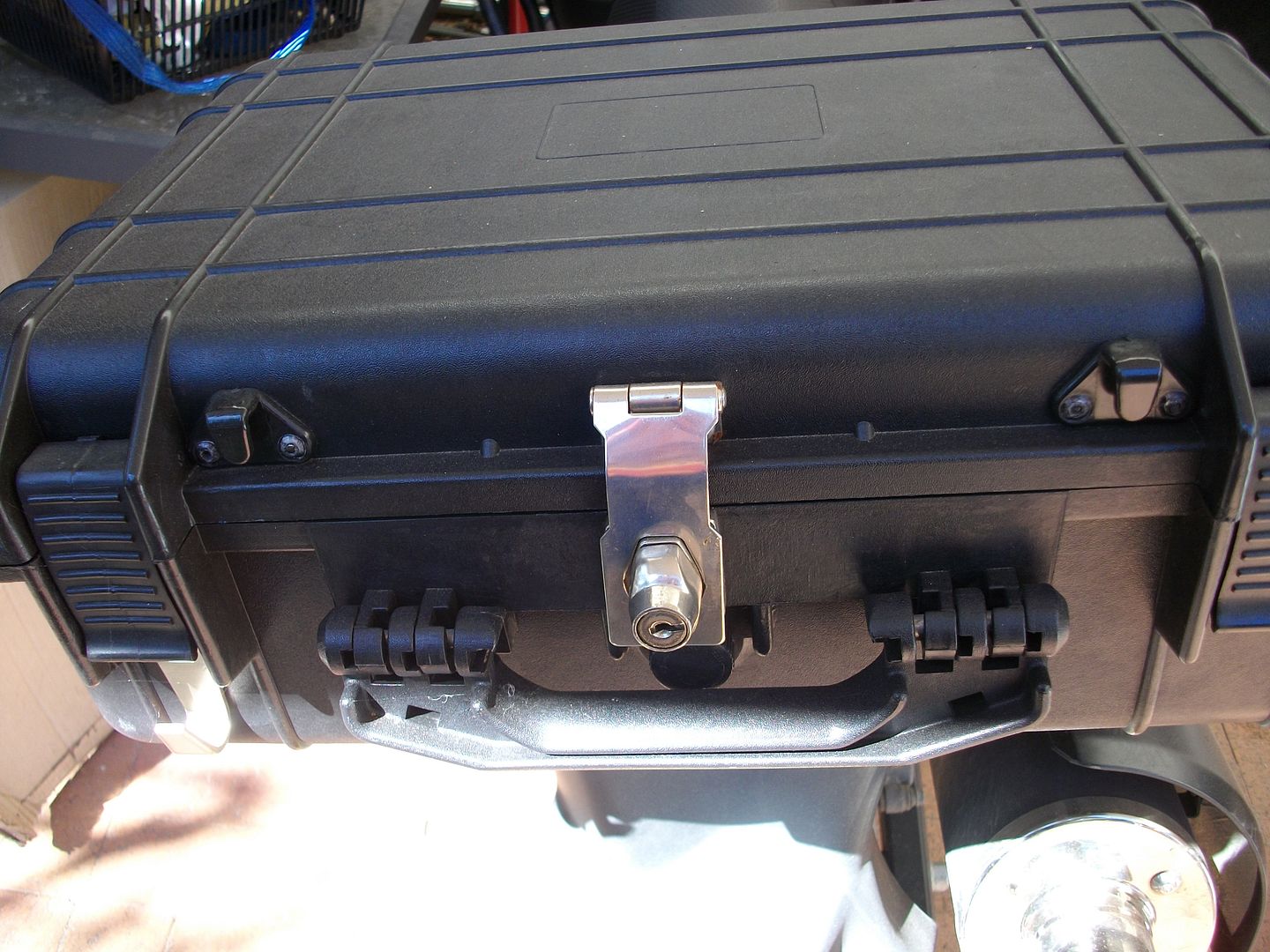 ---
Some of the 19 rides in my shed
2014 V2, Snoopy
2009 Wee, Pumbaa the pig
WR450F, The Blue Postie Bike
YZ250N smoker with rego, Stinky.
Yamaha MT09 (FZ09), The Scud missile.
Club Lead not Club Med.
He with the most toys wins.
Out of my depth in a puddle.
Live life on the edge you will see more that way.
Ridding a motorcycle keeps things in balance.
At the end of each trail and at the end of each day history is made.