Stromthusiast!
Join Date: Jan 2013
Location: western PA
Posts: 363
carrying extra gas
---
I'm planning a solo, long distance, back roads, trip on my DL1K. I do not have an aux fuel tank. I'd like to carry a couple gallons of extra gas -- just in case. I may never need it, but just for peace of mind it would be nice to have available. What is the preferred safe way to carry it? Multiple MSR bottles? A gasoline-specific plastic can? I'll have my Givi side and top bags on during the ride, so securing the cargo will be a point of consideration too.
You can use the MSR fuel bottles, or do a Google search for peg Packers, they are pretty cool.
There are also rotopax, or kolpin makes a cheaper version. If you Google rotopax you'll see what I mean. Sorry I can't paste links and pictures since I'm from my phone. If I get a chance I'll put some links in later.
Sent from
Motorcycle.com Free App
---
DL650K7
XL1200N (Sold)
How many "extra miles" do you want to go, Yarz......that will determine the size of your container. You mentioned extra gallons.....that would be an additional 60-80 miles??? Are you going somewhere THAT remote.....no gas for another 80 miles?? Just asking. Best Rest Products has a gallon jug holder, but some have commented that it is a crappy design. try doing a SEARCH in the
Google search box
, top/middle of page......maybe use "Spare Gas container" and see what pops up. It has been discussed here before and I know there is good info buried in the forum if you can find it again......
mark444
I've used the MSR fuel bottles but, they don't hold enough. I rather just use a RotoPax like this:
1 Gallon Fuel Packs : Gasoline Containers : RotopaX.com
Depending on where you ride you may use one. I've almost ran out of fuel in southern Utah. Koplin has small flat plastic fuel cans also. You can mount them in various ways, ob crash bars, just in front of a top box above the seat, hang them off a wide rear rack etc..
I put them on my DR650 before I got the safari tank and I put two on my KTM 950 bolted to the hard luggage. I figure I may put a gallon or two on my DL1000, probably on a left crash bar. Fill it up only when I know its needed, like when I want to go across Glenn Canyon at night again. :mrgreen:
Stromthusiast!
Join Date: Jan 2010
Location: Baltic, Ct
Posts: 6,637
In Canada and Alaska there are roads 200 miles between stop

Mine could make it but just barely so an extra 60 miles would be nice
x-tra gas
---
I carry 2 msr bottles. I use tubes mounted to the bottom of panniers. It provides me with 60 ml's of gas. I have posted a pick for you.
Quote:
In Canada and Alaska there are roads 200 miles between stop

Mine could make it but just barely so an extra 60 miles would be nice
Will be traveling and camping along the James Bay road in northern Quebec next summer. There is one section 381km (237 miles) between fuel stations. I should be able to make that distance, but will be loaded down, frequent stops and maybe a headwind, so will bring along a one gallon rotopax and fill it prior to this section mainly for peace of mind. Unless traveling way up north, extra fuel not needed in US or Canada.
---
2012 DL650/EXP (fox orange)
Stromthusiast!
Join Date: May 2011
Location: Pittsburgh, PA
Posts: 546
I've bought a 1.75 gal Rotopax in prep for riding to Radisson. Secure it to topbox carrier and then load a large drybag duffel on top of it.
---
Bob
07 Wee
10 NT 700
My MSR bottle......and water bottle.......carrier. I like it down low on the bike, protected from a fall-over by the metal rear panniers. I have a 1.5 Liter MSR bottle that I may use to replace these two at this location on the bike if I ever take my Dream Trip to Alaska someday.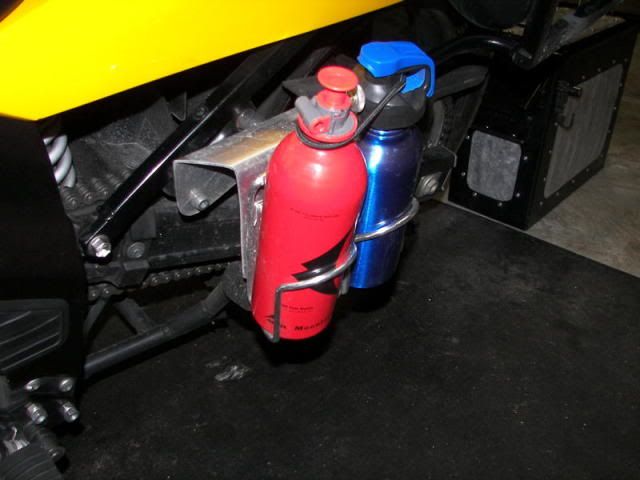 Super Moderator
Join Date: May 2005
Location: Central OHIO "Go Buckeyes"
Posts: 16,601
Anything less than a gallon makes little sense to me, so the Rotopax or similar is the only way to go in most cases. There are some nice ways to mount the Rotopax to aluminum panniers, and I will be buying 2 when I do the Trans Labrador Highway.
---
BRIAN "GO Buckeyes, GO Wildcats"!
2015 DL650 XT "Hector"
1997 Honda Valkyrie 1500
custom
"Dolores"