Stromthusiast!
Join Date: Oct 2012
Location: La Verne
Posts: 104
Suggestions for seat/tail bag to go in front of my topcase?
---
I'm looking into seat bags to strap in front of my top case for long trips like MotoFizz's large camping seat bag, Wolfman Beta Bag or even the Saddleman TS3200 reg or DE. My bike came with HT panniers but I was paranoid of the 37" width and I liked having a seat mounted duffel better on my last trip. But it was just a regular duffel and I need something bike specific.

What do you use and why? Do you think a water proof bag is necessary or is a rain cover good enough? I don't anticipate a lot of rain riding but the more I ride my Wee the more I want to ride so you never know. Since I can't go big on a tank bag because of my bars, I like having external pockets on the seat bag for quick access to essentials. I want to reserve my top case for my helmet and Sena SMH10.

Thanks in advance.
I replaced the 55 litre top case with the large Motofizz bag (80 litres)? That with the Jesse bags gives me about 160 litres.
I use the rain cover on the bag and secure it with a bungie net. Plenty of room for everything and I've been through MANY luggage variations in the last 8 years. This one is a keeper. The Motofizz bag sits on a Hepco Becker luggage plate.
---
-Tom (DL650AL2) (KA1TOX) (E-I-E-I-O)
This message and images are licensed under the Creative Commons Attribution-NonCommercial-ShareAlike 3.0 Unported License.
http://creativecommons.org
I use a dry bag, either a small basic roll-top design or a duffle style. I have the
SealLine WideMouth duffle
, which is the perfect size to fit in front of the top case and serve as a backrest. It has d-rings at the base of the handles for easy attachment, but I usually end up just running some long rokstraps over it.
---
2010 Triumph Tiger 1050se
2009 DL650A - sold
2005 DL650 - dearly departed
"I am enthusiastic over humanity's extraordinary and sometimes very timely ingenuities. If you are in a shipwreck and all the boats are gone, a piano top buoyant enough to keep you afloat that comes along makes a fortuitous life preserver. But this is not to say that the best way to design a life preserver is in the form of a piano top. I think we are clinging to a great many piano tops in accepting yesterday's fortuitous contrivings as constituting the only means for solving a given problem." - R. Buckminster Fuller
I use the MotoFizz bag also. I just use a trash bag to line the inside and put all of the gear inside the trash bag. Keeps my gear dry, and is easily replaced if it does get a tear. I use the contractor trash bags so they are very sturdy.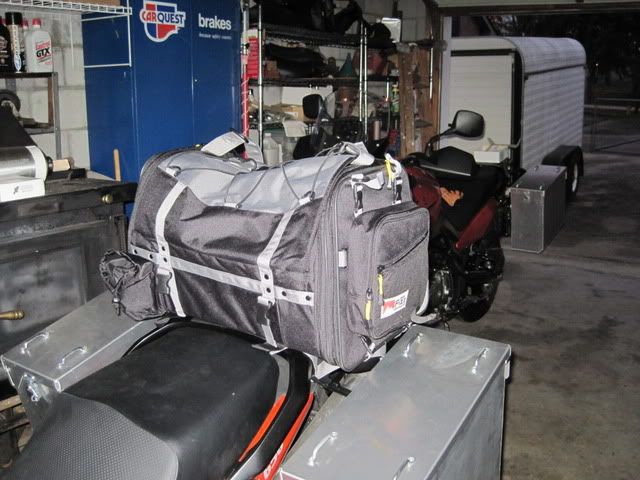 Here's a photo my dad and me loaded up for a 20 day camping trip. Yeah my dad has the same bike.
Hope this helps.
---
09 "Wee"-Strom DL650 (Orange)
99 Harley-Davidson XL1200S
00 Bultaco
73 Bultaco Sherpa-T
69 Triumph Bonnie (Project Bike)
My advice is this, and may not apply to you.

I go back woods camping in some areas where if you really broke your bike you might end up having walk several days to get out to where someone one MIGHT drive by. So I carry a backpack strapped to the back seat. It gets used like any other luggage and in the event the bike breaks big time you can still carry the essentials to survive until you end up back in a cell service area. Do you need an actual hiking backpack? Probably not, but get something that can be used as a back pack in a pinch.
I use the Wolfman Beta. Here I'm loaded for a fly fishing trip. The beta bag holds my waders, boots and other fishing gear with room to spare. I live in a dry state, so not much need for rain cover. But if you plan on riding in the rain a lot, I'd opt for the waterproof Expedition series.
I have the Saddleman TS3200 bag. Used it on two trips so far and it is holding up well. I have it mounted on my rear seat. Only two complaints with it.

1) the extensions on each side interfere with my Givi side bags. I can manage it, but it can be a bit of a struggle to get my key in the side bag. You may not have this problem if you use it in place of a top box.

2) the bag is not waterproof, so i have had to put a custom piece of tarp over it when rain is pending, or put everything into a plastic bag inside.

I think my next bag will be one of the Sealine Dry Bags. A friend has two of these he used for side bags and his gear stayed totally dry in any weather. With the Dry bags you just need two Rok straps to hold it in place, so easy on/off, and lots of room inside, plus you never have to care if it rains. The dry bags are half the cost of the Saddleman bag too.
why do you need something bike specific?
I travel often with either an eagle creek bag, (water resistant ) plus contractor garbage bag,
or a waterproof mountain coop (north face etc) bag,
and a elastic cargo net.

if you were putting it in place of the top case I agree to get bike specific.

you are putting the bag on the back seat in front of the top case.
kind of instead of a passenger.

so a non bike specific bag may actually be better.
as you can take it and put it sideways easier to open the top case
or on it's side so you have easy access to your side cases.
plus a soft bag you put in what you need and roll it up.
put it under the bungee.
voila!

etc.
---
[SIGPIC][/SIGPIC]
Because a thing seems difficult for you, do not think it impossible for anyone to accomplish.
Marcus Aurelius
Banned
Join Date: Feb 2009
Location: Seattle
Posts: 1,933
walmart storm duffle bags = $30 for two (1 large, one small). The rubberized canvas has never leaked on me, and I love the big opening. Very tough bags, and great value for the $$. With the small bag on the seat the HT panniers can open without moving the bag.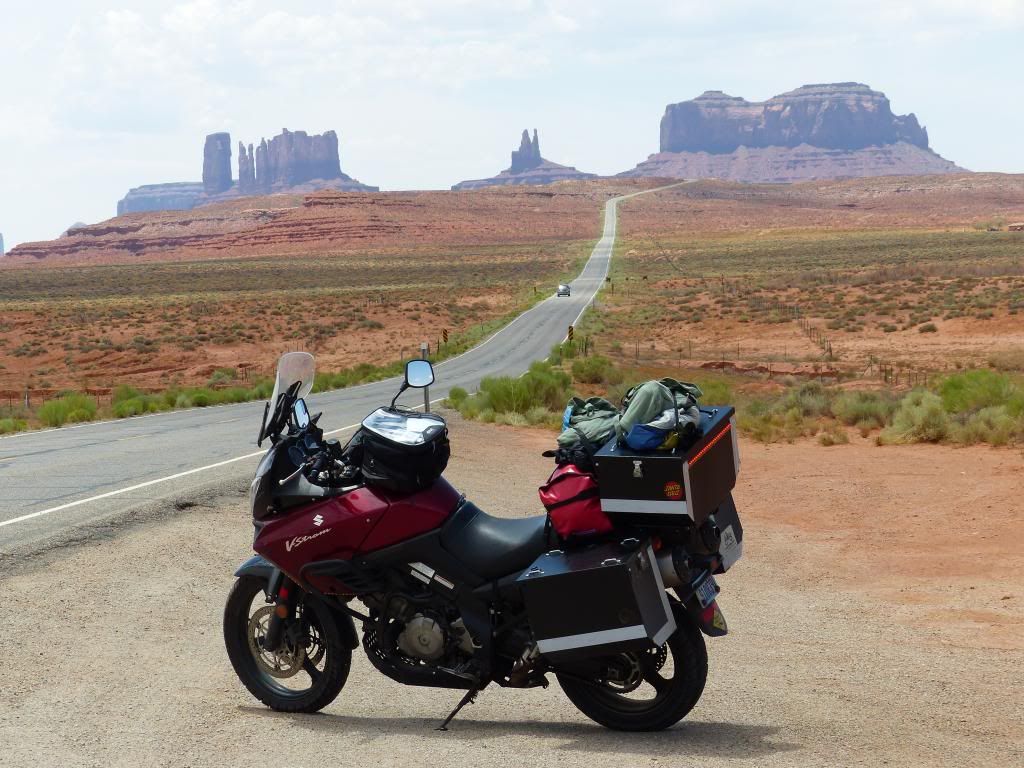 Stromthusiast!
Join Date: Nov 2011
Location: lincoln, ne
Posts: 242
I have the Twisted Throttle small dry bag. it is double ended, and has a million straps for mounting anywhere. makes any bike a hauler.
---
"Don't sweat the petty things and don't pet the sweaty things." ---George Carlin

2005 Triumph Sprint ST 1050
2009 XT250
2007 dl650
2002 Beta Rev 3 trials bike
2012 CBR250R
1996 TW200
2001 tt-r 125
2012 Buddy 125