Stromthusiast!
Join Date: May 2006
Location: Purvis, MS
Posts: 190
Must have been my lucky day!
---
Out for a ride yesterday heading over to Louisiana and had a mishap that could have ended badly. I was cruising along on I-20 passing a few cars (about 90mph) and suddenly the bike began to slow as if I was pressing the rear brake. I immediately pulled off to the side and as I reached the shoulder I noticed my tailbag wasn't there. Turns out it came off the rack and got sucked in front of the rear tire and lodged there. The front bungee cords were still attached so they were keeping it from going anywhere. Luckily everything that was in there stayed and nothing important was damaged, despite the severe damage to the bag. I am very lucky that the rear tire didn't lock up on me! I figure that the rear bungee cords somehow came off and gave enough slack to the front to allow it to swing over the rear of the bike and hit the tire. Anyway, I was riding with a friend who stuffed the remains in his saddlebags and we continued the trip without any more mishaps.
Pics...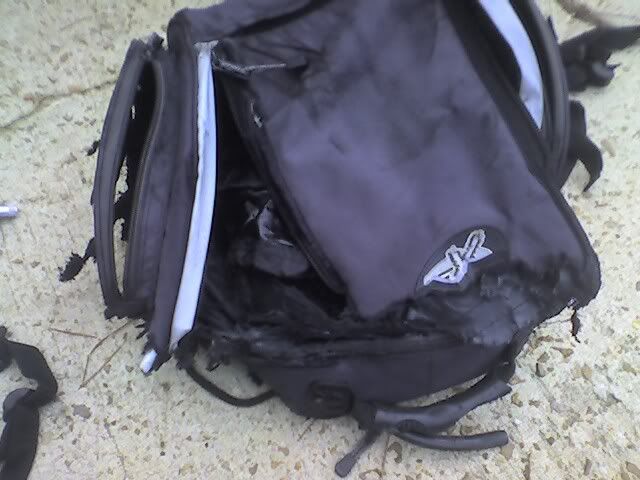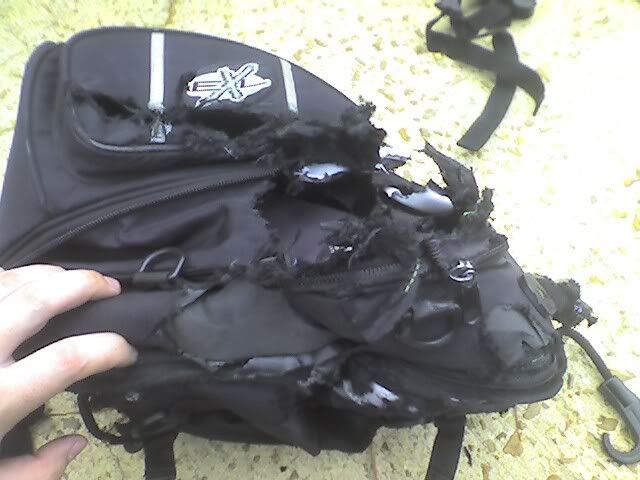 And now I have to find a new tailbag
---
2006 dl1000- grey

"A man is a success if he gets up in the morning and he gets to bed at night, and in between he does what he wants to." - Bob Dylan

"Happiness is nothing more than good health and a bad memory." -Albert Schweitzer

"What we have to learn to do, we learn by doing."- Aristotle
Ouch! That could've ended VERY badly, glad to hear it didn't.

Note to self: Make sure all straps are good and tight...
---
Steve
09 GSA
Gone but not forgotten:
Blue 2002 Vee
08 KLR
02 ST1100
99 DR350
So you bike started to slow down huh? Must need a TBS check. [Tail Bag Security]:rolleyes:
---
L4 DL1000 Black Strom No3
Stromthusiast!
Join Date: Nov 2005
Location: Lompoc, CA
Posts: 131
Never trusted bungee cords! I have a Moto Fizz bag from Aerostitch.com that uses straps and buckles to secure the bag and it has never come loose or shifted on the bike. Comes in three sizes, it's alittle pricey, but I think it is a great bag.
---
Rogues are preferable to imbeciles because they sometimes take a rest.