Join Date: Jun 2006
Posts: 852
Brought My New DL1000K6 Home Today!
---
Howdy all you Florida Strommers . . . .

I've been living in Florida since 1974. Moved to my current home in 1978 and have been here ever since. Started riding when I was about 14 years old - the first scoot was definatley a scoot . . . . make that scooter - an old Cushman that I found sitting in a garage up north, bought and brought back to life. That kind of started me. No, I DO NOT HAVE THE Cushman anymore. My Mom, an avid anti-motorcyclist, made sure it did not stay around.

Over the years I've had my share of bikes, Hondas, Harleys, Kawasakis, Bennellis, Yamahas and such. For whatever reason, I've never owned a Suzuki before. But today I wound up as the owner of a red '06 1000 and I am smiling so big right now, I'm afraid my jaw might just pop!

This is one absolutely awesome bike! I presently own several dualsports, 250, 250 and 650 cc in size. I have a sport-touring bike and I traded a ZRX1200 in on the V-Strom. While the ZRX might have more power, the power delivery of the Strom is just slick. I'm impressed.

Got a ride over to the dealer and is was 24 miles. For some reason the ride back was over 60 miles. I have no idea why that is, do you?

I've been sitting in the garage for the past couple of hours just trying to find something wrong with the bike - I can't. I've rolled the bars back a few degrees, adjusted the suspension, properly inflated the tires, checked the fluids, chain tension, move the windshield up to the top position and then took it for another ride. Even sweeter!

I think I'm in love with this bike. It's kind of like riding my KLR650 with the engine of the ZRX1200 in it! Smooth, almost electric like power that is just there.

I've got to get up early tomorrow and take the bike out on another run, changed the oil and filter at about 100 miles, then go do some riding!

I think I'm gonna be around here for quite some time!

Looking forward to getting together one of these days. I work most weekends, but if there is a gathering that runs into late afternoon, early evening, I'm on it!
Stromthusiast!
Join Date: Sep 2004
Location: Jacksonville, Florida
Posts: 57
The choice of motorcycles in your garage sounds the same as my friend Marty's! Congratulations on the new DL.

David Janes
Join Date: Jun 2006
Posts: 852
Some people are just very observant!

Howdy there my friend, aka Killer650!

Yep, I went out and bought a V-Strom 1000. Got one heck of a sweet deal on the bike so I went with it. Kind of wanted the DL650, but the dealer would not budge off of MSRP. I about walked out then saw the "Manager's Special" on the DL1000 - $7299! Next thing ya' know I was riding it!

I'm enjoying it too!

Good to hear from you over here!

Small world isn't it David?
Stromthusiast!
Join Date: Sep 2004
Location: Jacksonville, Florida
Posts: 57
I have a case of new bike fever, too. I'm buying a new DR-Z400S on Saturday. I have already started ordering parts for it and it isn't even home.
Welcome!!! Where do you live? Which dealer?

Rod
05 Red Wee
Riverview, FL
Like Rod says, WELCOME!!!! We Florida Strommers try to get together once a month or every other month to ride eat and eat some more. Would love to have you at our next get together. In what part of the state do you live? Me, I'm over just south of Daytona in New Smyrna. We draw riders from Pompano to Jacksonville and all places in between. Great bunch of folks. What cokor did you buy. My '05 is black. Hope to see/meet ya soon.
---
Jim
2010 FJR1300 Silver
'05 DL1000 V-Strom (gone, but not forgotten)
ATGATT
Join Date: Jun 2006
Posts: 852
JRShaw,
I live just on the southside of the Ocala National Forest in a small town called Umatilla.
There are some really great roads over here, both paved and unpaved to ride.
Hope your gatherings are later on in the day, as most weekends I'm working as an MSF RiderCoach.
I bought the dark red 06! I'm quite pleased with my selection!
Yes, Umatilla is on the map! . . . . . . . .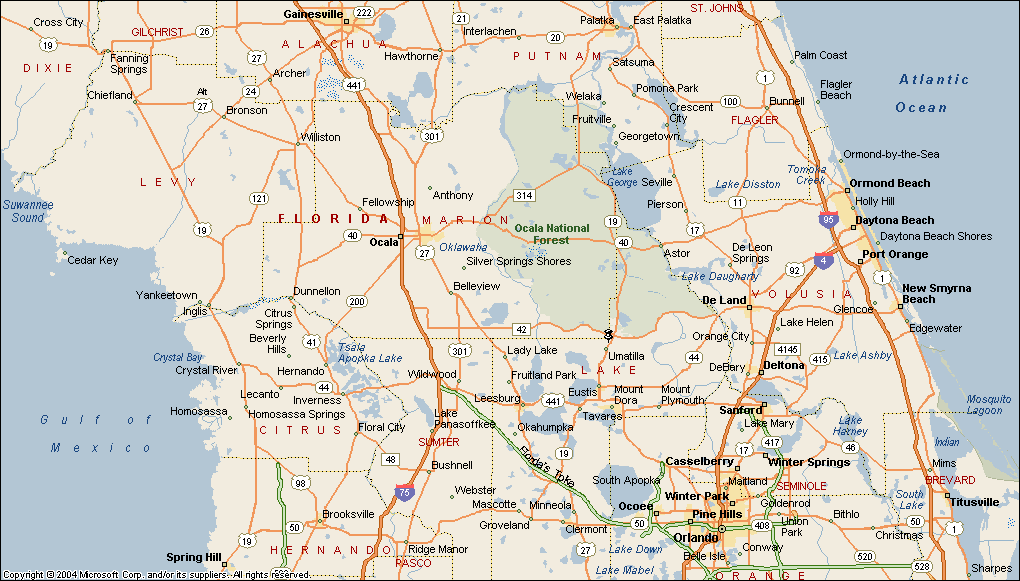 Join Date: Mar 2006
Posts: 88
[Yep, I went out and bought a V-Strom 1000. Got one heck of a sweet deal on the bike so I went with it. Kind of wanted the DL650, but the dealer would not budge off of MSRP. I about walked out then saw the "Manager's Special" on the DL1000 - $7299! Next thing ya' know I was riding it!]

If you paid $7,299 on a brand new 2006 DL 1000, you had a hell of a good price. I paid mine $8,400 Nov 2005. Congrats...[/quote]