Congratulations on the new bike!!!!:mod2_rockon:
---
Greg "Pinkman" Pink
Leesburg, FL
K4, Flat Black Club #135
Congratulations on the new bike however :new_worthless: of the new one,
---
"It doesn't interest me to know where you live or how much money you have. I want to know if you can get up after a night of grief and despair, weary and bruised to the bone, and do what needs to be done for someone you love". Blazeman, Warrior Poet


08 Wee Strom (black) FBC #93 Sold
08 KLR (red) Sold
04 BMW R1150R (red) Sold
Quote:
[FONT=Comic Sans MS][SIZE=3][COLOR=blue]I'm only selling because I just took posession for a 09 ORANGE ABS wee!!!
Except for Canada, I thought the 09 ABS only came in Silver. How did you manage to get an Orange ABS?
---
I often lose control. I really I hate my life.
Quote:
Except for Canada, I thought the 09 ABS only came in Silver. How did you manage to get an Orange ABS?
Ahhh... That is a story. Too late tonight but photos and story to come tomorrow
Winnie
---
Winnie
09 Orange DL650 ABS
Gainesville FL
The Story and Pictures
---
I have a bad habit of looking for new bikes immediately after getting comfortable with my current ride. However this time the only bike that seemed more suited to me was the ABS version of the same bike I already had. I kept waiting for Suzuki to sell something other than black or silver ABS bikes in the US. Then I hit on the idea of buying a used ABS and switching out the plastic and tank on my 06 red DL-650.
Iíve been looking at used bikes for a few months and found several. Most were a good long distance from Florida and by the time I factored in a plane ticket and return ride costs it just did not seem like a good deal. Plus my personal life just does not allow time away from home right now.
In my searches I found that Jacksonville dealer had a new 09 ABS and a new 09 Orange Wee on the lot. They quoted me a price OTD of $9400 for the ABS bike. I said I would take the ABS bike, with the orange plastic and tank OTD for $8500 and no more. I just stuck to my price and insisted they deliver it to my door and they finally said yes. I was actually not expecting them to agree
It took several days to switch over all my farkles. Iíve still not added the GenMar risers because the brake lines are too short. The rest is in place and here is the new bike, fondly named : ďPunkinĒ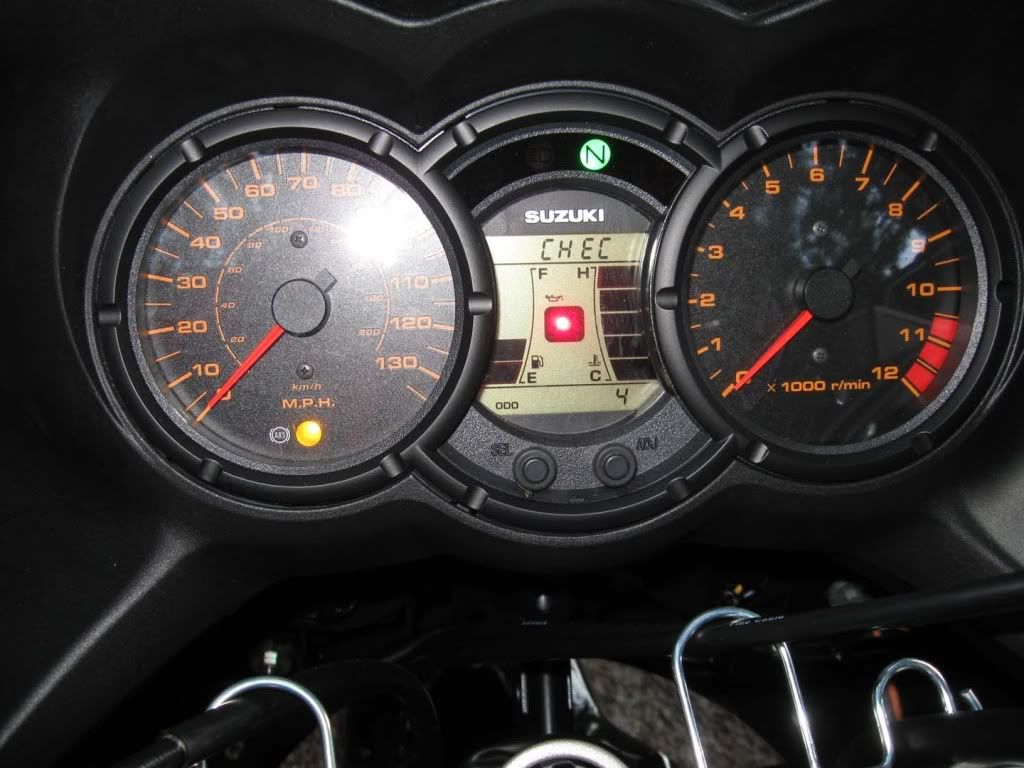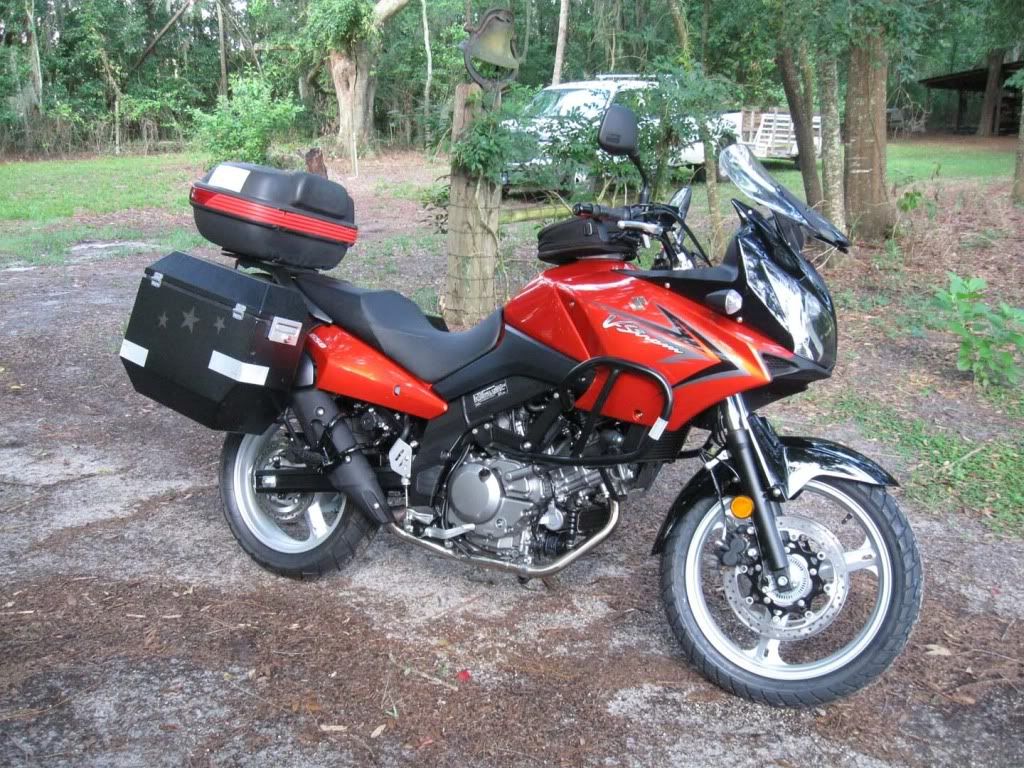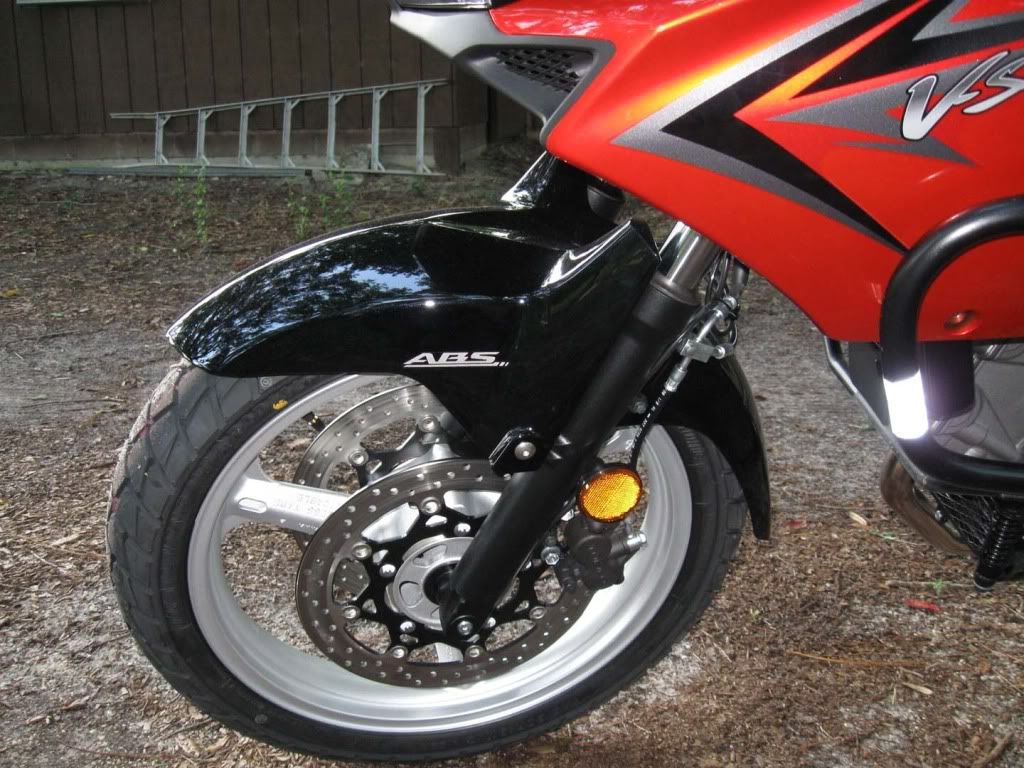 In retrospect it would have been MUCH easier to switch out the tank and plastic than move all the "stuff" but it's done now and I've got a really cool new bike.
Winnie
&
"Punkin"
---
Winnie
09 Orange DL650 ABS
Gainesville FL
---
Congrats on the new "great" lookin' bike. Wonderful choice. Now all of the collective want to see it in person. So when do we get the chance??????
Great to see you posting again and active. Hope all is well with you and your family.
---
Jim
2010 FJR1300 Silver
'05 DL1000 V-Strom (gone, but not forgotten)
ATGATT
Hi Jim and the rest o f ďthe CollectiveĒ
I would love to get together for a ride and show off the new wheels.
Iím still buried in dealing with momís failing health. She is currently in a rehab center in Gainesville but her insurance is cutting her off in three weeks so we have been scrambling for the next stage of the process. We have settled on an independent living facility also in Gainesville and are now dealing with the various options and care givers to get her through the first few weeks of relocation. Between my sister and I she has help every evening but during the day we need someone to be with her at least for a while.
Itís all very mind boggling to keep all facets of this together. We still need to deal with cleaning out her house in Ocala and selling it and her car. For the next 2-3 months I know I will not have time to do much more than ride back and forth to work. As long as there are no major setbacks things should be in better shape by the time the weather gets nicer.
The next two weekends will involve sorting through momís stuff and deciding what to move to her new apartment.
Hope all are doing well and staying safe. If you know anyone that wants a well maintained Wee please send them my way!
---
Winnie
09 Orange DL650 ABS
Gainesville FL
I got the Tee-shirt.
---
Winnie, I know what you and your sister are facing with your Mom. My brother and I went through similar processes with my Mom several years ago. My heart goes out to you both as you face this process. If you ever get overwhelmed and need to vent to someone who has been there, done that, etc., you know how to get in touch. Call anytime.


We will ride with you soon I'm sure. Good folks are hard to keep down and you certainly fit the bill as one of the good folks. I really miss our rides and "eats" with all of the Strommers in FL. Gotta get together again when we can.
---
Jim
2010 FJR1300 Silver
'05 DL1000 V-Strom (gone, but not forgotten)
ATGATT
Sellin' Ole' red? GASP! :eek1:
So who does that leave here in the sunshine state with the fast red ones?

Lets see.....

Me
JetJaguar
Keith Faulkner

Who else?

You know you're just gonna confuse those poor horses and your lovable pooch riding up on an Orange one!

Just kidding! It looks great! I love the Orange and the Yellow.
---
Jim M
There's a reason Helmets aren't made of bone !
DEALS GAP
2006 DL 650
1996 DR200
2008 WR250R