Join Date: Sep 2004
Posts: 167
Florida Meet and Greet - April '06
---
Meet & Greet # 5 - April 15, 2005
We'll meet at San Antonio City Park at 10:30 AM. We can spend some
time socializing, and those wishing to eat may do so. We'll target 12:00 PM
(or earlier) to get on the road.
Starting in San Antonio, we will travel over and around the "Mountains" :lol: of
Pasco & Hernando Counties. Next we'll head north traversing the wilderness of the
Withlacoochee State Forest. Our trip will end at Coach's Pub & Eatery in
downtown Inverness.
Detailed maps can be found at http://cycle.frogfruit.com/main.php?...&g2_itemId=560
At the site, click on the thumbnails for a larger image.
Distance is 125 miles.
This ride will inculed a 4.5 miles dirt section. The section is well graded and little to no sand. I'm a
novice dirt rider and I was able to handle it without any problems. A dirt-free bypass will be provided.
The following people plan to attend:
Charlie P.
Victor
Lou
Rod
Mike
Bill "SandShark"
Jim
Gene
Doug
Starting Point:
San Antonio City Park
N 28º 20.155'
W 82º 16.365'
next to:
Panchos Villa Mexican Restaurant
32804 Pennsylvania Ave
San Antonio, FL 33576
(352) 588-3037
Mid-point:
To be determined
End Point:
Coach's Pub & Eatery
N 28º 50.155'
W 82º 19.870'
114 W Main St
Inverness, FL 34450
(352) 344-3333
:arrow: Send me an e-mail at
[email protected]
or post a reply on this forum if you plan to attend.
The weather forecast looks good. I hope a bunch of you folks can make it. This area is about an hour west of the Clermont ride. Lots of shade trees and curves.

Rod
Yes!!!
---
Hey,
Good, I think the M&G should start early. I will be there. This one should be interesting for me. I have never riden that route before. It's allways good when you get to see familiar faces in new places.
---
...and on my way home I remember the struggle of a day under the sun through hills and valleys...over rivers and lakes...conquering the beast that carries me in a stream of wind...a smirk creeps thru as I say in a calm yet impatient way...can't wait!...
Mike and I spent all afternoon looking for a suitable route. He's got all of this GPS plotting stuff. Damned gadget nerd :shock:
There will be hills, and LOTS of 15 MPH turns. It should be fun. I'm with Vicstrom. Let's get the M&G done early and ride.
Rod
Join Date: Sep 2004
Posts: 167
In addition to all the curves Rod found, there'll be a first for one of our M&G rides, DIRT. We've routed a 4.5 miles dirt section. Little to no sand, very well packed surface (limestone?). Rod and I were able to ride along at 45 mph with no problems. I myself have little dirt experience (about 4.5 miles 8) ). Lots of dust because of the dry weather, so don't wash your bike before the ride :lol: . A dirt-free cutoff will be made available, but any cycle could traverse this dirt road. Mater of fact we saw a scooter (Yamaha Zuma?) and a BWW 1150 GS.
Dirt?
What dirt?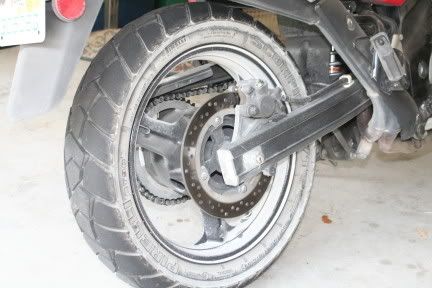 Rod
05 Red
Riverview, FL
Join Date: Sep 2004
Posts: 167
Updated original post with a link to maps and directions. Anyone wanting the MS Streets & Trips files, drop me an email.
A very curvey ride. Take a look at
this along Gobbler Road
Awesome maps, Mike!!! Let's leave tonight! I will set up my Digital SLR a couple times on the route. If you want a high res action photo for free, you better show up
Rod
Looks like another great ride. If I didn't have a wedding to go to on the 15th I'd be there. The southern guys have a ride around Lake Okeechobee also scheduled for the 15th that I will ride at least half of. Hopefully I will see you guys sometime in the future.

Steve
---
Stephen, V-SRI 027
[url]www.caferacerpodcast.com[/url]
13 Moto Guzzi Stelvio NTX1200
13 Triumph Tiger 800
02 Moto Guzzi V11 Tenni
07 ST1300 (traded)
03 Bandit 1200S (crashed)
02 V-Strom (sold)
Will Be There, Calling Victor & Lou
---
SandShark will be there.

Victor, Lou or anyone else want to meet up and ride over together.

Just installed my new windscreen today MP Cycle Designs. Will test it out tomorrow. Can't wait for long ride test on Sat.

Bill "SandShark
03 DL1000 "The Fast Silver"
02 DRZ400S "Super Modified"