Stromthusiast!
Join Date: Dec 2006
Location: Costa Rica /Florida /Ohio
Posts: 24
Highest drivable road in North America MOUNT EVANS
---
A very nice day trip from the Denver area can take you up the highest drivable road in Noth America. The Mount Evans Parkway is only open in the Summer, and not every day in the summer. It really depends on the weather. They recommend calling before you go.

Mount Evans is about 60 miles West of Denver on I 70. Head to the town of Idaho Springs, and then from there head to Echo Lake. Echo Lake is at an altitude of about 9,000 ft, and this is where you will start your climb up to the summit of Mount Evans. You can drive/ride up to 14,260 feet. Not much air up there.
I've never done the trip on my Wee, but back in the carburated days, I couldn't get my bike to idle at less than 5,000 rpm at the summit.
It's quite the trip. Nice in the summer to leave the 90 degree heat of Denver, and in a couple hours be in 40-50 degrees with spectacular views all around.
I always enjoy the 1,000+ mile ride there.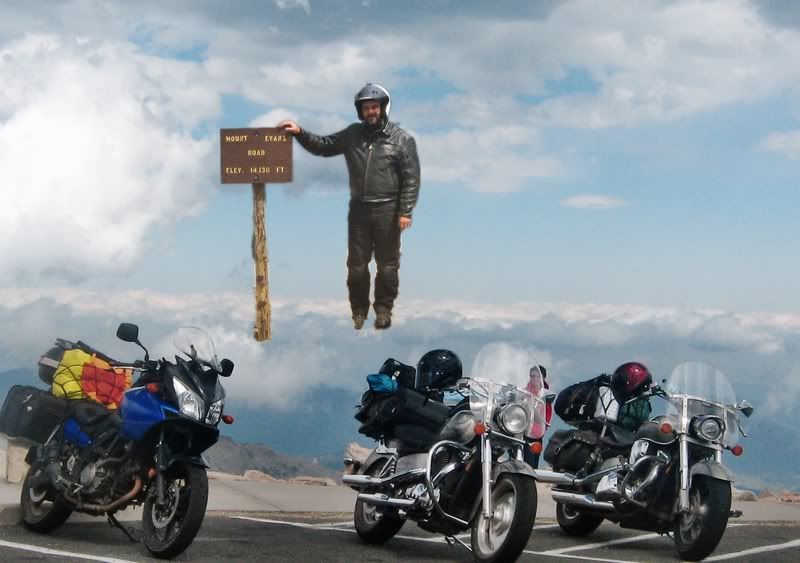 Quote:
You can drive/ride up to 14,260 feet. Not much air up there.
Gawd! That's twice the height of our highest mountain, Mount Kosciuszko - 7,310 ft - and you can't drive up it.
(It was named by the Polish explorer Count Paul Edmund Strzelecki in 1840, in honour of the Polish-Lithuanian national hero and hero of the American Revolutionary War General Tadeusz Kościuszko).
---
Ron B. VK2OTC
2007 Yamaha XJR1300

RIP Bucko
1979-2008 - Riding on forever