No-Slab Encinitas to Hemit
---
I've got a long-time cycle-guy buddy that has a shop out in Hemit.
So instead of taking the "EZ" way out (66 miles one way) and "ride the slab" (ugh)
I opt to take this route (227 miles & 100% Slab-Free). . .
Takes a little longer
but WTF do I care.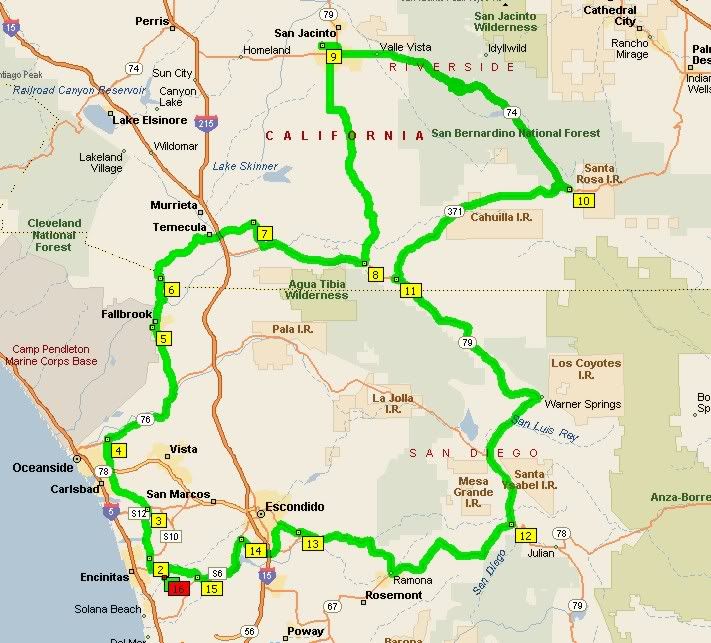 ---
:hand: [I]Experience is a hard teacher because the test is first, the lesson afterward. [/I]
Just a little more
---
Have you passed Hemet on the 74 and taken the ride on 243 up to Banning? It's an AWESOME ride. not much traffic, nice elevation, good conditions, plenty'o fun!!! If you haven't given it a shot yet, hit it up.
---
[SIGPIC][/SIGPIC]

2007 DL-650
1996 H-D Road King
I grew up in San Bernardino and was stationed at Pendleton for a while. I love Tucson, but your post is making me homesick! That looks like a sweet ride. And the leg up to Banning is a great suggestion.

Next time I go home to visit family would they be pissed if I took off for a few hours? I need to start fabricating some cover stories.

Edit: wow, just noticed how old the OP is. Holy resurrection, Batman!