My favorite spot is Copper harbor.
---
I ride there atleast three times a year durring the summer. I ussually stay in Calumet. It has great roads and great scenery. Copper Harbor is in Michigans upper peninsula. If you can get there atleast once do it.

P.S. My dad is going to kill me for saying this because he likes the fact there are not to many guys on bikes up there.
Stromthusiast!
Join Date: Apr 2006
Location: Central Ohio
Posts: 17
Haven't been up to Copper Harbor on a bike, used to go up there every few years with the parents. They still live in Newberry (eastern UP) so that would make a fine day trip the next time I ride up there to visit. Lots of great things to see in the UP, take some time to explore. Good fishing up there too.
---
Displaced Yooper

04 Blue DL650
Stromthusiast!
Join Date: Jan 2006
Location: Rockton, IL
Posts: 319
I'm headed that way next weekend.. Kinda..
Bouncing up through the UP, on the way to the Soo.. Spending a day or two in Manistique, and stopping at the shipwreck museum at Whitefish Point.. And I always must stop at the Fish House in Paradise for a fresh lunch of daily caught whitefish..
---
humbug
Stromthusiast!
Join Date: Jan 2006
Location: Rockton, IL
Posts: 319
That's me, and that's Copper Harbor in the background..
Beautiful area!!!
This is a park about 10 miles from Gay, MI..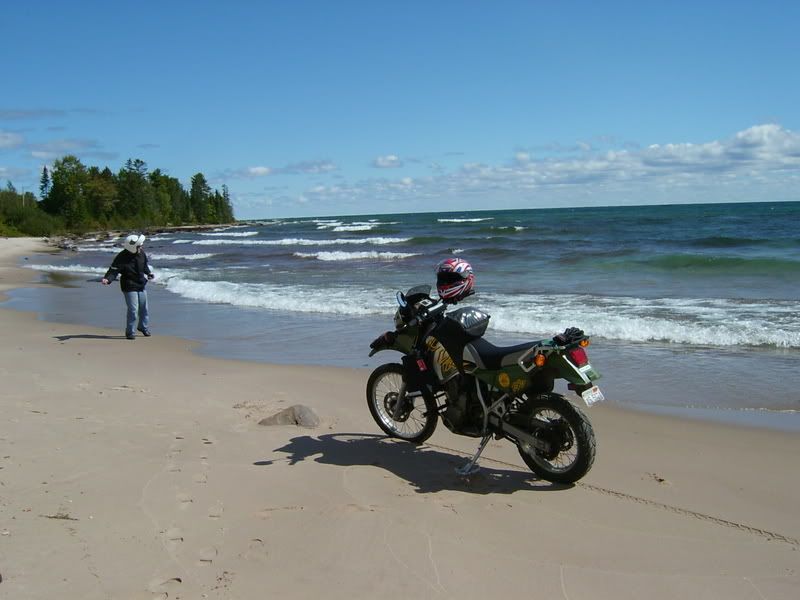 My bike and my idiot buddy trying to skip rocks.. :lol:
---
humbug
I was there several years ago. More like 15. I was dating a woman whose sister had a house on Lake Superior. We were there early spring, still snow in alot of areas. It is beautiful there!! Always wanted to get back and do the waterfall tour!
---
Totaled on June 9 2012 08 Victory Vision Tour Premium.
No longer riding due to injuries on June 9 2012.
Stromthusiast!
Join Date: Sep 2008
Location: IN
Posts: 626
The UP is one of my favorite places for camping tours. Good roads, minimum traffic (except at the Bridge), great scenery, good food and really friendly people. Need to put a trip up there on next year's riding agenda. The Wee will be perfect for a trip like that.
---
'12 Guzzi Stelvio NTX

'09 DL650 ABS (Sold)
I look forward to riding there.
---
Thanks for the encouragement ... as if I needed any.
My Wee-Strom has carried me to the UP twice, and I look forward to another ride there in July. I have a project that will take me the length of US Highway 41. That means I start in Miami Beach FL, visit my Sarasota home on the first night on the road, then go North for 1780 more miles to Copper Harbor.
Oddly enough, my Wee-Strom has carried me into Michigan six times, but only three times into Florida. I don't know why I keep track of things like that.
Keith
I grew up in Calumet, spent alot of time camping and 4 wheelin' in the Harbor.
---
Roger ('14 Tenere ES, COG 5903)
Paper,

Just wanted to say thanks for the pics. I grew up in Ann Arbor and our folks used to take us up there in the summers. I had 3 older sisters and we used to play in the water on that very beach. I can't believe that I used to swim there as cold as that water is.

It's really cool to see a place I used to go, 49 years ago.....really cool cause it loooks exactly the same.


jeff
---
Present only:
My VStrom 1000 K7
Stock bikes: a
purple '74 RD350 in great shape,
'72 H1,
1975 GT550,
All-original 1975 H2 750 triple (purple of course),
Modified bikes:
1974 H2 750(my go-fast), a scary fast & fully ported street machine!
'82 Yam 650 Turbo- running 18PSI, Be sure to be pointed where you want to go!
'75 GT550 built up & ported,
'75- H1 wrist-rocket- HOLY GOD ALMIGHTY!
'75 S1 Kaw 250 baby triple w/ lifted and ported 350cc cylinders/28mm flatslides
To-Restore list: '72 H1, 1-'75 H1, 1974 GT750