2017 Eastern V-Strom Rally Photos-Comments-Suggestions
---
Please post your Rally photos here. Provide any comments and/or suggestions. What went well and what went bad. What we can improve on.

Thanks and hope to see you next year.
---
2020 Eastern V-Strom Rally (website) - May 14 - 17, 2020
__________________________________
2006 Suzuki V-Strom DL650K
1986 Honda Shadow VT700C
1974 Suzuki TM-250
1966 Triumph Bonneville T-120R
1965 Suzuki 80
No monster energy girls. 😢

Sent from my LGLS676 using Tapatalk
---
2012 Suzuki DL650AL2, over 45k miles already!
Stromthusiast!
Join Date: Dec 2015
Location: Western North Carolina
Posts: 38
$tromtrooper
Join Date: May 2005
Location: Central OHIO "Go Buckeyes"
Posts: 16,378
Was the event not a success? I have seen very little chatter on here or pics, that isn't the norm........
---
BRIAN "GO Buckeyes, GO Wildcats"!
2015 DL650 XT "Hector"
1997 Honda Valkyrie 1500
custom
"Dolores"
Eastern V-Strom Rally
The Ugly, the Good and the Bad
Forecast constantly changed before we arrived but Thursday was a fine spring day with nary a drop of rain.
First the Ugly, yes I had my picture taken in front of a steel dragon. Note that those swords are free standing and one of several ways to settle differences on the Dragon. We rode the Dragon twice on Thursday when we arrived. Hardly any traffic and beautiful weather. Riding those curves I was quite rusty as this is only the second time I've been on my bike in three years due to an injury.
The Good
Strom Lurker met me at my house and we rode to the event through rural areas. It was great lots of little twisty roads but mainly nice rural state highways.
The roads in the area, and I don't just mean the Dragon, are so good that the only way I can describe them is water skiing in a cove. No waves just smooth water. The more you ride them the better you plot the line in and hold the line out. The more you look ahead in the curve. I didn't ride a single bad road the entire trip. And the company of V-Strom riders was stellar. I'm, as everyone knows, a cynic. Everyone was friendly and ready to do one thing above all others, share knowledge and go riding on awesome roads!
What a museum! I can already see that a trip to this museum is now a standard trip for this event. I can't imagine not going. A whole building full of vintage motorcycles, some cars and motorized bikes and.....not only do they all work the guy jumps on random bikes, cranks them and rides them around. And if that isn't good enough there is a story to go with this bike that nobody walked away from until the guy was finished. Imagine you could see 21 years into the future and see what advances and upgrades were on the current motorcycles in 2038? This bike was found in pristine condition constructed with features that didn't come out on motorcycles until 21 years later, and it wasn't constructed by any motorcycle company. Come to the event next year and experience and hear this for yourself! I'll give you a peek at the bike.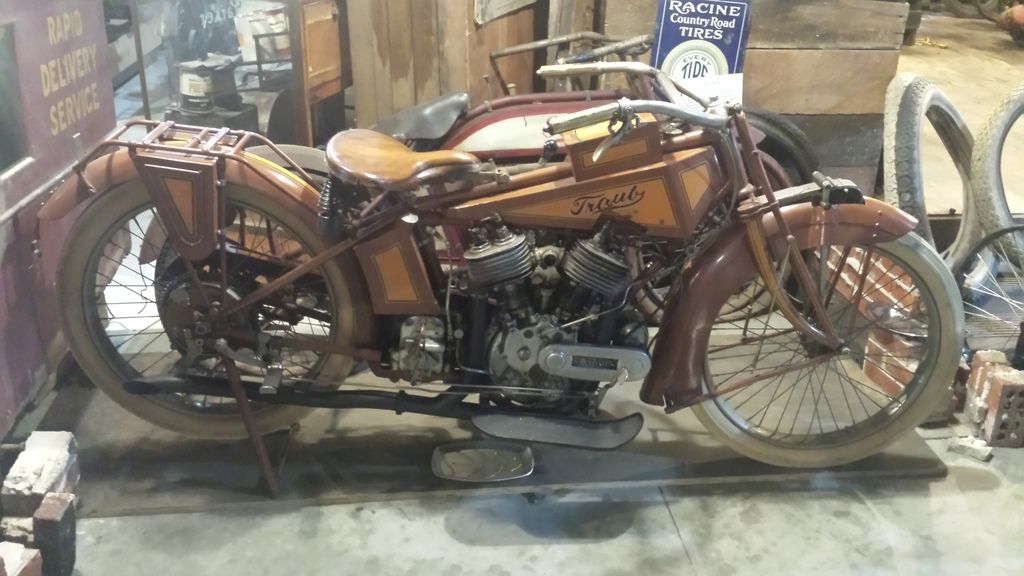 The Bad
Thursday Friday and Saturday had phenomenal weather. That caught up with us on Sunday morning at 3 am. Some people left on Saturday before dark to miss the storm as much as possible and some left Sunday in the storm. Strom Lurker and I decided to ride back Sunday and since my plotted route was to parallel I40 and I26 but not actually get on them we talked it over and opted for a quicker route on the interstates. My ancient Garmin Quest took us over and up when, for that route, we should have went up and over. I think it was trying to protect me from myself. We still hit I40 before the big jam up when I40 hits I26. I had trouble seeing due to all the mist from the tires. I was in the lead and while I passed some slower cars I was in fear for my life and mostly just stayed behind cars in the slow lane. Then I saw the exit that puts us off before the big traffic jam when it meets I26. Then I went the wrong way. When we hit I26 i thought it would be better but I was still blind and almost got run over by a truck that didn't know how to merge. From now on it rains, I go side roads. Those I can see on. I apologize to Strom Lurker as we were riding hard and fast up till the rain. I know I put him behind going home. I was glad when I pulled off and he went on so I could just slowly ease the last 20 miles and he can kick it up to a good pace.
All that being said, wouldn't have missed it for the world and will be there next year.
---
Formerly clovett but changed to my gaming name

2004 DL650 1998 DR650 1994 CB1000 1992 DR350
2004 Z400 1965 Norton 650 1984 Honda XL200
1975 Suzuki RM125 1972 Yamaha 100 enduro
1971 Honda CT90 1968 Honda Z50A
---
Last edited by Dread7; 05-21-2017 at

05:37 PM

.
Stromthusiast!
Join Date: Mar 2017
Location: Valley Grande, Al.
Posts: 23
Made it home just around 4 PM CENTRAL time . Great time was had by all. Hope to make it again next year.
Stromthusiast!
Join Date: Oct 2010
Location: Central Kentucky
Posts: 125
Ok, I haven't had time to post any pics yet but I can just say that everyone I met had a good time. Rain was forecast for most of the event but never showed up until late Saturday evening. Storms during Saturday night but I rode 300 miles in only light rain to my home in North Central Kentucky.
I will say that on Thursday coming into the Iron Horse I ride the Dragon mostly because it is the quickest route, I never passed another motorcycle at 10am Thursday while on the Dragon. Going home at 7am Sunday again not one other vehicle was seen the whole route. So now you know when to ride the Dragon.
Mark444 may add some statistics later but I noticed that about 30% or more of the attendees were new folks just looking for new adventures. New friendships were made and old ones were enjoyed once more. No V-Strom incidents that I know of and Thursday through Saturday were almost perfect with Saturday being almost HOT. I cannot remember another Eastern Rally that had moderate temperatures like this one. Sometimes it has been known to snow.
The museum trip was "FANTASTIC" to say the least and Dale the owner of the museum was a great guide for our group. Dale went WAY out of his way to make us welcome. (see remarks by Mark444 for further details on the museum trip). We have been invited back to the museum by Dale and may possibly include another Hot Dog cookout by Mark if we can talk him into it again.
As usual the Iron Horse staff and owners John and Charlene were the best hosts you could ever ask for, treating us to our own meeting room upstairs in the Horse each night so we could have our own BS sessions and information sharing. We also had some prizes/awards that were provided or leveraged by Mark444 and Stalky Tracker for the event. A "BIG" Thank You to them both for again helping our event be one of the best in the country. I do want to say it was nice to meet all the new Rally attendees that were there for their first adventure with us. We hope you all had a good time and will visit us again next year on May 17-20th 2018 (official 2018 Eastern Rally dates.) Make your reservations and schedule that vacation now. More later after I unpack and settle in.
Prowler
---
Last edited by Prowler; 05-21-2017 at

07:27 PM

.
Stromthusiast!
Join Date: Sep 2015
Location: Northeast Alabama
Posts: 81
David here. You all know me as the youngest Strommer at the meetups!
My trip started Thursday when I left AL. I headed to Chattanooga TN for lunch and had some amazing noodles.
https://1drv.ms/i/s!AlcJTxprKOwohD6hF9Z70oR4Fv7b
I made it to the IronHorse Thursday evening around 7PM. It was a good ride once I left the interstate and had 2 hours of amazing backroads, including the Tail of The dragon while no one else was there.
https://1drv.ms/i/s!AlcJTxprKOwohD9rJdBhJgEFmvNk
https://1drv.ms/i/s!AlcJTxprKOwohEDPXyXuVi4v2ClI
https://1drv.ms/i/s!AlcJTxprKOwohEFxA4L-k6U3vfCk
I got a bunkbed at the lodge. How did I end up with a room with no guys that snore?? I was definitely happy with the room at the price that I paid. Last year, I stayed in a tent, but that required a lot more stuff to pack onto the bike. Next year, I will bunk as well!
Friday, 5 of us rode the Cherohala Skyway a couple times. The skyway was simply great. Another great day of riding.
https://1drv.ms/i/s!AlcJTxprKOwohEIPQFAie9Wnop-m
https://1drv.ms/i/s!AlcJTxprKOwohEPBm7D_l9HxmN5b
https://1drv.ms/i/s!AlcJTxprKOwohEQCkikC1wOBc7dZ
Saturday started out, just like Friday, with breakfast from the great guys at the IronHorse. I then got together with the group that headed to the Wheels Through Time museum. I am not a big museum guy but I still thought this place was great. Dale was a great host.
https://1drv.ms/i/s!AlcJTxprKOwohEW9jhM9DAR15pUN
After the museum and hotdogs, we headed back to the IronHorse. Then, cloveit and I went over to the dragon to watch the circus for a bit.
We got back for a delicious steak dinner. I had already packed up my stuff and was ready to leave as soon as finishing dinner. The plan was to get back home before the storms came in but the plan backfired on me.
I was about an hour away from the lodge searching for a Dollar General. I stopped and grabbed a $5 rain poncho that I taped over my riding jacket in the hopes to make it more water resistant. I also threw on my waterproof overpants and gloves just in time for it to start raining. I started back on the road, knowing I had 3 hours of wet riding ahead of me. The poncho was a success, but it lacked sleeves. My arms got wet fast, and my boots filled with water in no time. My head, torso, hands, and legs stayed warm and dry though. I rode for another hour until I was getting lower on gas. I stopped for 5 minutes, still raining, and filled up on gas knowing that it would be enough to get home. I headed out with just another 20 miles before getting to the interstate. I rode the next two hours straight without a single stop because I just wanted to go home, shower, and sleep in my own bed.
200 miles after leaving the Ironhorse, 4 hours of riding, 3 hours in the rain, and a total of 2 short stops later, I made it home. I drug my soggy self into the house, took off my dripping gear, showered and went to bed. Then I spent pretty much all Sunday sitting and recuperating. The trip totaled out to just shy of 700 miles.
FAQ
Do I regret leaving Saturday night? More yes than no. Once I figured out that I was riding right into the front of the storm, I had second thoughts about leaving. I did it anyway, but I think that it would have been better to wait until Sunday and ride in the rain while there was daylight. I was practically riding blind a few times. As soon as the sun went down Saturday, the rain came pouring.
Did I enjoy the trip? YES! Thursday morning through Saturday evening was a blast. Even Saturday night on my way home wasn't terrible. I enjoy a good adventure. Now I can say that I rode 3 hours in the rain at night. It was an adventure for sure!
Would I pay more for better WI-FI at the IronHorse? Yes. Bunk beds are $30 bucks a night. I would be okay paying around $35 for better internet. Being able to communicate with my friends and family are important to me.
Will I be back next year? Sure will! I hope to have a more farkled Strom by then. Side cases!
Thank you for a great time, ladies and gentlemen. I look forward to next year. Ride safe!
Alright, I finally got home. 2300 miles in the Jeep, around 500 miles on the L2 Strom. Got hit on the way home in Louisville yesterday in that big rain.

I thought the WI FI was fine, so I want $20 camp sites instead! That was awesome and could have been $40 or more.

My cell phone sucks and doesn't know how to keep photos straight. Last one was on Wednesday at the north side of the Dragon, selfies are like taking pictures in a mirror! I spent most of my time on the BRP since it was a first for me. First one is @ 6000 ft BRP and water fall is on the moonshine south side.
---
Last edited by Dave Tysdal; 05-21-2017 at

09:20 PM

.