Fender Extender???
---
Hello all,
Just purchased a 2018 650 XT. Having put 60000 miles on a 2008 wee, I looked at nothing else for a new bike.

Overall very happy with new bike. But the fender is so short I get a mud bath all over the engine on my winter rides here in Pa.. The front fender is much shorter than my 2008 wee, which I installed a fender extender on. Why make a front fender so short?

Ok, don't make fun I keep a spotless bike (Street rider only).

I can't find a front fender extender for the 2018. Can anyone steer me to a source.

Thanks
John
Hey John,
I'm riding my second Wee. This is a 2015 and I agree the front fender is too short. I'm a bit of a 'McGuiver' fixer-upper guy so I made my own extension and used rivets to install it to the base of the front fender. My 2012 Wee extender was made of a piece of old conveyor belt. A little too thick so I used a grinder to thin out the overlap section. My newer bike (2015) has an extender made of a car mud flap. I purchased a cheap set from the auto store and cut the rubberized plastic 'extender' from that, then used rivets to attach it to the base of the front fender.
I put 92,000 kms on the 2012 with no issues, and I've now got 7,000 kms on the 2015, again, no concerns, they work great.
Good luck.
Larry
Stromthusiast!
Join Date: Oct 2018
Location: Central VA
Posts: 64
Quote:
I can't find a front fender extender for the 2018. Can anyone steer me to a source.
The Puig hugger for the 2016 and earlier model fits the 2017+. I put it in my 2018 no mod necessary. Here's a link: Puig 6159N Black Front Fender Extension
https://www.amazon.com/dp/B00GA3E7GE..._rEcnCbT7RFT2T
Sent from my iPhone using Tapatalk
---
2018 V-Strom 650 XT - Champion Yellow
Stromthusiast!
Join Date: May 2018
Location: Long Island NY
Posts: 70
revzilla or twister throttle sells them
---
2018 DL650AXT Mods
Corbin Seat
Garmin Zumo 396LMTS GPS
Cardo Bold JBL Comm.
SW Motech Crash Bars
Denali DR-1 Led Lights
IMS Adventure 1 Pegs
SW Motech EVO Tank Bags Micro, Engage
GIVI V47 Top Case
GIVI Skid Plate
OEM Center Stand
Zeta offset Risers
MZS Levers
Adventure Tech Mirror Extenders, Kick Stand Plate and Peg Lowering Kit
Helmet Guardian
Fenda Extenda
National Cycle V-Stream 19 inch Shield
ZETA Armor Hand guards
Stromthusiast!
Join Date: Mar 2012
Location: Halifax NS
Posts: 71
I too made my own fender extender, K4, The material used was a piece cut from a Crazy Carpet. There was a good discussion how to attach an extension to a fender.Rivets, screws & glue work well for use mainly road use.Velcro was deemed a better choice for off road use. The extension might be lost but the fender was less likely to be damaged. Cheers Doug
Stromthusiast!
Join Date: Nov 2016
Location: Greenville, SC
Posts: 425
I just received received one off ebay for $35 w/ free shipping. Very please, perfect fit. Brand is Pyramid Plastics (pyramid-plastics.co.uk).
Took off the supplied tape and will replace with 3M.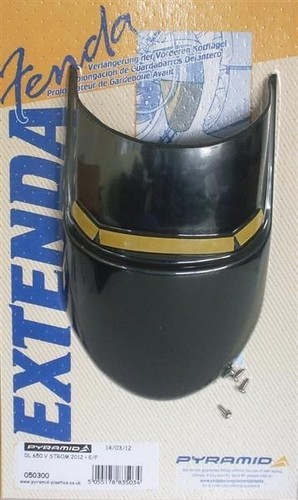 ---
Last edited by brock29609; 01-13-2019 at

12:01 PM

.
Thank you all for your input. I ended up with the Puig. Seams to be the longest extension without going custom.

Now it seems riding is over for a bit in eastern Pa, don't want to deal with the salted roads.