Stromthusiast!
Join Date: Aug 2012
Location: SE Michigan
Posts: 59
Getting it off the ground
---
So looking at pictures today I realized that if I try to use my motorcycle jack on this thing I'm going to destroy my exhaust.

What's the best way to get the bike off the ground for wrenching, oil changes, and winter storage?
---
This is kinda tricky. I've used a floor jack on the motor behind the oil filter but the bike is front heavy so it's tipsy.

A front wheel stand that goes under the steering head or straps from the rafters in the ceiling seems to be the shadetree way. I'm open for ideas too!

I have a LP rear stand and it works great for rear wheel maintenance.
---
2012 Suzuki DL650AL2, over 45k miles already!
FORUM GODFATHER.....R.I.P. PAT
Join Date: Jan 2006
Location: Evanston IL USA
Posts: 38,049
Table lift with a ride in front wheel chock.
Stromthusiast!
Join Date: Jun 2012
Location: Seattle
Posts: 1,060
A center stand and/or Yann's skid plate.
Stromthusiast!
Join Date: Aug 2012
Location: SE Michigan
Posts: 59
D.T., how stable is that thing? It looks good for light rear wheel maintenance but I can't say I'd trust it for anything serious.
Greywolf, only if you convince my wife she needs to not park in the garage anymore
Are the skidplates substantial enough to jack the bike up on? I know they're designed to be tough but somehow in my mind impacts and supporting the entire weight of the bike are different. Maybe I'm wrong.
Yann states on is website that you can jack the bike up with his skid plates.
enduro guardian,skid plate, bash plate,radiator guard,lift kit,protection,yann
But if you needed the skid plate or crash bars off for whatever you were working on, that would cancel that.
I use a rear stand that lifts by the spools, I'd imagine adding a similar front stand would be great for getting the whole bike off the ground and the wheels free.
You can both at Cycle Gear for less than $100.
---
'12 DL650A VStrom
Skidplates are fine for jacking the front end off of the ground. It is best to have a centerstand too.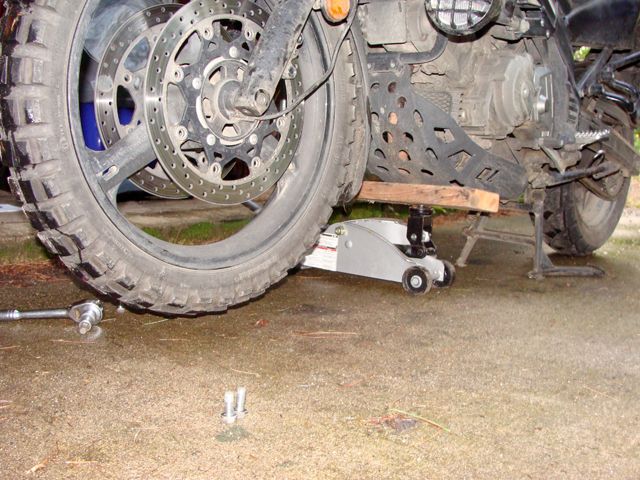 B.L.
---
2007 DL-650 (I gave away in 2012 with 111,000 + miles)
"A word grows to a thought; a thought to an idea; an idea to an act. All the pieces are put together, and the whole is yours."
1942, Beryl Markham: "West With the Night"
"You can talk about doing a thing until everyone finally talks you out of it, or you can actually do the thing"
James Baldwin "Across Islands and Oceans"
That's one dirty bike you got there B. L.
Good for you mister 😜!


Sent from my iPhone using MO Free
Stromthusiast!
Join Date: Oct 2009
Location: Evergreen, CO
Posts: 598
Quote:
Table lift with a ride in front wheel chock.

GW, what is your procedure for securing bike both in the chock and onto the centerstand, since deploying the centerstand moves the bike rearward?
---
07 DL1000, all farkled up
I have yanns skid plate and raise it off the ground with my motorcycle jack......works for me...TD
---
2017 Triumph Tiger 800 XRX
2012 V Strom 650 Fox orange
2013 Yamaha FJR 1300, old mans crotch rocket
2004 Polaris Sportsman 500 ATV green
N1ATF
Spot 3