Corbin Seat for the '12 Wee
---
---
[SIGPIC][/SIGPIC]
2012 Suzuki DL650 VStrom Adventure ABS
2008 Suzuki DR-Z125
2007 Triumph Rocket III Classic (R.I.P.)
2005 Harley-Davidson VRCSA
2000 Yamaha TTR 250
1999 Kawasaki Vulcan Drifter 1500
1998 Harley-Davidson Dyna FXDL
1993 Harley-Davidson Sportster XLH 883
1986 Husqvarna WR 400
1980 Honda GL 500
1974 Honda CB 200
1972 Honda CB 450
I have the Corbin.
I like it, but you need to understand that the Corbin is NOT plush.
The seat is relatively hard, some hate them.
I DO NOT hate them.

I have had a couple of Corbins on different bikes.
I like the one on my GL1800 the least, it has a 'funny' shape.Unlike the others, it is somewhat high in the middle. I am going to experiment, someday with adding some very firm foam toward the outside of the seat.
---
L2V -- she's a stocker!...and gone...
2011 MG Stelvio
i've had my corbin for a week now and i love it! but then, i've been riding corbins only since 2002. my goldwing was the only bike i've had w/o corbin, and it needed it too. corbin is a hard/firm seat, but to log long hours, hard is better--for me anyway. and you can ride it for 10 years and still get half your money back. Deals Gap...i'll be there too. i'll camp there sat sept 1st, then to blue ridge mc campground ...last 2 nights sept 5/6 at Willville MC campgroud in Meadows of Dan Va. in between...HotSprings, Damascus, have to wait and see a couple hours before dark.
---
2012 DL650
U.S. NAVY, RETIRED
My Corbin is working for me, and appears to have broken in nicely. I've done about 1500 miles on it now, did 200 coming in to work this morning, with no pain or discomfort to speak of, don't really think about the seat when riding now. Definitely worth it in my book, but I also make sure to get my money's worth by designing something unique. They charge the same price, might as well have some fun with it.
There is already a good 2012+ Seat thread rolling. Here is a link to the page that has pics of my custom seat and info about it....
https://www.stromtrooper.com/dl650-20...2-seat-16.html
Good luck with your decision, lots of options out there.
DSR650
I ordered the heated one. I was a little reluctant at first as I heard that the customer service was horrible. I placed my order and I actually found that the staff was very helpful and professional. Mine should be arriving within the first week in September. I can't wait!
Stromthusiast!
Join Date: Jul 2012
Location: Virginia Beach, VA
Posts: 240
BAH! NEVER mind this post. I saw "corbin" and thought "sargent" seats. Damned brain.
---
Last edited by sfalexi; 08-15-2012 at

10:50 PM

. Reason: Stupidity
Stromthusiast!
Join Date: Oct 2003
Location: North Carolina
Posts: 227
I just got in my new Corbin for the 2012. I'm still in full farkle mode, but when I put the seat on just to see it on the bike, it wouldn't click down and lock in like the OEM seat. Did anyone find that as an issue? I haven't addressed it since bike is still on the lift and doing other things. I've had to add spacers under the mount on other corbins in the past so just asking before I get to fixing this small thing.

JDP
It is a very tight fit initially, make sure the front tang is seated properly then push it down and click it in. Let it sit for a bit and come back to check it. The rubber bumpers form to the frame quickly and you'll be able to pop it on and off just like stock.

DSR650
mine was the same and i was totally PO'ed!!!! within 5 minutes i wsa on the phone with corbin. she was very nice and said this was normal for people like me that did not read the website. take the seat off and rub a little WD40 on all the bumpers. then carefully insert the two front clips of the seat into the keepers just aft of the tank. then give a little pus from the back of the seat vs straight down and it snaps right in. worked like a charm for me. each and every time since then, the seat has gone on perfectly with no problems.
---
2012 DL650
U.S. NAVY, RETIRED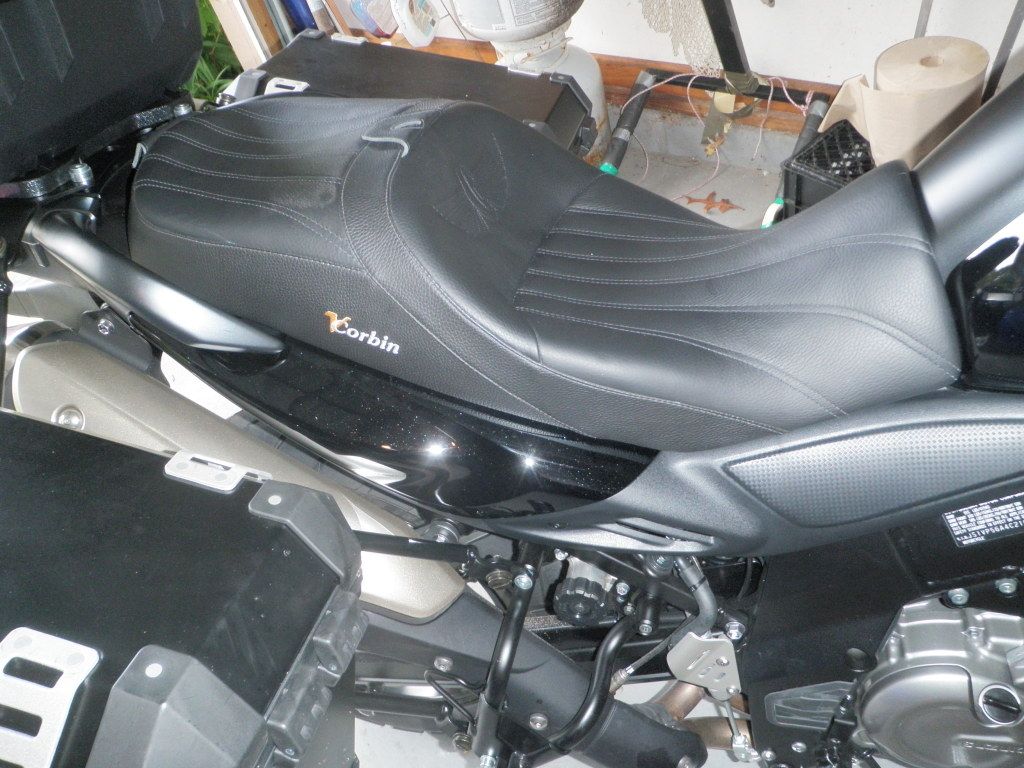 fits perfectly
---
2012 DL650
U.S. NAVY, RETIRED