Stromthusiast!
Join Date: Jul 2012
Location: Alexandria VA
Posts: 12
Happy New Owner
---
Want to thank Keith at Sport Cycles NC, for giving me a great deal and an excellent experience on purchasing my first motorcycle. I have been lurking on the forms for some time now and after passing my motorcycle class I decided to purchase a 2012 V-Strom.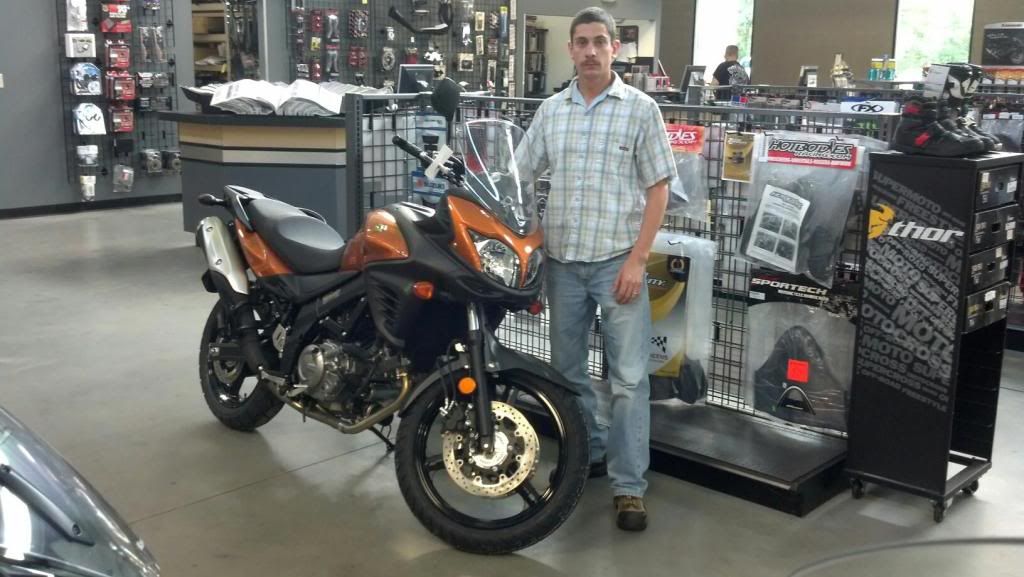 Congrats and enjoy! I know I am.
---
2012 DL650 Adventure
Congrats man.... you don't look too happy though. :-P
Stromthusiast!
Junior Trooper
Join Date: Sep 2011
Location: USA
Posts: 3
Stromthusiast!
Junior Trooper
Join Date: Jul 2012
Location: Maryland
Posts: 7
Congrats on the Bike! Enjoy the ride.
Stromthusiast!
Join Date: Jul 2012
Location: Georgia
Posts: 40
Dude, you look just like I looked when I got mine last week. The lady who was doing the paper work with me said, "You just got a bike, you should be excited!"

I was, of course. But buying the thing isn't the exciting part - riding it is. Buying it is the *worst* part. You're spending thousands of dollars on something you might regret later. I was keenly aware of this, which is why I had that same look on my face.

Of course, when I'm on the bike, there's nothing but a shit-eating grin :biggrinjester:
I didn't really have any smiles when I got mine either. The smiles came when I got back into town, unloaded it out of the truck, and rode it. Then I realized what the strom is all about. Smiles came about 10 feet after I pulled out of the lot.
---
2006 GSXR 600 - sold March 2013 (it was a sad day)
2012 Glee standard
2009 KLX250S
Congrats on the bike. I know I got a great deal on my bike at Sport Cycles but that's quite a haul from Alexandria, VA.
---
I dont want a pickle I just wanna ride my motorcicle And I don't want a tickle I'd rather ride on my motorcicle And I don't wanna die Just wanna ride on my motorcy......cle. -Arlo Guthrie

Current ride:2012 DL650ADV
Past rides:
74 H2 750, 82 Maxim 650, 94 GSXR 1100, 92 Katana 600, 90 KX 500, 92 XR 250
Stromthusiast!
Join Date: Jun 2012
Location: PA
Posts: 964
Congrats, and best wishes for many happy, safe, miles!

I didn't have that look on my face when I bought my first bike - but it slowly came over me as I started pricing helmets, jackets, boots, rain gear, seats, windscreens, GPS, luggage, and on, and on, and on....
I don't think you could have chosen a better bike, congrats!