Tail bags for the Strom.
---
A couple of days ago I found out that I could use a small tail bag for my Strom, so I had a place to store small items on a ride such as rainwear, an extra shirt, some lunch/a drink or similar.
The plan is that the bag will be permanently fixed equipment on the bike.
After several hours of searching online, the choice fell on
"peak tail bag"
from Wolfman.
Just when I was about to order one from
Winding Roads
, I remembered that I already had another bag that might be useful - a
Kriega US10
.
The reason I initially had not thought of using it was that it has been sitting on the back of my Yamaha WR 250R for the last 3 years and I have come to regard it as part of the bike.
On the Yamaha it has served mostly as a tool and rain gear bag: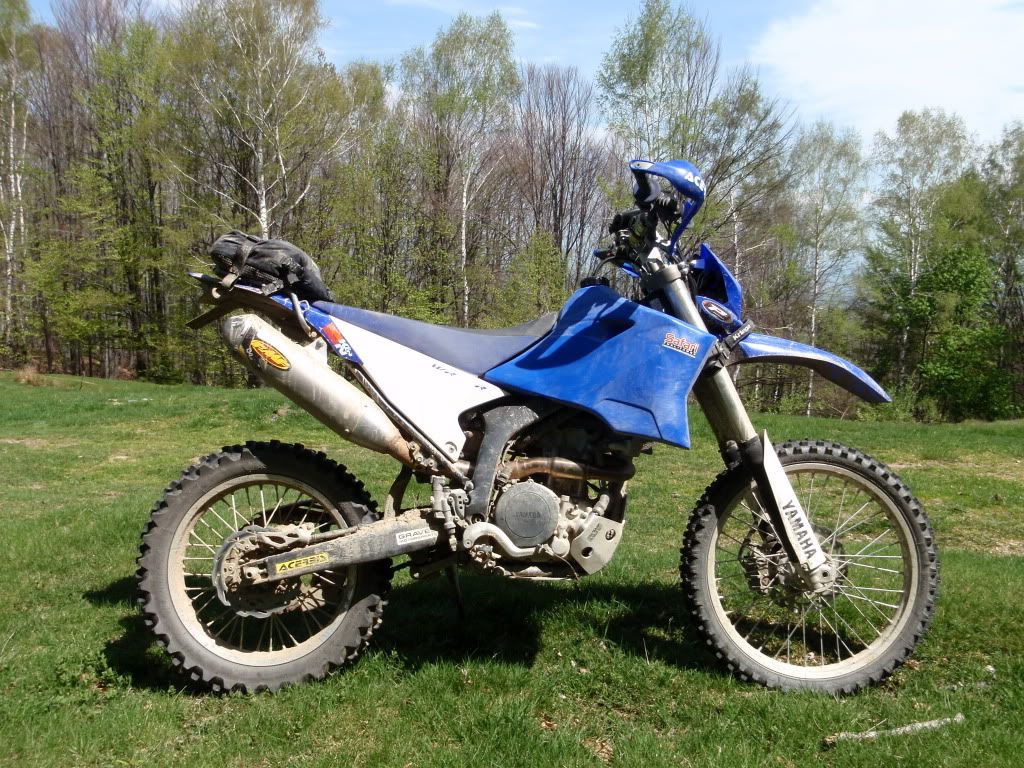 It turn out that it fits the rack on the Strom perfectly :thumbsup:
It was easy to install and sits stable as a rock both when it's empty and full.
Here are some pictures of the Kriega US10 on my Strom: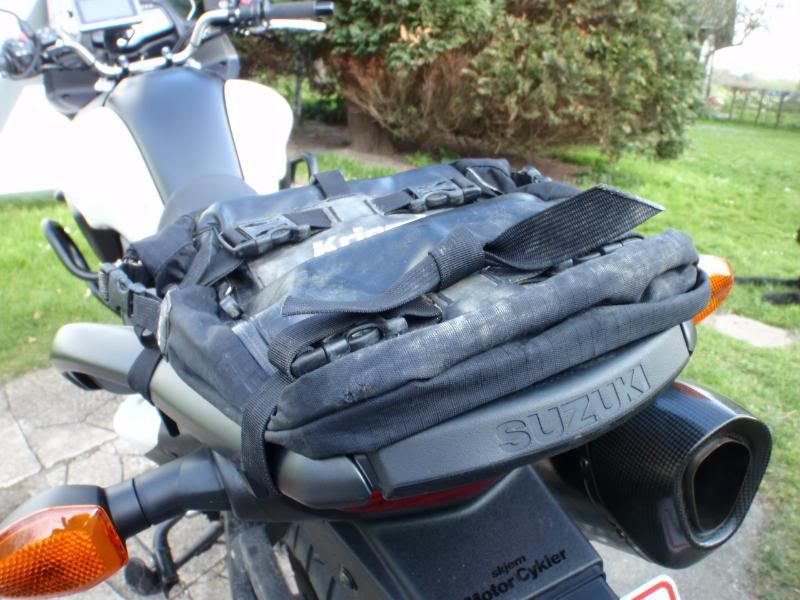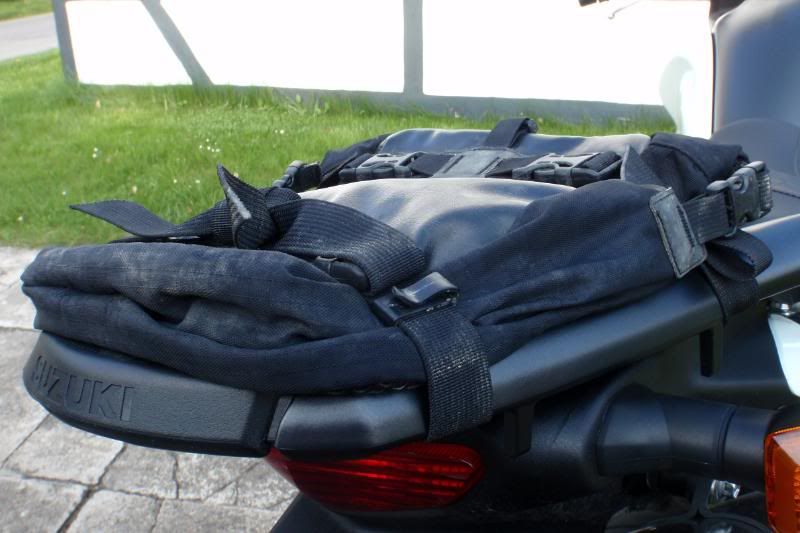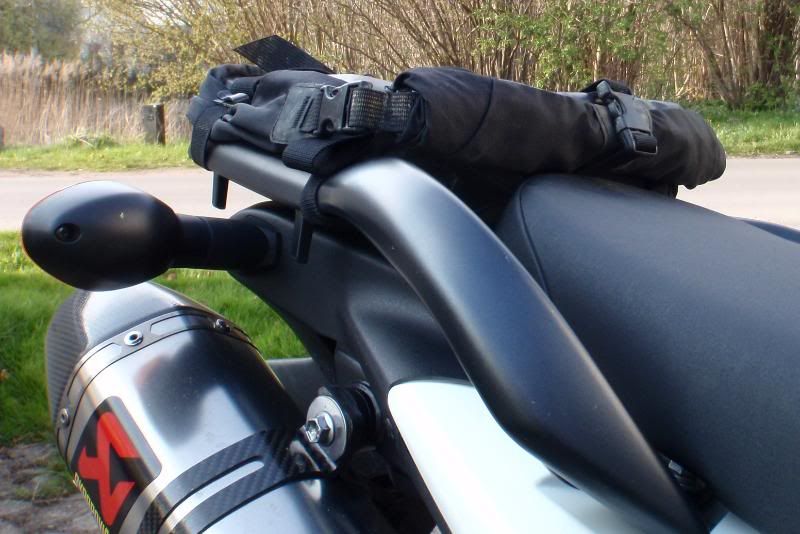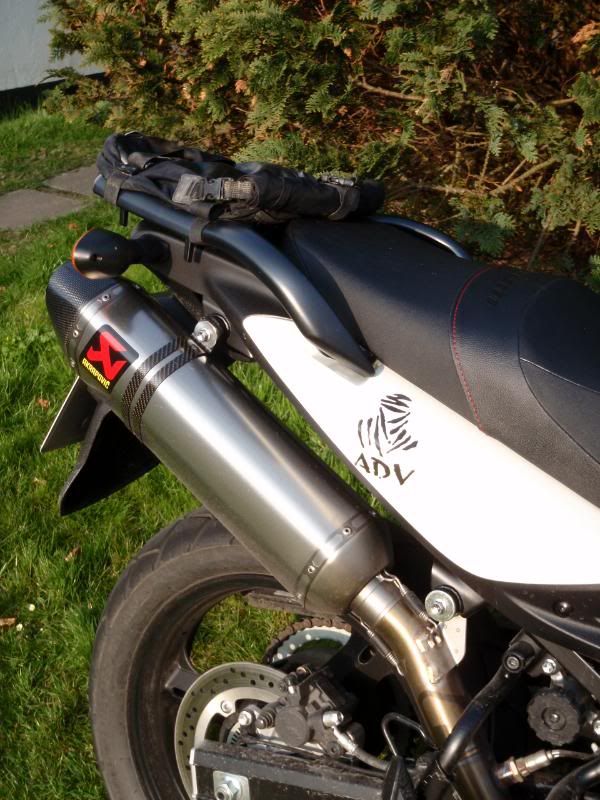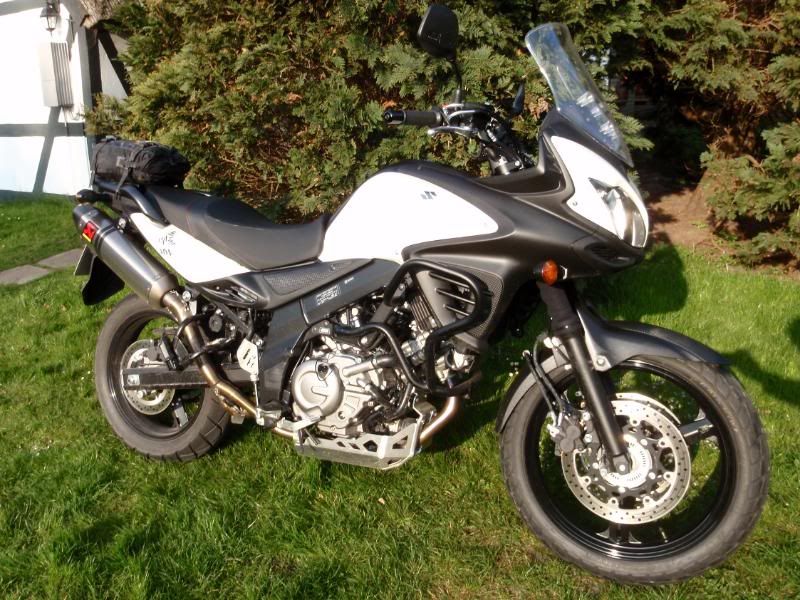 The US10 can hold just about the same amount of stuff as the Wolfman Peak Tail Bag and it's 100% waterproof.
I'll be using the US10 from the Yamaha for now, and if I keep finding it satisfactory I'll buy a new (clean) one for the Strom.
If any of you allso use a tail bag on your Strom's you are more than welcome to post pictures and maybe write a short review of the bag.
---
Yamaha XT1200Z '15 - www.bike-addict.dk - It's not what you ride but how you ride it
unk:
$tromtrooper
Join Date: Mar 2008
Location: Lost Angeles, Peoples Republic of California
Posts: 7,760
Another option - hard and waterproof
---
Axio bag on stock seat
Axio bag on custom seat
SW Motech Cargobag
---
I just received the SW Motech Cargobag. This tailbag fits on the passenger seat with a slight overlap (2") of the rack. It fits very well and provides a comfortable back rest.
---
1978 KZ 650 B Cafe
2006 Kawi 650R
2000 BMW R11
1974 Duc 750 GT
2013 DL 650 A
Those tail bags are awfully compact, OK if your not carrying much, but if you need to some haul some gear....
The Nelson Rigg CL-1040 tail bag paired with my CL-950 side bags and always mounted hard top case Emgo trunk.
This thing is so huge, I thought I could mount it on the OEM rear rack, no way, it was hanging off the sides, it would have needed a flat tray the size of a large pizza box. But it did fit well on the pillion, flipped around, and had loops that I could use to hook up to the side cases for a nice firm mount. It expands vertically and the pockets can extend out by undoing zippers, so you can tighten it up if your not keeping it full.
It was great to carry my other riding jacket and extra gear for a week in the mountains.
The whole rear soft set for less than $250. (not including the Dan Vesel soft luggage stand off rack or tank bag.)
CL-1040-TP Expandable Sport Tail Pack
---
'12 DL650A VStrom
---
Last edited by stoked steve; 02-06-2014 at

11:11 PM

.
Stromthusiast!
Join Date: Feb 2007
Posts: 117