Stromthusiast!
Junior Trooper
Join Date: Feb 2018
Location: Toronto, ON, Canada
Posts: 5
Install Admore light bar on 2016 DL650
---
I saw lots of people have installed and like the admore light bar -- so I bought one
Now .. I am looking for hints/help on running the wire from the bar to a power source in the tail light. I am sure there must me a post somewhere with such hints, but I do not see it.
Can someone point me to some hints on how/where to run the wires?
Thanks
I wasn't interested in the turn signal function so I only hooked up the tail light and stop light function of the light bar. I believe they include positap connectors to connect to the appropriate wires of your bike. also note that eastern beaver makes a plug/play harness that will provide you with loose wires to connect to. you really just need to identify the appropriate wires on your bike. if you are unsure or not familar with that maybe a trooper in your area can assist. If I recall I just poked them with a probe to identify which was tail and which was brake. a little more involved to use the turn signal function that I wasn't interested in.
---
14 tooth for me
Just recently hooked up top box on 2009. Simple poitapto two wire in bundle of wires on left side behind plastic under seat. Razor sheath, tap and tape. Don't have to go to tail light.
I won't be home for a couple of days so no pic, but on my '16 650 there was a hole that goes into the under seat storage area and I just routed the wire through it. If memory serves me I put a small zip tie on it (like a tourniquet, not attached to anything under the seat) to hold it in place and keep it from sliding back down through the hole. All the wiring was easily accessible and the supplied connectors made the whole thing a breeze.
Stromthusiast!
Junior Trooper
Join Date: Feb 2018
Location: Toronto, ON, Canada
Posts: 5
Thanks everyone
My question was not clear -- what I wanted to know is how do you run the wire from the light bar to the inside of the tail light assembly; there does not appear to be any clear way to route it
Stromthusiast!
Join Date: Aug 2018
Location: Toronto, Ontario
Posts: 370
On my 2017 650 I Tapped into the wires in the area under the seat. I used a power probe to figure out which wires did what . Used the supplied wire taps to make the connections.
---
Bob S.
2017 Vstrom 650 Base model (White)
2017 Yamaha YZ250X (Sold)....Hopefully WR250R soon
Previous loves:
1982 Yamaha 650 Seca
1978 Honda CB550
1975 Suzuki GT380
1977 Yamaha RD400
1973 Can Am MX1 125 (bought while Mom out of town)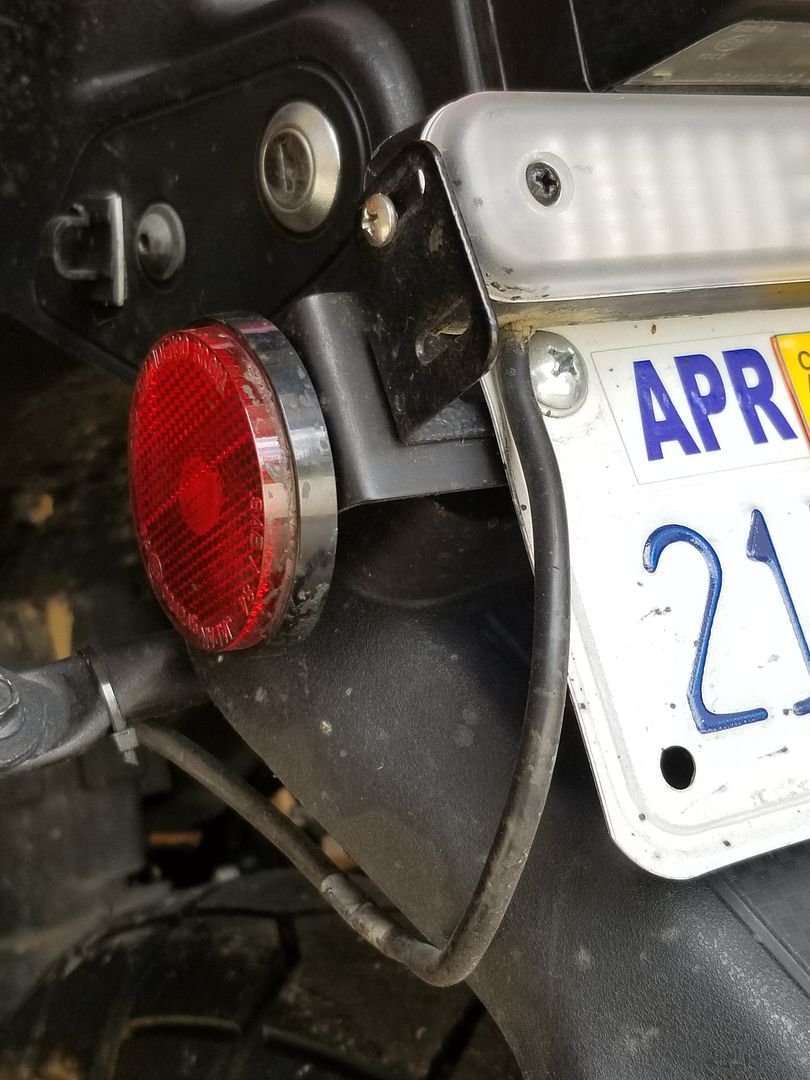 I installed the unit with the output wire down to discourage moisture entry and zip tied the harness to my givi bag bracket and ran it under the seat as shown in top photo. I have a sargent seat and there is a gap of sorts. If there was no gap one could dremel a tiny slot in the plastic but I saw no need to with my setup. It has been installed for a few years. hope this helps.
reading your question again I see you asked specifically how to route to tail light assembly. Under seat you have access to the wiring you need to connect to. if you are particular like some of us you can order the connector from eastern beaver that plugs between connectors and gives you loose wires to hook to but it isn't necessary, just makes a cleaner hook up.
---
14 tooth for me
---
Last edited by chicago; 05-14-2019 at

07:23 PM

.
Stromthusiast!
Junior Trooper
Join Date: Feb 2018
Location: Toronto, ON, Canada
Posts: 5
Thanks Chicago
That is what I was looking for.
I assumed I would have to tap into wires in the tail light, but looks like that is not necessary