Finished product, 2013 DL 650 ABS Adventure
---
Well here is the finished product. I have owned many motorcycles but this is by far my favorite creation. I have owned it for 13 months and it is the most fun I have had on 2 wheels since the mid 70ís when I owned the Honda Elsinore MT-250 that I rode all over the east coast. I avoided the bling on this one, bling is for Harleys and this is set up more as a pack mule to camp and fish off of, as well as to eventually ride the ALCAN to Alaska. When I was shopping for a new ride the primary focus was on reliability, low maintenance, and low weight. The stock V Strom Adventure gave me a great canvas to start on without having to address any durability or reliability issues before I started on the functional upgrades. This thing is bulletproof and fit my needs. After dozens of bikes this is by far my favorite. Most of the farkles came from Twisted Throttle, SV Racing, Revzilla, Touratech, Givi, Tech Spec, and various other places for one off items. Everything that I have done to it has been for a purpose, as I packed on the miles I would find things that would make the trip or the bike a little more user friendly, and one or two things just because I wanted to. Hopefully it will give me many years of pleasure and excitement. Im glad I purchased the V Strom, I saved a bunch of money and was able to farkle it the way I wanted. If I had gone with the bigger GS or Strada I would still be making payments wishing I could play in the garage with farkles. I want to thank everybody on this forum who have given me guidance and advice with my project. Returning to the imports after so many decades of HD has been an experience and actually quite a bit of fun. I like it, Iím satisfied, time to ride the piss out of it, and catch up on my yard work.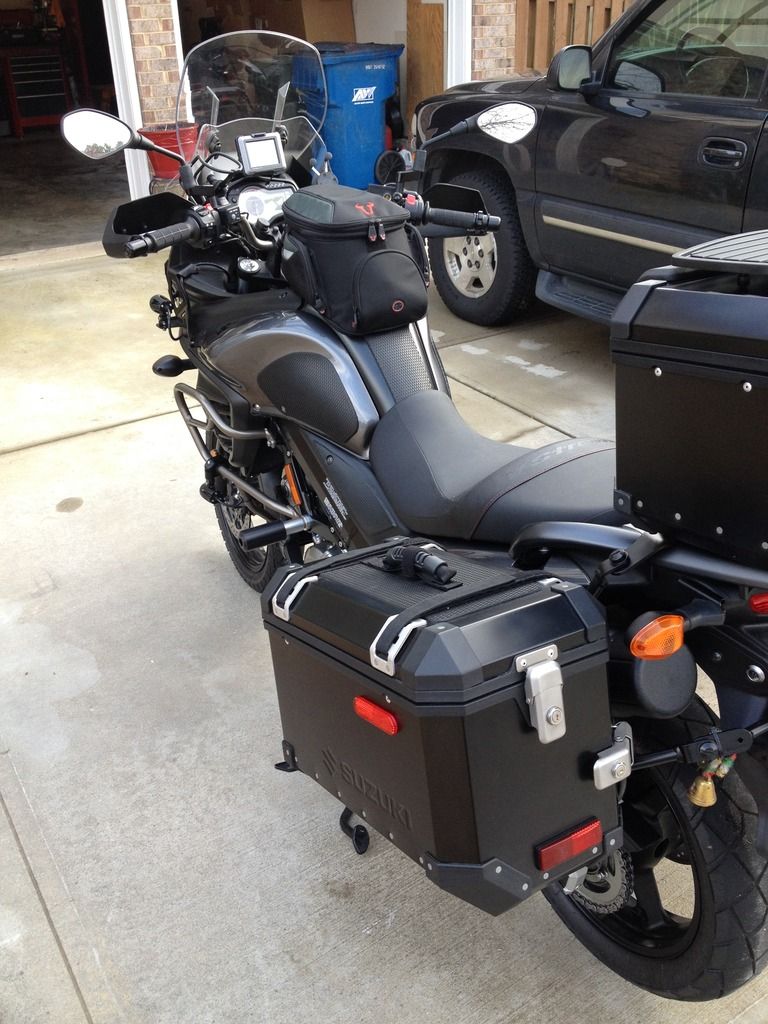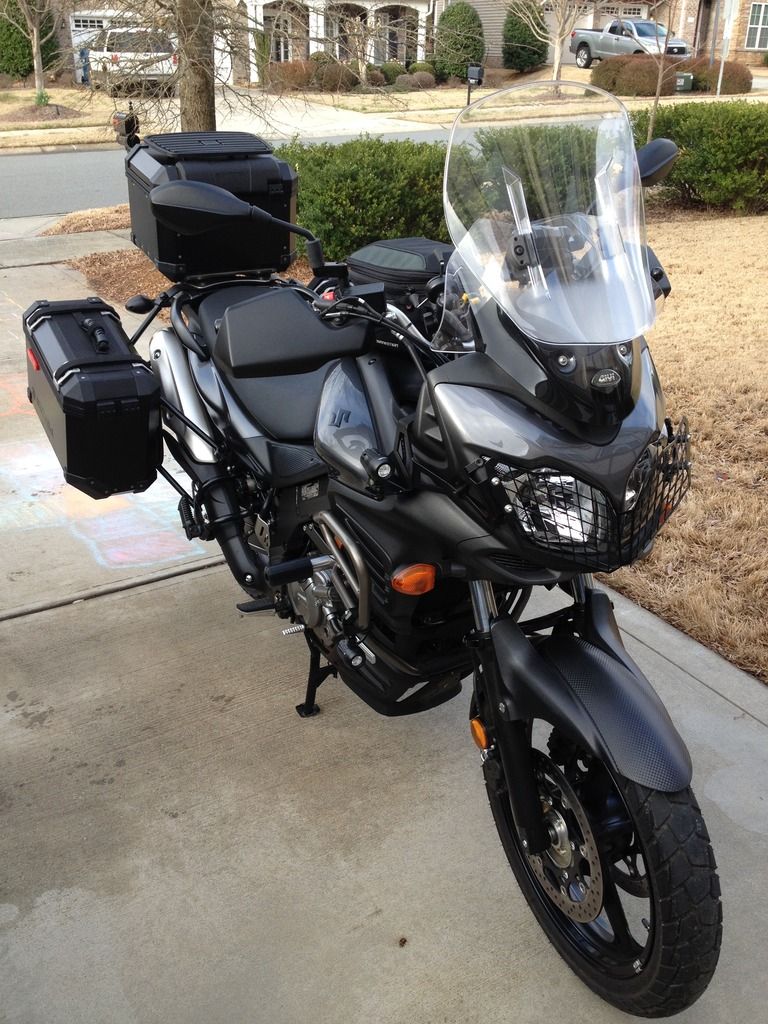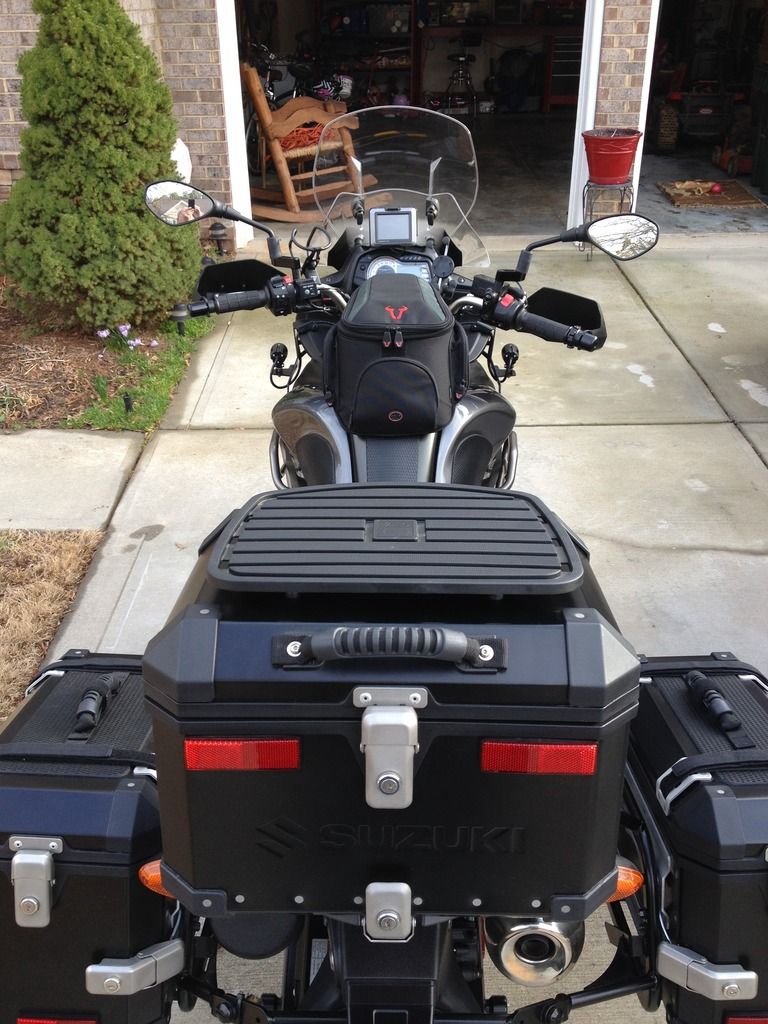 ---
"Dave"

If You're Gonna Be Stupid, You Better Be Hard, because stupid hurts!
I no longer own a V Strom, but I'm still here because its the best bike forum going!
Stromthusiast!
Join Date: Feb 2015
Location: Minnesota
Posts: 66
And still has the stock seat I see!
Stromthusiast!
Join Date: Dec 2014
Location: CT
Posts: 603
Awesome, nicely farkled bike!
---
_______________________________________________________________________________
There are 10 types of people, those who know binary and those who don't.

What I ride now:
2013 Honda GoldWing (The Lady)
2014 V-strom 650 (The Mistress)
Previously: 07 Ultra Classic, 95 Softail, 80 gs450l
Very nice setup, looks like it is definitely ready for some adventures! Which Givi windscreen do you have?
---
Last edited by mowcowbell; 03-17-2015 at

09:04 AM

.
My favorite color on those bikes! After your years on the Harleys I think you will rediscover that riding is more of an adventure now. The Cruiser style is fine, I just think they miss out on some of what makes riding most memorable.

My V Strom may be headed for a more "pack mule" style too. I think I may be more inclined to do more gravel and dirt on it than before. Got to rig up some fishing pole holders like I had on the KLR.......
---
'12 DL 650 '14 BMW R 1200 RT
WERKS
modified clutch baskets
for DL and SV 1000's.
The BEST in chudder control, noise control, and lasting durability! AVAILABLE HERE:
www.werksparts.com
Have questions about the clutch in your DL or SV 1000?
E-mail Terry
[email protected]
Very nice Dave, ready for anything......So be honest, would you go back to a Harley for your everyday bike again now that you see what you've been missing?? No way for me, these bikes are so versatile in every way......Just flat out great.
---
Garage......
Oh Yea: '17 Aprilia Tuono Factory
'14 DL1000
'02 Daytona 955ce
'87 ZL1000
'85 &'86 ZL900's
Stromthusiast!
Join Date: Apr 2014
Location: NE Alabama
Posts: 465
Who makes the knee pads?
---
[SIGPIC][/SIGPIC]
2013 DL650
2003 Victory Touring Cruiser
1983 Seca 900
1980 XS 850 triple
1971 Dunstall Norton
1970 Triumph Trophy 500
1972 Honda Trail 90
Thanks!

Got a sheepskin butt pad for the seat, no need to change, I will never go back to the heavyweight touring bikes, not after experiencing this. This one does it all, what would be the sense? My HD days are over. The tank pads are tech spec snakeskin, the tank pads are standard 12 and up dl650, the ones on the panniers are custom cut by tech spec, I have the patterns if anybody want to borrow them, or tech spec may have kept themselves a copy.
---
"Dave"

If You're Gonna Be Stupid, You Better Be Hard, because stupid hurts!
I no longer own a V Strom, but I'm still here because its the best bike forum going!
Very nice! Would love to see it in person one day!
---
2012 DL1000 Adventure (Tinkerbell)
PC-V, TRE, CR8EIX , ECM, K&N, RDL, PR4, PC-8, EB H4, WERKS, Madstad 22", 17/43 gearing, AdventureTech: Fork brace, shelf, mirror extenders, SpeedoDRD, wheel spacer, Head's-Up voltage monitor, Goldwing pegs, Sonic 1.1, Wolo Bad Boy, ExTuff Helmet Hook.