Stromthusiast!
Join Date: Mar 2012
Location: New Jersey
Posts: 13
Average rider...average long distance miles?
---
This will probably sound like a stupid question but I've always dreamed of riding a bike from Jersey to Alaska. How much miles can a rider log in on a regular day on a saddle? I'm turning 55 this June, thinking about retirement and in very good health (hoping to stay that way
). If it's anything like my running, I can do various speeds on different days but find myself gravitating to a certain comfortable speed without thinking about my pace. I heard of riders doing 600 mile days or 300 mile days. I haven't done any long distance riding...the reason why I ask is all my planning parameters depend on this very important assumption...shelter (camp or hotel), food (cook or restaurant), time (how long on the road), gas...and all this translate to trip financing. I would like to make this trip my "trip of a lifetime" and have already started plotting "scenic" and "fast" routes. I've never been west of Jersey in my 30 years in the US and have ridden to work, year-round, the past 6 years. Call me your average rider with an aggressive streak
. My trip may or may not come into reality but I can never be blamed for not getting ready. Heck, my bike is already set up and ready to go now!
. Thanks much!
Stromthusiast!
Join Date: Jun 2012
Location: Geraldton, Western Australia
Posts: 593
My wife and I did 4000 km in 5 days, each on our own wee's. That's about 500 miles per day in Yankee speak, and we could have kept going, but ran out of continent. We did the same on the way home. One day we did over 1000 kms, but that was a bit too far. I would suggest no more than 500 miles as a continuing goal, but you are travelling, not sight seeing and coffee crawling.
---
2011 Weestrom x2
It depends on the roads. Interstate, I'm good for 700-800 miles a day. 2-lane, 400-500. We've all got our limits.
---
-Tom (DL650AL2) (KA1TOX) (E-I-E-I-O)
This message and images are licensed under the Creative Commons Attribution-NonCommercial-ShareAlike 3.0 Unported License.
http://creativecommons.org
Stromthusiast!
Join Date: Apr 2013
Location: Hickville, NC
Posts: 463
600 miles is easy to do in a day to get to a destination. But if you're sight seeing along the way, sometimes it's hard to get in more than 250-400 miles a day depending on what you're wanting to see. So it depends, on days that a destination is all that's on the agenda, 600 miles EASY! When those days have sight seeing along the way, cut that in half. The most I've ever done was just over 1600 miles in 34 hrs, the first 1k being less than 24. :mrgreen: That sucked, but we made it happen, me and a buddy rode straight thru from Colorado Springs back to NC.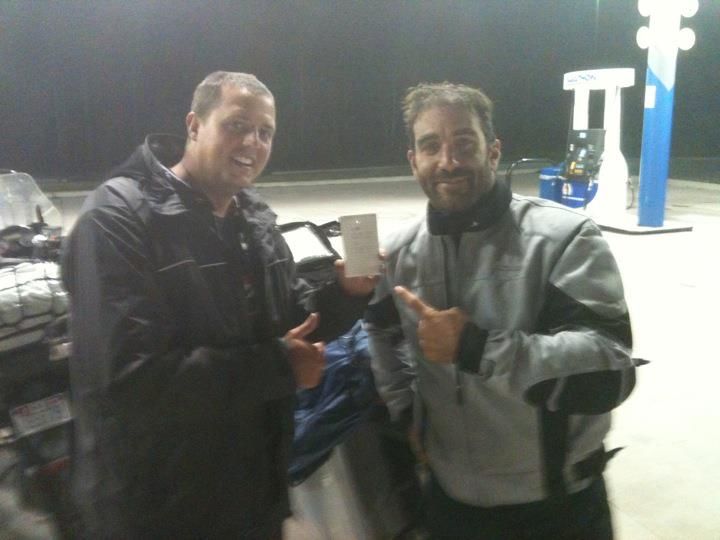 I've found that unless you are pounding the slab all the time, average speed really hovers right around 50mph. That includes cruising at 65 ~ 70 (or as dictated by secondary highway conditions), with stops as needed for comfort, fun, food and gas. Add it all up, and (for me at least), the overall average speed can be considered to be right around 50.

So 300 miles is 6 hours of travel time using this formula. So if I were taking such a trip, and wanting to enjoy it, I personally would figure on (roughly) 300 mile days.

You could do more, for sure, and some days would be more, but I think to consistently go much farther in a day you'd have to be focused on the details of just covering ground, without much time / attention to smell the roses along the way.

So it depends a lot on what kind of trip you want to take.
---
Best Regards,
T2T

'06 KLR650 - Well armored and filthy!
'11 DL650 - Dearly departed 8-12-17, RIP
Stromthusiast!
Join Date: Oct 2012
Location: Lansing MI
Posts: 26
The best way to find out is to give yourself a long weekend and try it. If I'm riding by myself I can do 800 mile days on interstates easily. I've also done 700 miles in a day of a mix of interstate, 55mph state highways and 40mph backroads, but that was a bit much.

I have a stock seat with an Airhawk, 30mm Tusk bar risers and Richland Rick's peg lowering kit for comfort. I'm also 30 years old and in decent shape so that helps.

Bottom line, you don't know your limits until you discover them. I would suggest discovering them before your trip, though.
Stromthusiast!
Join Date: Apr 2013
Location: Hickville, NC
Posts: 463
for me, the key is getting started early in the am and getting in as many miles as ya can by lunch time(for destination days). When I did my first long distance trip, I would start right at sunrise(around 6:30am) and have in 4-450 miles by noon.
Stromthusiast!
Join Date: Jun 2013
Location: Richmond, IN
Posts: 110
I think you'll find it similar to running in that you'll want to condition yourself for the longer distances. Plan some rides that are gradually longer and I think you'll find that the extended rides will become more comfortable as they get longer.
It depends on my mood and how I feel when I get up and weather conditions. If its rainy or too hot not many, if its cool clear and the roads allow up to 800+, some days its 50-300, some days 300-800+. Every day is different. The most I have ever done is 1500 miles NS except to eat drink and pee from Flagstaff to Charlotte. The least about 50 up in Montana Rockys because there was just so much to see so we stopped all the time. That was on my Ultra, On the V Strom I dont know, hasn't been out of the city much yet.
---
"Dave"

If You're Gonna Be Stupid, You Better Be Hard, because stupid hurts!
I no longer own a V Strom, but I'm still here because its the best bike forum going!
Stromthusiast!
Join Date: Mar 2011
Location: Pasadna area
Posts: 13,621
I've done several 1100 mile rides and gobs of 700+ days. Interstate is great, back roads are more difficult due to LEO watching and the nature of back roads.
Working up to long distance isn't a bad idea. If you have a destination in mind it's easier than just riding until you collapse for the experiment.
I routinely do 150-200 mile loops to pass the days, or a few hours anyway.
If you aren't comfortable riding until the fuel "empty light" goes on, you are not in shape yet.