Deciding Between the Official Hepco & Becker VS the Givi V35 Bags
---
Hey all,
My 2013 needs some bags. The dealer offered up the official Hepco & Becker bags (the Junior Flash model) installed at $900. Not a bad price, but I like the look of the V35's better (they're a bit cheaper too).
It doesn't seem the H&B bags are very popular. It's hard to find even many pictures of them.
I've also read the V35's have some issues with water proofing and are kind of spartan inside.
My question is can anyone speak to the quality of either bag or both?
Thanks in advance!
Sent from
Motorcycle.com Free App
---
2013 V-Strom 650
1999 DR350SE
I just don't think the V35s look right on a Strom due to the high mounted pipe. The whole idea of the V35 is to mount them snugged in to the lines of the bike, with the exhaust under them.

If you do like them, though, take a look at the Kappa version and the Kappa rack. It is the same stuff (parent company is Givi) but a little more drab in the finish department (flat black cases). Should be a good bit less than the V35s and the flat black matches the flat black panels on the Strom.

Can't speak for the HB bags but at that price you may as well get Jesses.
I had H&B Junior on my old K8 for 5 years and 70,000km+

advantage:

1) water tight due to dual latching mechanism -survive hi-press water cleaning

2) relatively light weight yet sturdy.

3) no colour fading in my ownership period

4) H&B rack more sturdy than givi- not an issue for road riding - off road the extra bracing helps but also adds weight;

Disadvantage:

1) a bit of dead space in box (part dual wall setup) means actual useful space for the 40/30 combo is only 65L in total'

2) 2 panniers are a bit too short vertically to maximise useful space available on a bike like vstrom - their design obviously needed to cater for sports bike where lean angle might be an issue.
---
L2 Glee;

K8 Wee ABS(SOLD);

SOLD: 06 FZ1; 04 Fireblade; 02 Fireblade; 97 CBR 600
I've never pressure washed my V35 bags, but riding in plenty of wet weather the last couple years, I've never seen a drop of water inside of them. I didn't think I'd like the side opening either, but I travel with them and use duffle bags inside, and they go into motel rooms easily so that's never been a problem. The items I need throughout the day I keep in my top box. I've been very happy with the look and functionality.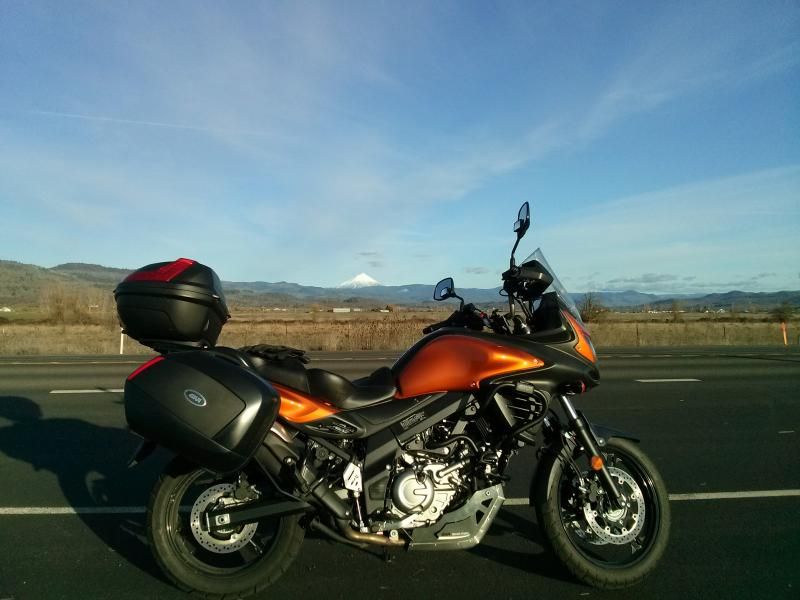 ---
2013 V-Strom 650
1999 DR350SE
I'm looking at the Kappa version of the V35. With hardware and liners your looking at a savings of about $300.00 over Givi. Check this web page for prices.
DL650 V-Strom '12-14'
With the money I save I can get the Kappa tanklock bag RA309 to put my phone and camera in.
Thew newest Hepco Becker bag mounts are fekkin horrible.
---
-Tom (DL650AL2) (KA1TOX) (E-I-E-I-O)
This message and images are licensed under the Creative Commons Attribution-NonCommercial-ShareAlike 3.0 Unported License.
http://creativecommons.org
Call me a whore for being vain, but I like the fact that the V35's are paintable to match the bike.
These pics are my inspiration (via
Dirtmoover of ADVRider
):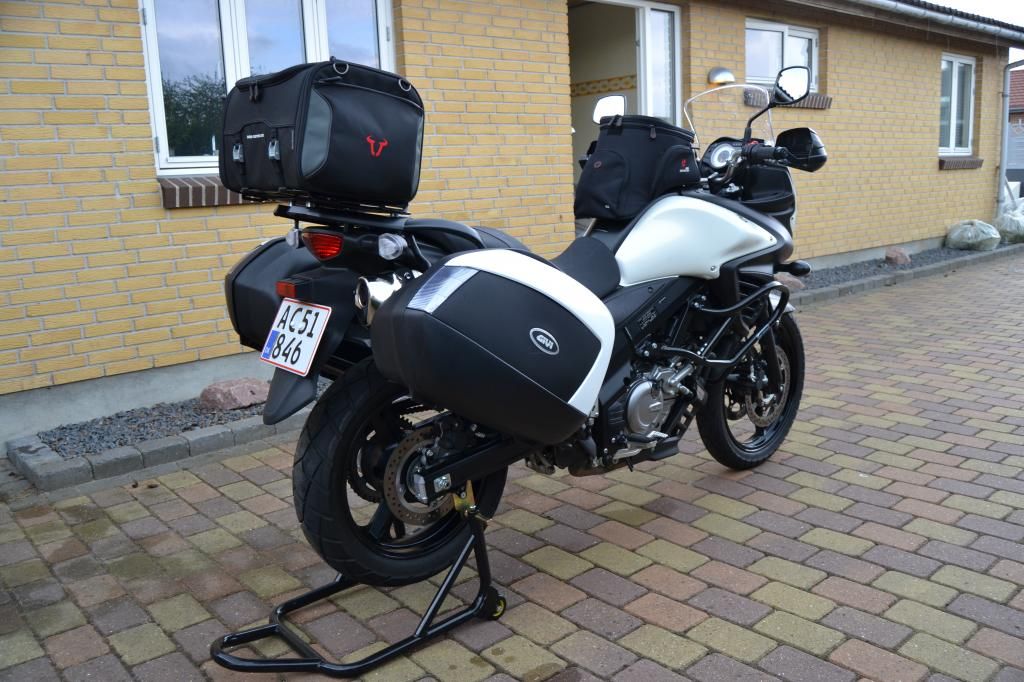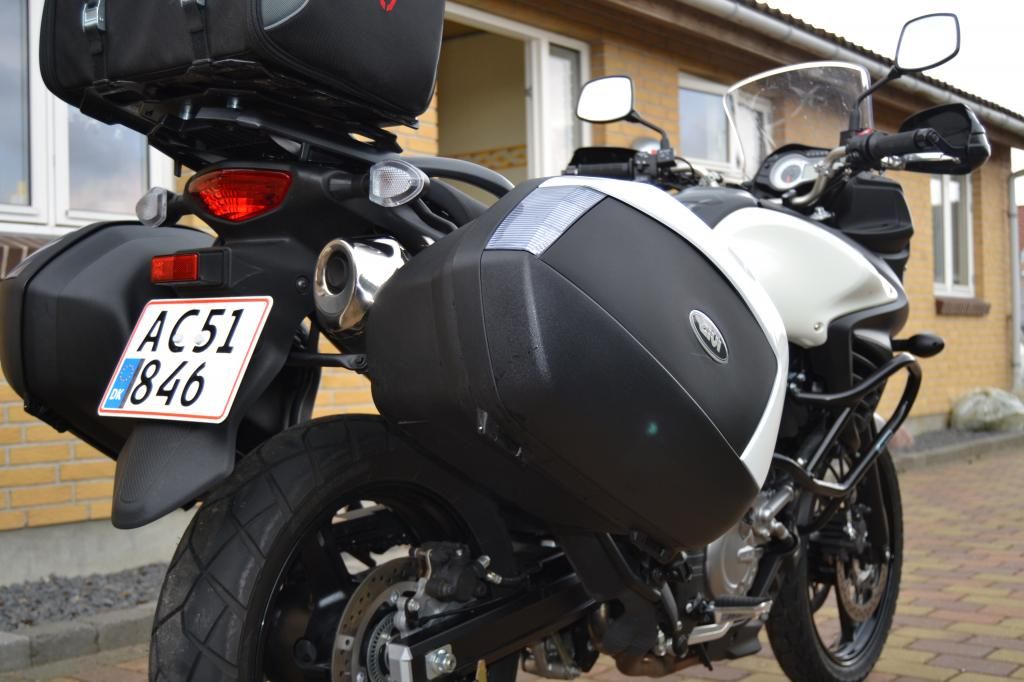 Anyone know if the Kappa's are paintable? I would think you could just paint the entire outer case?
Stromthusiast!
Join Date: Feb 2012
Location: Eastern USA
Posts: 77
I was down to the same two choices last year. I finally decided on the GIVI V35's with the solid mounting system. They're well made and fit the bike. The panniers go on and come off in a snap. They have a three point mounting system that holds the panniers very solid to the mounting frame with no noted vibration. The latching system takes a little while to get use to but works fine after you acclimate.

I just ordered the GIVI V47 topcase. Another nice feature is you get an extra lock set with the V35 Monokey panniers. Then if you buy a GIVI Monokey top case, at a later date, you can change it's lock set to match the keys on the panniers.

I tend to research and shop these things to death. Both the GIVI and H&B are expensive but highly rated. I don't think you will go wrong either way. If I remember correctly, the H&B set did require relocating one or both of the rear turn indicators. I didn't like that. The GIVI's just bolted on and fit fine. Either way, I think you will get very good quality. The price, well boys and our toys!
I likes my givi v35's. Flat black for me. I went with the liners as well. Can't comment on the waterproof issue as there isn't much rain here where I generally ride.