Stromthusiast!
Join Date: Jul 2012
Location: peterborough
Posts: 23
anyone have russell day seat on 2012 or 2013
---
Does anyone have the Russell day long seat installed on there 2012 or 2013 650? If so how do you like and how is reaching the ground now? Im not flat footed now with stock seat so I think I will have to lower bike. Thanks for any input
FORUM GODFATHER.....R.I.P. PAT
Join Date: Jan 2006
Location: Evanston IL USA
Posts: 38,049
It caused me to lower the bike 3/4". I could barely flatfoot in on the stock seat. With the Russell and lowered, I can get one foot flat but I'm usually on the balls of both feet. My seating position is getting lower with time and use. It's the most comfortable seat I've ever owned and I've had some good aftermarket seats before.
Stromthusiast!
Join Date: Dec 2012
Location: Redding, Ca
Posts: 21
I've had a Russell on my 2012 650 Vstrom for the past two months and can't say enough positive things about it. I've had a number of custom seats from other manufacturers on other bikes (Corbin, Rick Meyer, Rich's) before getting a RDL for my 2008 RT1200, and the Russell was far more comfortable that any of the others. That seat now has over 60k on it and still looks like new and has lost none of its comfort. I put a RDL on my wife's GS700 in June, and she loves it as well. The one downside is that the seat does increase the distance to the ground, making it seem taller when at a stop. Small price to pay for the increase in comfort, but it might be an issue for someone who was already struggling with the standard seat height.
I have one on my Vee and can say that it's well worth the money.
---
2012 DL1000 Adventure (Tinkerbell)
PC-V, TRE, CR8EIX , ECM, K&N, RDL, PR4, PC-8, EB H4, WERKS, Madstad 22", 17/43 gearing, AdventureTech: Fork brace, shelf, mirror extenders, SpeedoDRD, wheel spacer, Head's-Up voltage monitor, Goldwing pegs, Sonic 1.1, Wolo Bad Boy, ExTuff Helmet Hook.
I have a "fresh" Russell Day Long on my 2012. I also have one on the 2004 Wee, and my BMW RT. I have owned several Corbin seats, Rick Mayer, Cee Bailey, etc. Russell seats are not always perfect but they are in a class by themselves for long distance comfort. If you are vertically challenged, they can seem to be a lot taller. But if you have them built for you and have the front tapered properly you can learn to scoot forward when stopping and that makes a lot of difference in getting your feet down enough to feel secure.
Russell has a new vinyl covering called Basket weave. You have to ask for it, not advertised yet. No additional cost. I like it a lot, better than the leather Russels as far as not feeling slick and looks good imo.
My Son and I just completed a 3400 mile ride together ( need to get a report done on that! ). Again, we both have Russel seat. 842 miles the first day. Absolutely no butt pain! Darkness and rain shut us down. Couple more 6-700 mile days in there. Even on the last day butt pain was not a problem. Sitting on anything that much makes you....want to get home for a break!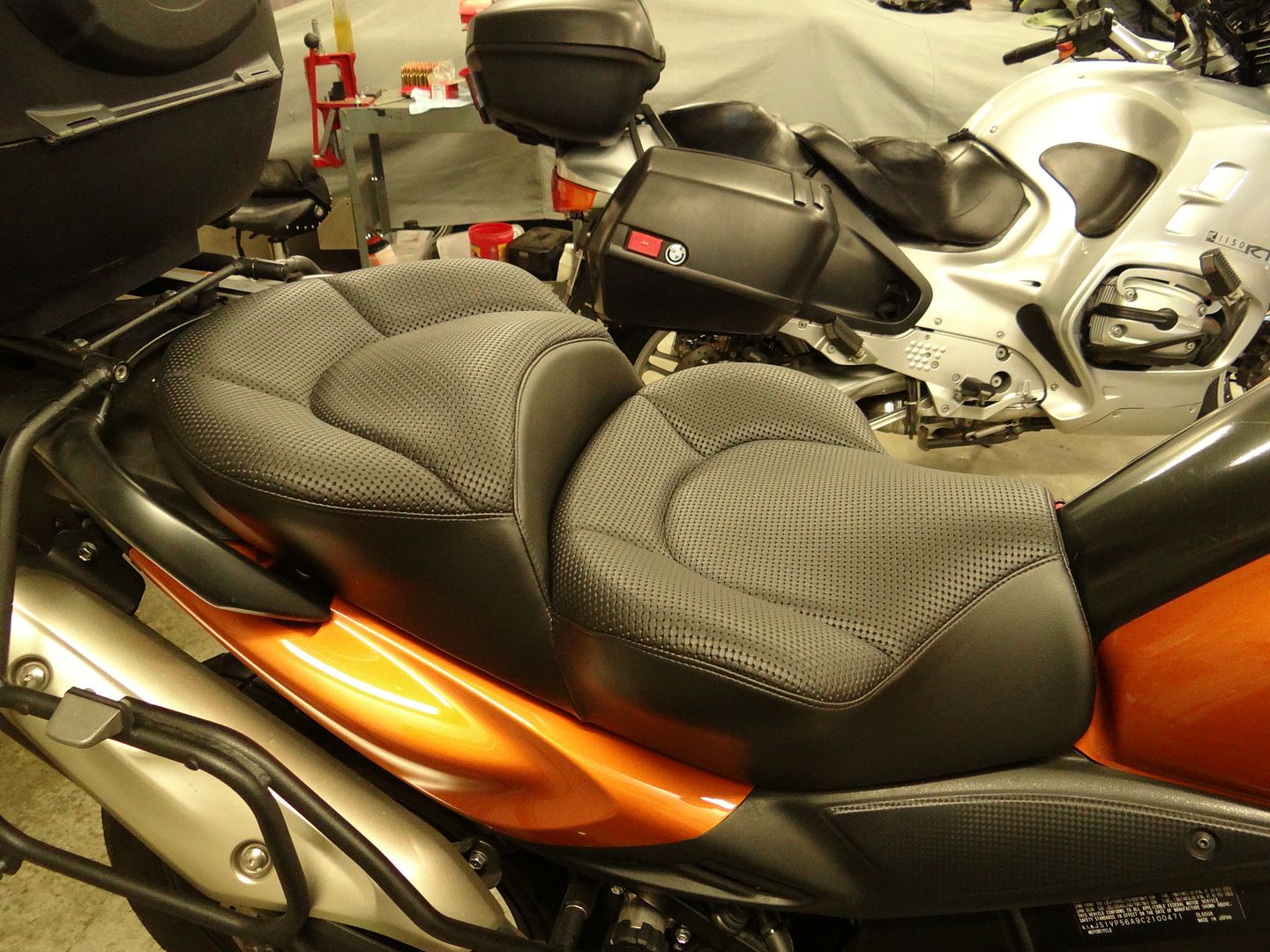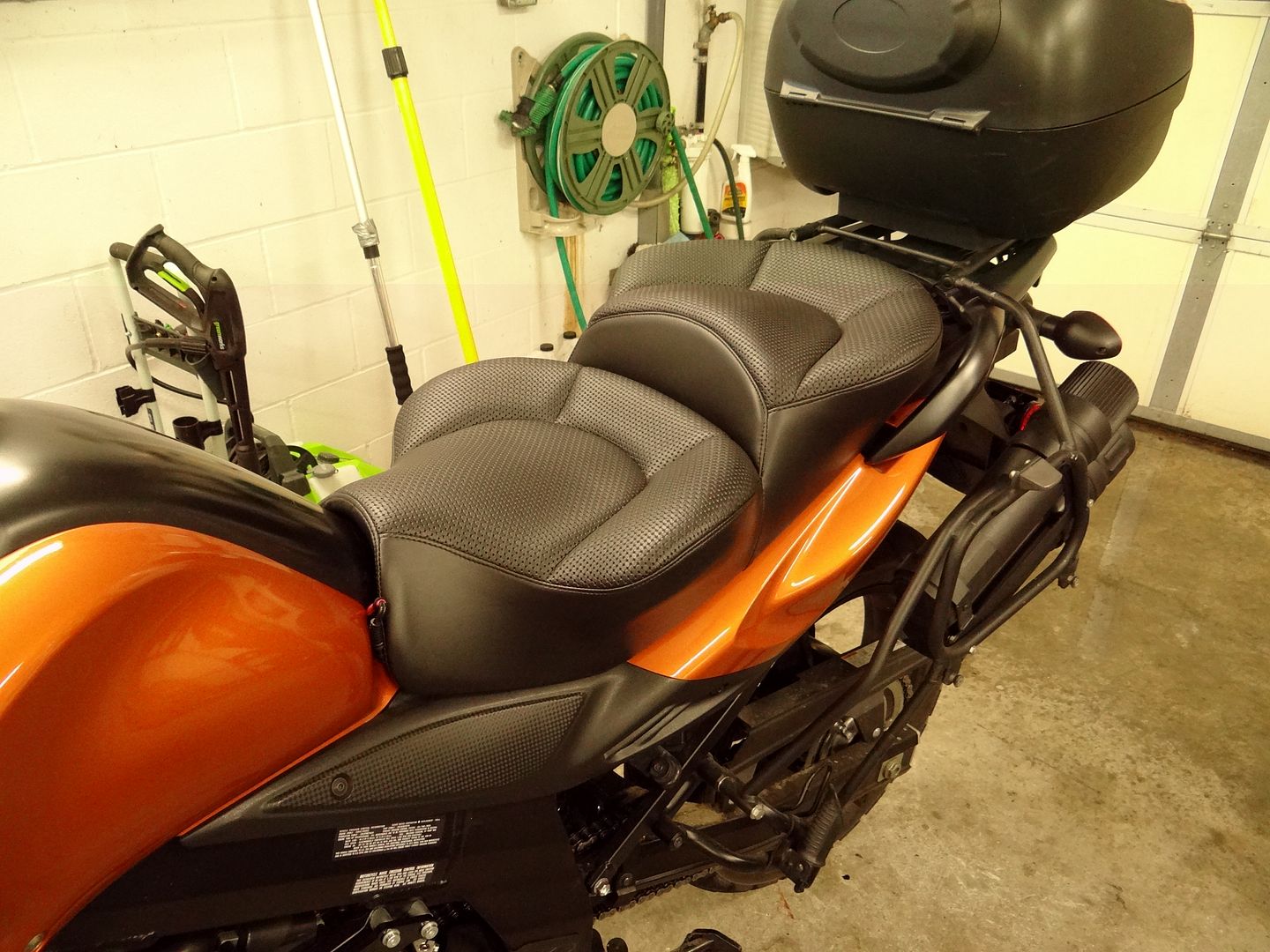 ---
'12 DL 650 '14 BMW R 1200 RT
WERKS
modified clutch baskets
for DL and SV 1000's.
The BEST in chudder control, noise control, and lasting durability! AVAILABLE HERE:
www.werksparts.com
Have questions about the clutch in your DL or SV 1000?
E-mail Terry
[email protected]
Stromthusiast!
Join Date: Sep 2012
Location: Texas
Posts: 262
I have a 2-up Russell with basketweave top on my 2012. My experience mirrors the others. It's the most comfy motorcycle seat I've ever owned in 25yrs of riding all sorts of bikes. The downside is that it does sit higher than stock. Even when I scoot forward to the tank at stops, it's noticeably taller. I just try to keep that in mind while maneuvering at slow speeds and to treat it like a tall dual sport machine, often sliding off the left side of the seat a bit if I feel it necessary to put my left foot down flat. Otherwise, only the balls of both feet touch. I've elected not to lower my bike since I like to load it down with passenger and gear and plan to ride through some uneven terrain on my travels.

With some adjustment to my riding style, I'm very happy with the Russell. I'm 5'11" with 32" inseam.
Stromthusiast!
Join Date: Jun 2012
Location: PA
Posts: 964
There was a big group buy thread here a few months back - many here got Russels then. I had ordered one a little before that.

The stock seat on every bike I've ever had was a limiting factor - I could never make it past an hour or 3 without pain. The Russel has been a game-changer, allowing me to actually tour. This past Saturday I did almost 500 miles on it, for example - 1100 for the weekend. I just could NOT ride like that without the Russell.

When I first got it, I thought it was a bit too tall and I felt like I was sitting 'on top of' the bike. I think they tell you it takes about 1000 miles to break in and it settles/ compresses a bit with use such that it comes back down almost an inch. That's been my experience... or maybe in 1000 miles I became so accustomed to the height that I don't notice it anymore. I don't have that "towering" sensation anymore, either - I feel connected to the bike again.
@realshelby: Is that the normal Day-long or is it the sport version? The "wings" don't look that big in your photos. Any chance you took a side by side photos comparing it to the stock?
---
2005 KLR650 (sold)
2009 KLX250S
2012 DL650
That is the Standard model. Not the Sport version. The angle of the pics might not show just how much wider it is compared to stock, but it is substantially wider. These wings actually wrap up the side of your buttock for extra support. The more square inches in contact, the less pressure per square inch. Shape and angle have a lot to do with it but you will note that any custom seat is made quite a bit wider than stock.

I didn't want to compromise on comfort for me or my wife. The Sport version might be a lot better than stock in comfort. I have grown used to the looks of a Russell seat and when I see the Butt Floss seats on some bikes I wonder what other forms of torture their owners enjoy:biggrinjester:
---
'12 DL 650 '14 BMW R 1200 RT
WERKS
modified clutch baskets
for DL and SV 1000's.
The BEST in chudder control, noise control, and lasting durability! AVAILABLE HERE:
www.werksparts.com
Have questions about the clutch in your DL or SV 1000?
E-mail Terry
[email protected]
Stromthusiast!
Junior Trooper
Join Date: Mar 2009
Location: Lancaster Pa.
Posts: 2
How tall are you I am thinking of buying a russel to put on a 2015 adv any comments would be helpful
Thanks