Anyone using Givi e22 panniers?
---
Hi. Anyone out there using givi e22 panniers on a vee2?
I never took the suzuki oe ones when I bought the bike as I've always made do with a top box and tank bag but with a few longer trips planned two up I need more space but I don't want massive panniers like the trekkers, good as they are. My wife has a bad back so the smaller the better for her gettin on and off. Seen the e22's and thought they looked good and a great price to.
Stromthusiast!
Join Date: Jun 2012
Location: Monmouth, OR
Posts: 474
Google search for Givi e22 brought up some images...
Giviusa.com shows they mount to Rapid Release side racks. Fitment available for the 2014+.

Sent from my XT1254 using Tapatalk
---
2015 DL1000 ADV
Stromthusiast!
Join Date: Oct 2010
Location: Sarasota
Posts: 69
I have them. I did not want to put bigger panniers on the bike just yet. After researching, I chose the E22s mainly due to smaller size. Also, when mounted on the Givi quick release racks, they are not wide on the bike at all. You will be amazed at how much stuff you can pack in them. They almost give the bike a sporty look as opposed to the bigger pannier type boxes.
Thanks. I could only find one picture and it was to small to really see them properly.
Price from Italy is 240 uk pounds posted for the whole kit which is amazing, there about 400 pounds from uk dealers. No surprise there!
One more question. Are they ok for a pillion. Ie not hitting their legs or heels.
Stromthusiast!
Join Date: Jan 2014
Location: Tidewater, Virginia
Posts: 385
Have them on my '09 Wee and they are great cases. Much tougher than one would expect, although there have been reports of chipping the lids if closing them over something in the way. Wife and I ride 2-up quite often and there is no issue with the Givi's being in the way.
Hope this helps. I know you're referring to a V2 but the similarity in frame size, etc. seems to indicate relevance.
---
______________________
2009 Orange DL650
SW Motech Rally Crashbars, Skidplate & Centerstand
Givi e22L Sidecases
Shad 33L Topcase
Wolfman 40L Waterproof Duffel
Givi Tanklock 25L Tankbag
Techiwik Long Underwear

1978 Honda CB550K-Sold

[SIGPIC][/SIGPIC]
Stromthusiast!
Join Date: Nov 2005
Location: West Virginia
Posts: 137
Just mounted a set of E22N on my 2007 V-Strom 1000. Like the size - plenty of room unless you are going on a year-long round the world ride. Still narrow enough to maneuver around parking lots without worry of clipping somebody. Have not had them out in the rain to test level of waterproofing of seals.
---
Retired USAF MSgt (E-7)
Retired Rider - 2016 (3 V-Strom 1Ks, Concours, Burgman 650, 2 Honda 750 Nighthawks, and more over 40 years)
My website: www.RidingWV.com
Stromthusiast!
Join Date: Jun 2015
Location: Berryville
Posts: 167
I'm happy with mine.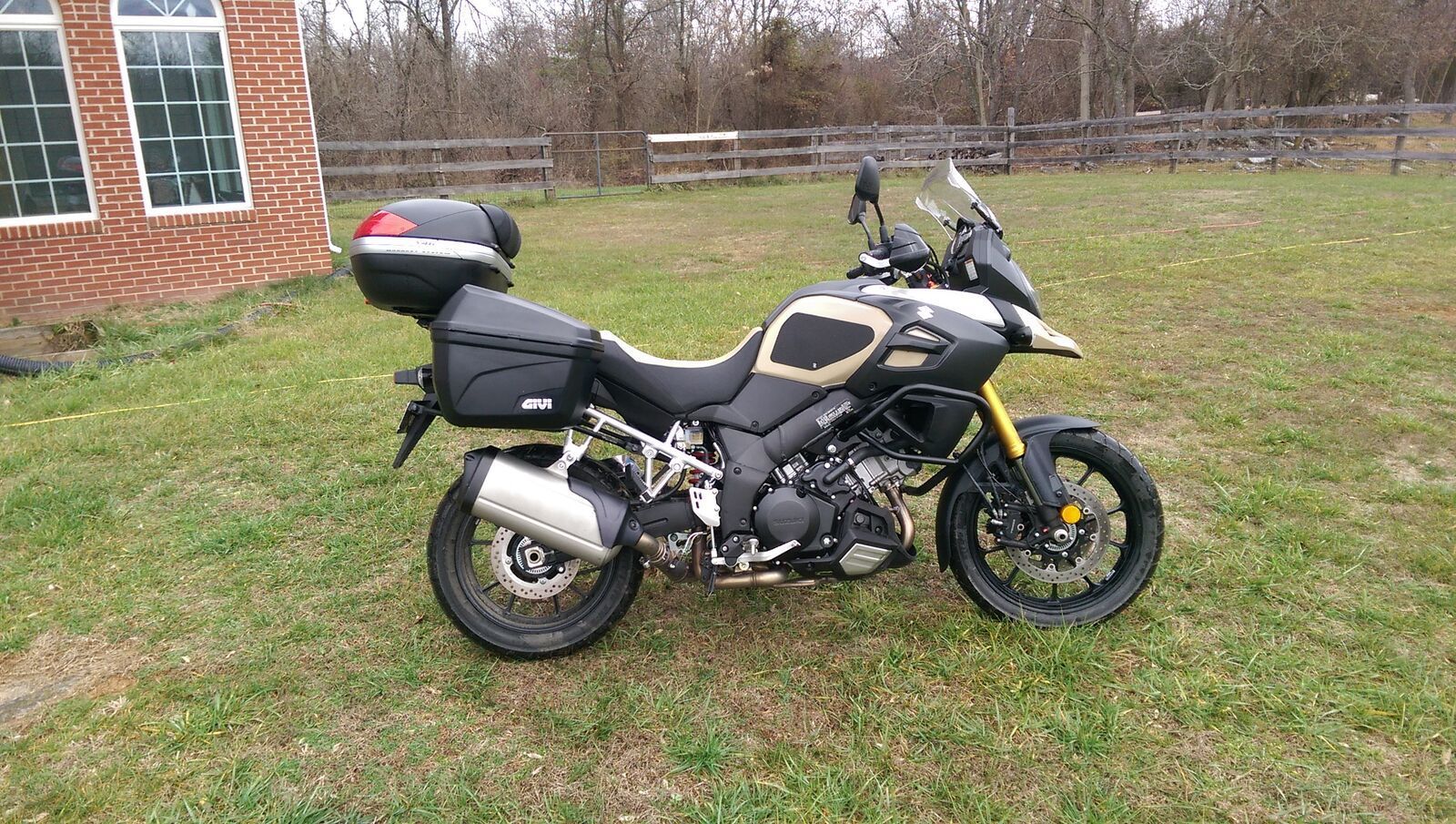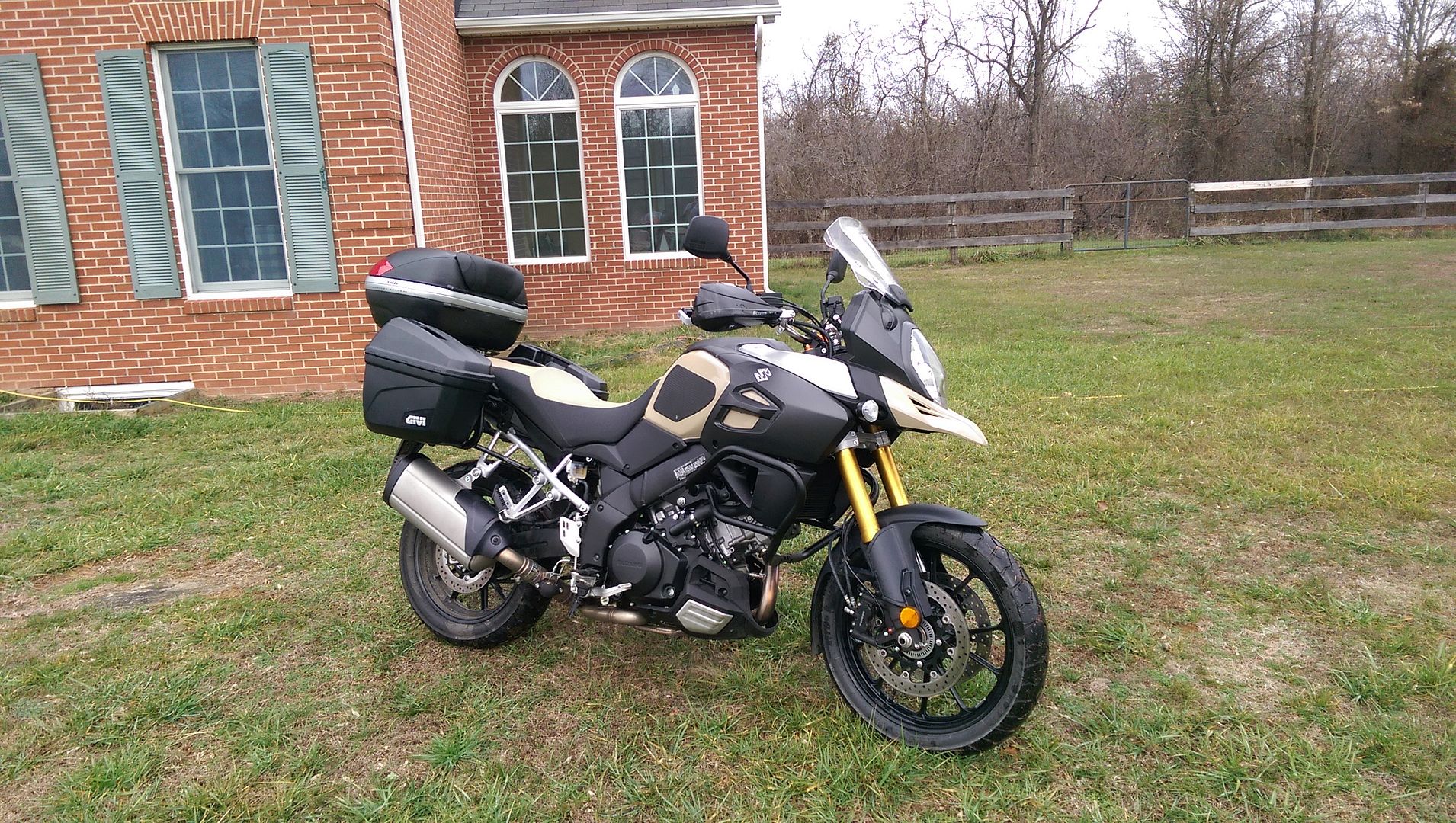 Stromthusiast!
Join Date: Jan 2008
Location: Mississauga Ontario Canada
Posts: 594
I had the E21's on my 08 Wee and then got some E21's for my CBF1000.
I loved them!
Really liked the top load feature.
They are a little small but great for day to day.
The E22's look way better and appear to be able to hold a bit more.
The E22's are a good price and and appear to have a little better utility than the E21's.
I bought my 14 V2 with the factory panniers, but they aren't the greatest as they are a little small and I don't really like side loaders.
They, do however mold to the bike a bit better and don't stick out as much.
Having said that, I don't think you can go wrong with the E22's.
Stromthusiast!
Join Date: Sep 2015
Location: Rock Hill , SC
Posts: 32
Quote:
I'm happy with mine.
Hey that is my bike
What size top case do you have?
Stromthusiast!
Join Date: Jun 2015
Location: Berryville
Posts: 167
E46 from Craigslist!
Quote:
Hey that is my bike
What size top case do you have?