Rear fender huggers?
---
Anyone using one? After a ride in the rain the other day I see more sand and dirt flung around the rear swingarm than I'd like to see.

My research came up with both Givi and Puig making for our 2014 and up DL1000 V-Stroms.

Anyone using one, and if so, how do you like it?

Are there any other companies making one?
I have Givi one and it saves swingarm and rear suspension from all kind of road dirt. I like it a lot, especially because it looks like it belongs to the bike, not like aftermarket part.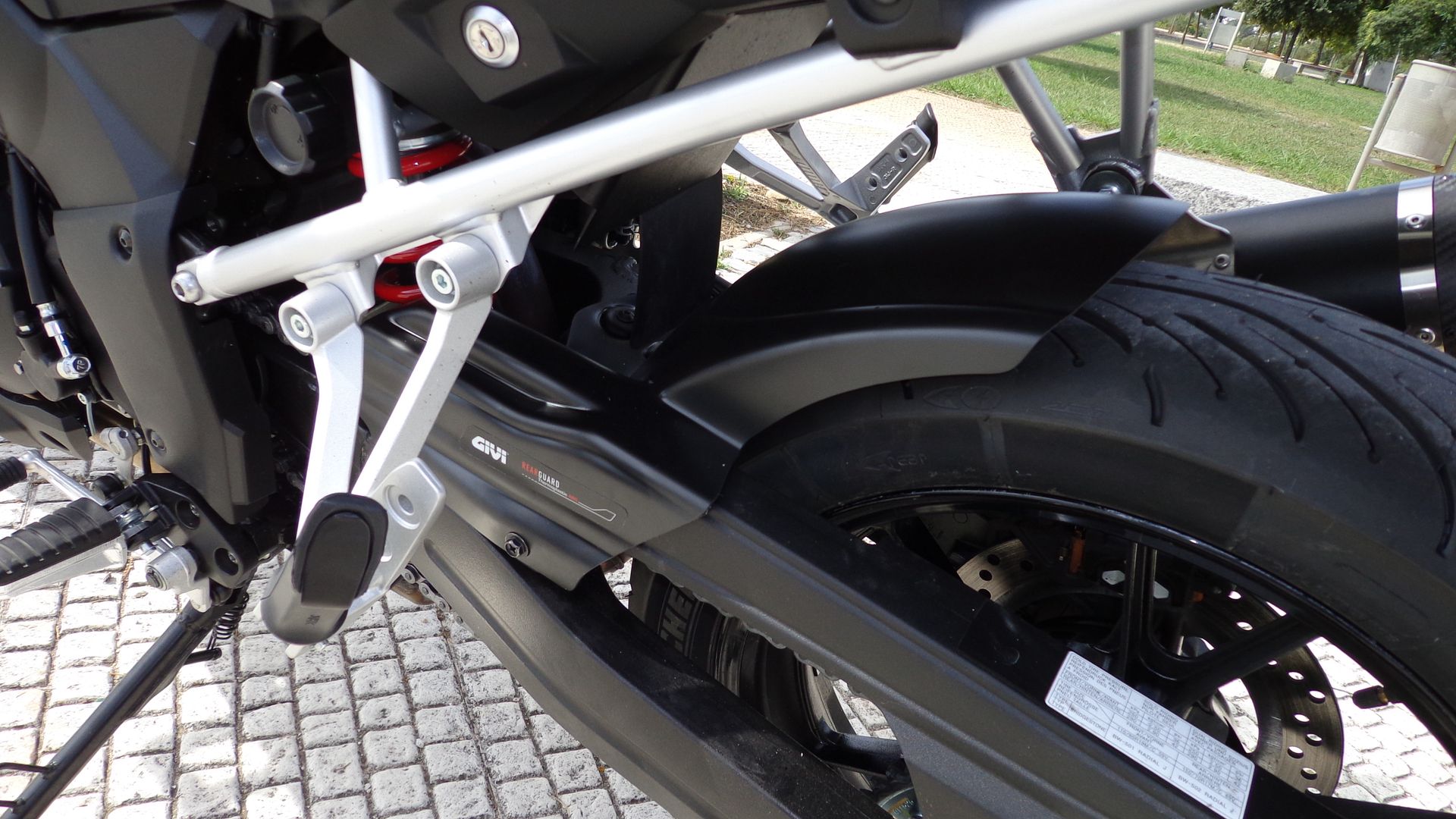 ---
2017 DL1000 White
2014 DL1000 Red (sold)
2012 DL650 White (sold)
+1 for the Givi
---
Never argue with an idiot.......they drag you down to their level, then beat you with experience!
Stromthusiast!
Join Date: Jan 2015
Location: Edison, NJ
Posts: 1,990
Stromthusiast!
Join Date: Mar 2015
Location: Coloado
Posts: 60
Got the Givi last March. I agree with bosjno-nice piece, works great, looks like it belongs there.
Stromthusiast!
Join Date: Aug 2015
Location: Alstonville NSW Australia
Posts: 650
+1 for the Givi, got ours from Motostorm.it. It does keep a lot of debris off the shock but not all!, At first I thought it was looked very plain and cheap
(it is!) but agree it is functional and un obtrusive. If you want a Carbon Fiber or high gloss product this will dissapoint you.I had actually considered painting mine...
The finish is in a "durable" satin/matt , I would prefer a slight texture or "depth" to the surface.Howeveras Bosnjo's image shows the hugger can be shined up with a suitable "shine" spray or product.
In anycase, you dont see the hugger when you're riding
AND the Givi IS very competitively priced
I am glad we bought one
I did notice the factory rubber flap that hangs down between the hugger and the shock might in time rub the hugger surface as the rear suspension compresses and spoil the hugger surface finish, I have forgotten to check ours-which we have ridden about ,4000 ks I,ll check it and see! The flap could be removed,trimmed or folded up out of the way as it is made redundant by the hugger.
---
Paul and Dixie and our V2
DL1000A 2015. SW-Motec crash bars and skid plate,Givi Airflo screen,Givi rear Hugger,Factory low seat,Barkbusters with Storm guards,Factory Tank Protector, Factory centre stand,RadGuard Radiator Guard,home made top box adaptor plate with poverty top box,Factory hard panniers,Zumo390LM,TKC70's,windshield lowered 50mm with custom mounting plates,motopressor tyre inflator,Virgins breath in the tyres,Barrett exhaust,AWESOME rider and pillion.
---
Last edited by We2V2; 12-20-2015 at

06:02 PM

.
$tromtrooper
Join Date: Jun 2015
Location: Long Island, NY
Posts: 56
Thanks guys, I appreciate the insight and photos.
$tromtrooper
Join Date: Jun 2015
Location: Long Island, NY
Posts: 56
I went with the Puig. It has an integral chain guard. You first remove the factory chain guard and mini deflector and then slip the Puig in place and start bolting it up. You add a mounting bracket to the RH side of the swing arm and that gives it a total of five attachment points.
Before:
Untitled
by
Doug Hansen
, on Flickr
Untitled
by
Doug Hansen
, on Flickr
Crappy after photos:
Untitled
by
Doug Hansen
, on Flickr
Untitled
by
Doug Hansen
, on Flickr
---
Last edited by Hanz; 01-08-2016 at

05:30 PM

.
Would like to see some shots without the side cases and from a little further back.
---
DL1000A 2014
previously DL650K6