Universal GPS Mount for the new DL1000
---
I'm pleased to announce that I've developed a universal mount for both the Garmin, Tom Tom, and any other GPS (and phone) mount. It will easily install on the new 2014 V2, and almost any other model bike as well.
The kit will include a dual security locking mechanism, and for people who order in the next week, I'll include a cable management system (CMS) to keep everything tidy.
Behind the scenes view:
For $39.99, I'll include both elements of the dual security locking mechanisms, 20" of duct tape and 22" of nylon string. This string acts as a double back up anti-theft device, as long as the thief doesn't have scissors (or a knife). If you order now, I'll include the CMS for free, a rubber band to keep your excess cable from sliding down your front fork.
We're in beta testing now but should be shipping by 4/1/2015. PM me to get on the list.
pmk
I reckon I can undercut you. Comes with alcohol wipe and small bottle of de-mineralised water (spit not recommended).
Makes the rev counter redundant, but who needs it on a 2014?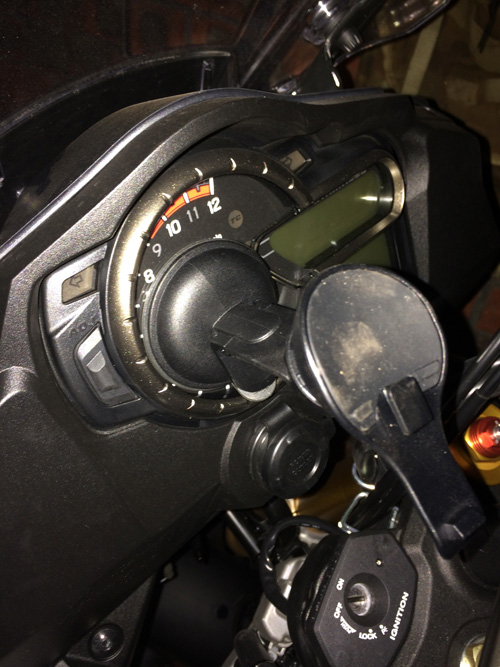 PMK,
You certainly did a good job of color matching the duct tape to the bike.
Perhaps gold twine to match the fork caps?
rick
---
Richlandrick
http://www.adventuretech.biz/

---
Last edited by richlandrick; 06-15-2014 at

01:49 AM

.
Quote:


Perhaps gold twine to match the fork caps?

rick
Ah, that's why you're making the big bux, Rick -- attention to details!
pmk
Stromthusiast!
Join Date: Dec 2008
Location: moorhead,mn
Posts: 19
But the red string matches the shock spring, and adds bling!!
Stromthusiast!
Join Date: Jun 2014
Location: Carlingford Area, NSW, Australia
Posts: 368
Quality from start to finish