Farkles: What's compatible from previous models
---
As more Vee2's are delivered and the farkleization process gathers steam, we could probably do with a thread to track what existing mods, accessories and parts from the prevous generation V-Stroms will also work on the new design, until the aftermarket gets caught up.
First off, it seems safe to say that the biggies such as windshields, crash bars, skidplate and luggage racks will obviously
*not*
fit.
Here's a better and more specific example of what
*won't*
be compatible:
Eastern Beaver VStrom Brake/Tail/Signal Adapter that fits both the DL650/DL1000
- It's this one shown here:
Extras
I have been holding onto one of these hoping it would fit the new V-Strom design too, but the brake lights and tail lights are actually separated in the wiring harness and do not go through a comon connector. The brake lights appear to go through a Sumitomo-style 4-connection coupler, and the turn signals are pretty much wired straight through.
Please to post more compatability information on other farkles as you may encounter them, and thanks in advance...
---
"Ignorance is a powerful tool if applied at the right time, even usually surpassing knowledge." - E.J. Potter
Stoopy,
Great idea. This thread should be for accessories/farkles - what is out there, what is compatible and what works. I have a list of accessories to look out for that include - handguards, skidplate, engine guards, mirror extenders. I am hoping Givi will make a installation plate to make my V46 topbox fit the Vee2.
F.W.I.W.

I just ordered the low seat, and the dealer said it would be in Friday. All other accessories are on backorder.The bike is just high enough that I need a little help - what's an inch between friends! My Wee was lowered 1" with adjustable lowering links, but I decided to go the low seat route with my Vee2.
Stromthusiast!
Junior Trooper
Join Date: Mar 2014
Location: paulcamacho
Posts: 9
lower seat
---
I ordered my 1" lowered seat and picked up this past Saturday and its awesome. I still need to lower even more. I'm 5'8" so Im gonna need another inch. finding accessories has been tough. I posted on twisted throttle's facebook page asking for accessories and they posted some accessories that are available now. some of them are existing such as mirror extensions. you may want to take a look. being the new bike, accessories are expensive. I am waiting on hard cases and seems like none of the existing years will fit.
Thanks for the heads up. It will most likely be a good 2+ months before the aftermarket accessories become available. In the meantime, I'm gonna do a lot of riding.
For those interested. I just purchased swing arm spools and they were the same as my Wee- 8 mm. Went on easy, as did the mobile stand to raise the rear for maintenance.
Handle bar grips may interchange.
---
________________________________
2007 Blue SuperVee 1000
2013 Grey Super Te'ne're' 1200
2002 White HD Road King Police (divorced)
2000 Red Honda XR 400r
2003 Green Honda Rincon 650 ATV

If it is not broken, it can still be fixed
Stromthusiast!
Join Date: Jan 2009
Location: Group W Bench, VA
Posts: 1,857
I'm pleased to report that Richland Rick (aka AdventureTech) Mirror Extenders for DL1000 work just fine. This was a concern due to the new multifunction switch on the left handgrip.
I ordered the DL1000 ones here ("One Farkle" version plus RAM mount) - bonus, got 'em in 2 days!:
Mirror Extenders - AdventureTech, LLC.
Here are pictures of the left, right, and both when viewed from behind. These are installed exactly pointing away from each in a straight line according to the straightedge and half glass of Crown Royal that I used to align them. Follow his directions for 2012-and-after bikes with left-hand threads on the mirrors.
The perspective in the last picture doesn't make it obvious but the mirrors now come out all the way to align with the bar ends. Perfect.
Left (no interference with multifunction switch):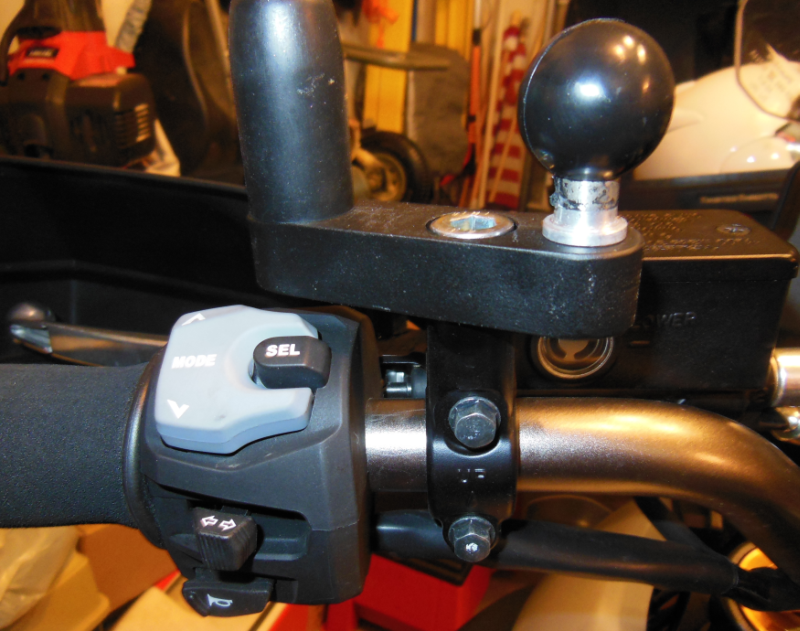 Right: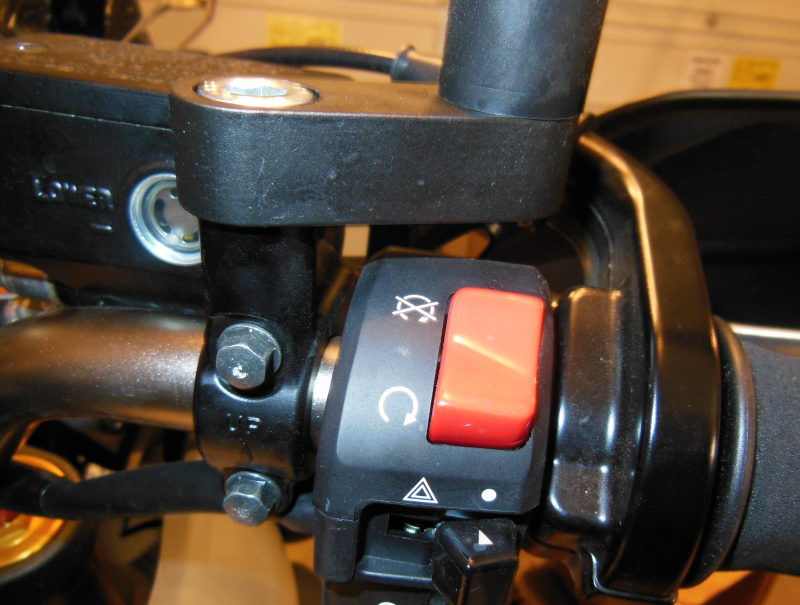 Both: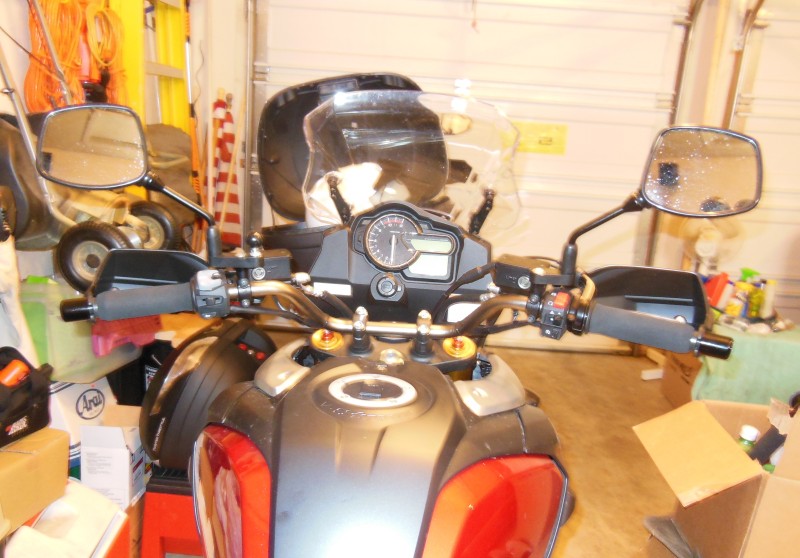 ---
"Ignorance is a powerful tool if applied at the right time, even usually surpassing knowledge." - E.J. Potter
Interesting. I did a search on Ebay, and found a dealer or two, plus one from England, that has Suzuki accessories available now. My local dealer said that all accessories are on back order ( except the low seat I purchased that is arriving today). I assume the accessories are on their way.
Barkbusters
---
Does anyone know (especially our Australian friends as Barkbusters is located there I believe), if the Barkbuster and guards are compatible with the Vee2?