Show us your 2014-2016 V-Strom 1000
---
They should be showing up soon. Post pics when you get your bike. Please don't post pictures other than your bike and limit discussions to the bikes pictured that people here own.
---
Last edited by greywolf; 01-15-2014 at

12:32 AM

.
Stromthusiast!
Join Date: Sep 2012
Location: Netherlands
Posts: 149
I got him
The new V-Strom DL1000A black, straight from Japan.
It will be a full-option Bike. With all the accessories
I'm a happy Strommer
See You,
Peter
Stromthusiast!
Join Date: Jan 2009
Location: Group W Bench, VA
Posts: 1,857
After a 57-mile ride home that only needed to be about 20 miles, my 2014 DL1000AL4 "Veek" aka
The Crimson Pigeon
has arrived home to her new coop: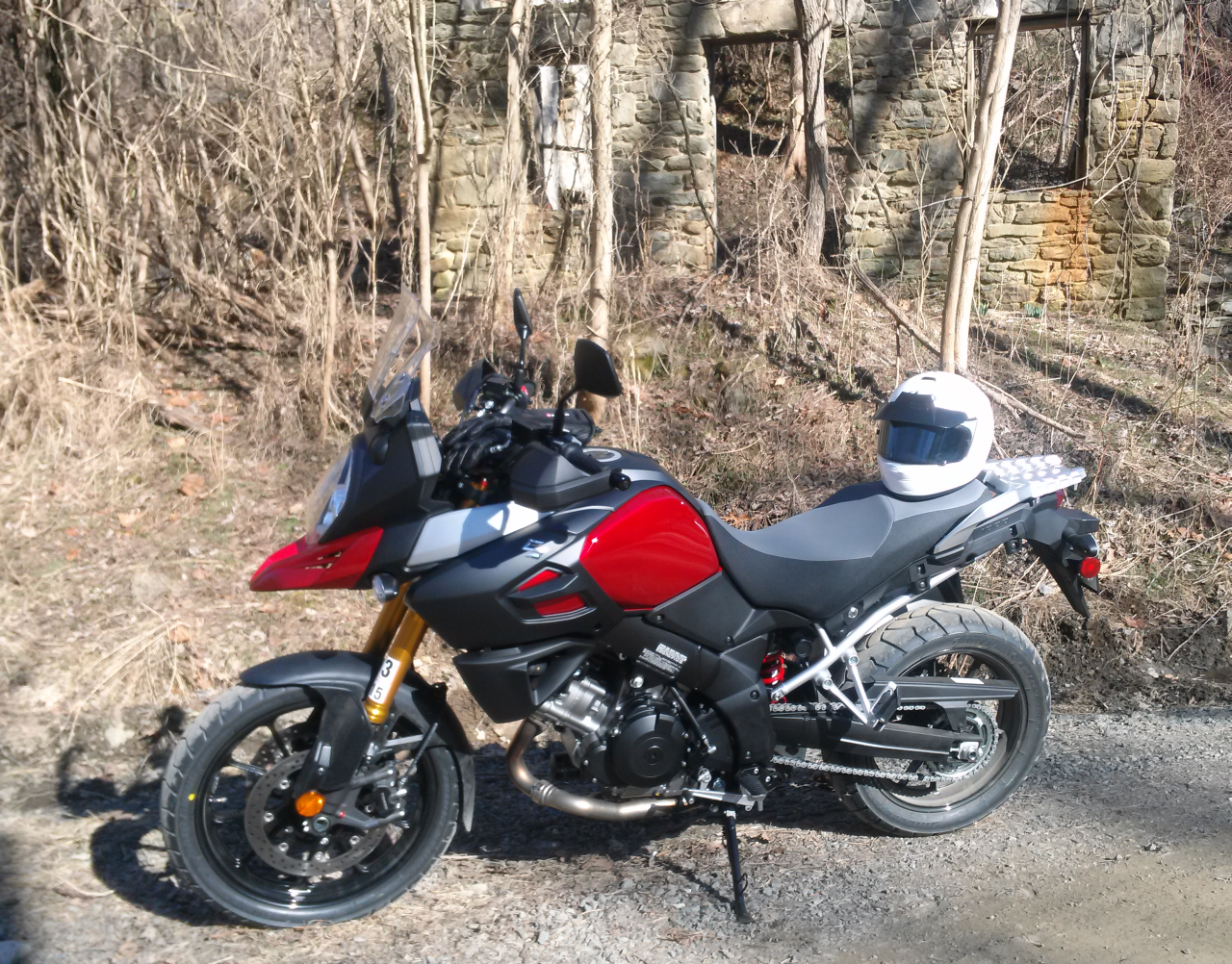 It would have been a much longer ride home if I hadn't had plenty left to do before the day was out!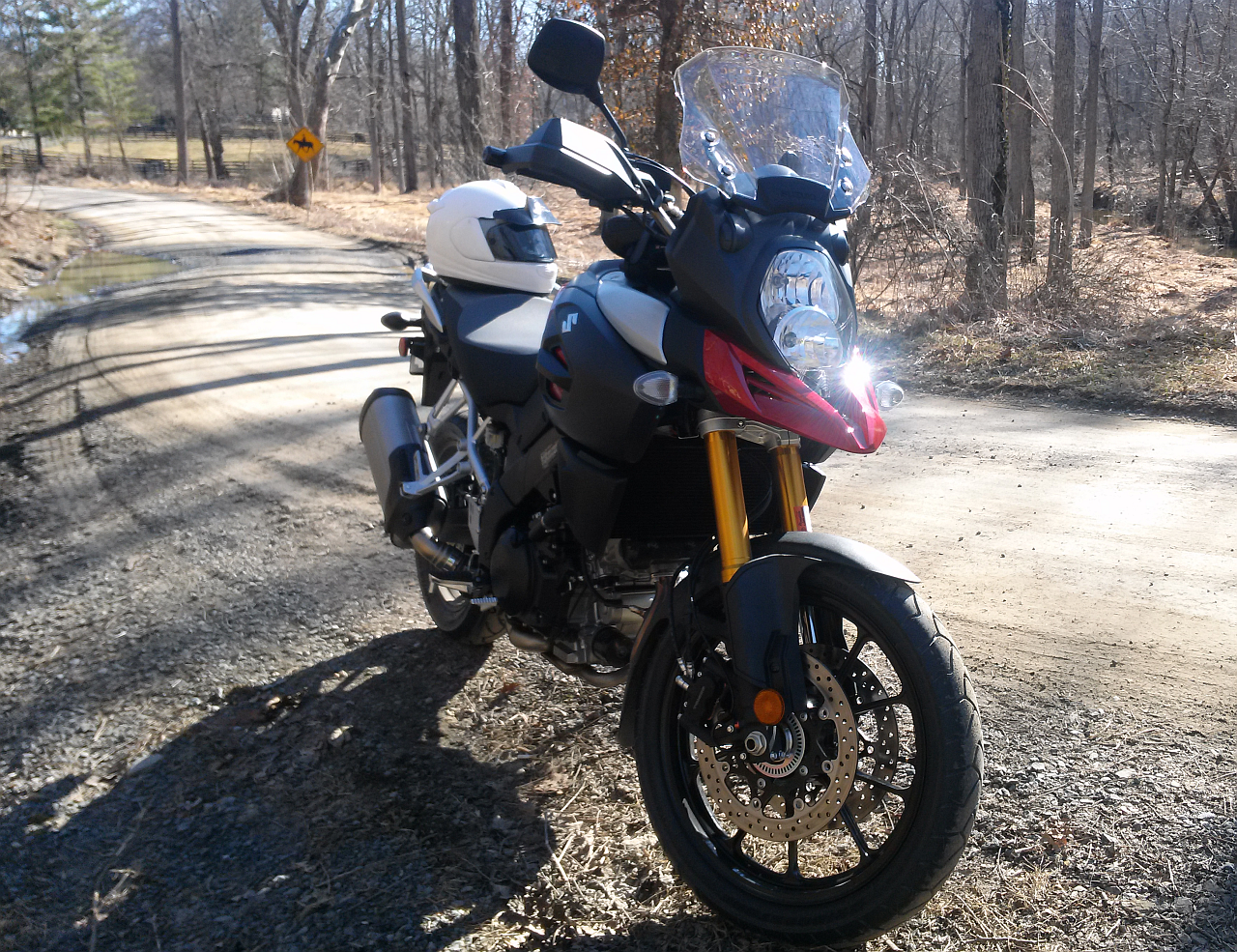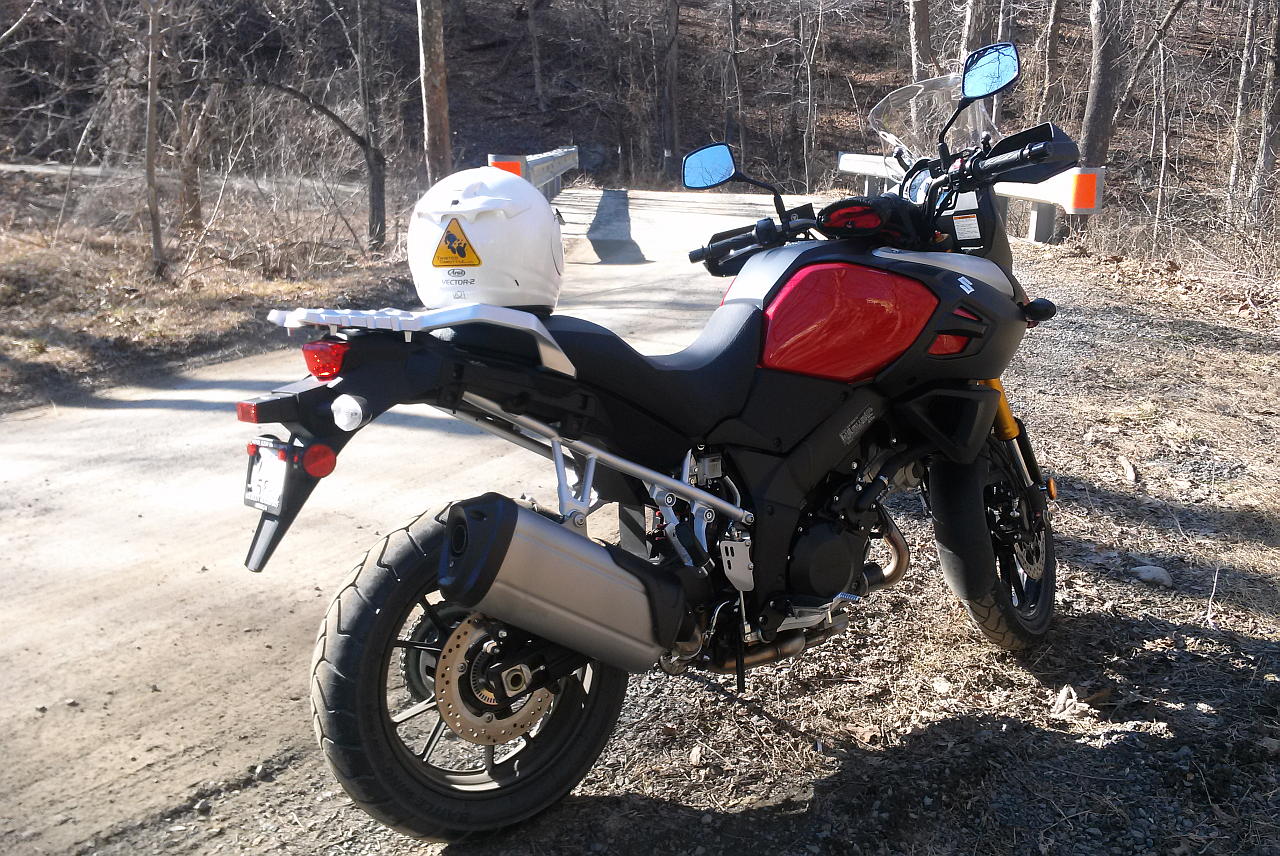 Home to roost:
Tires have a decent scrubbing on them now: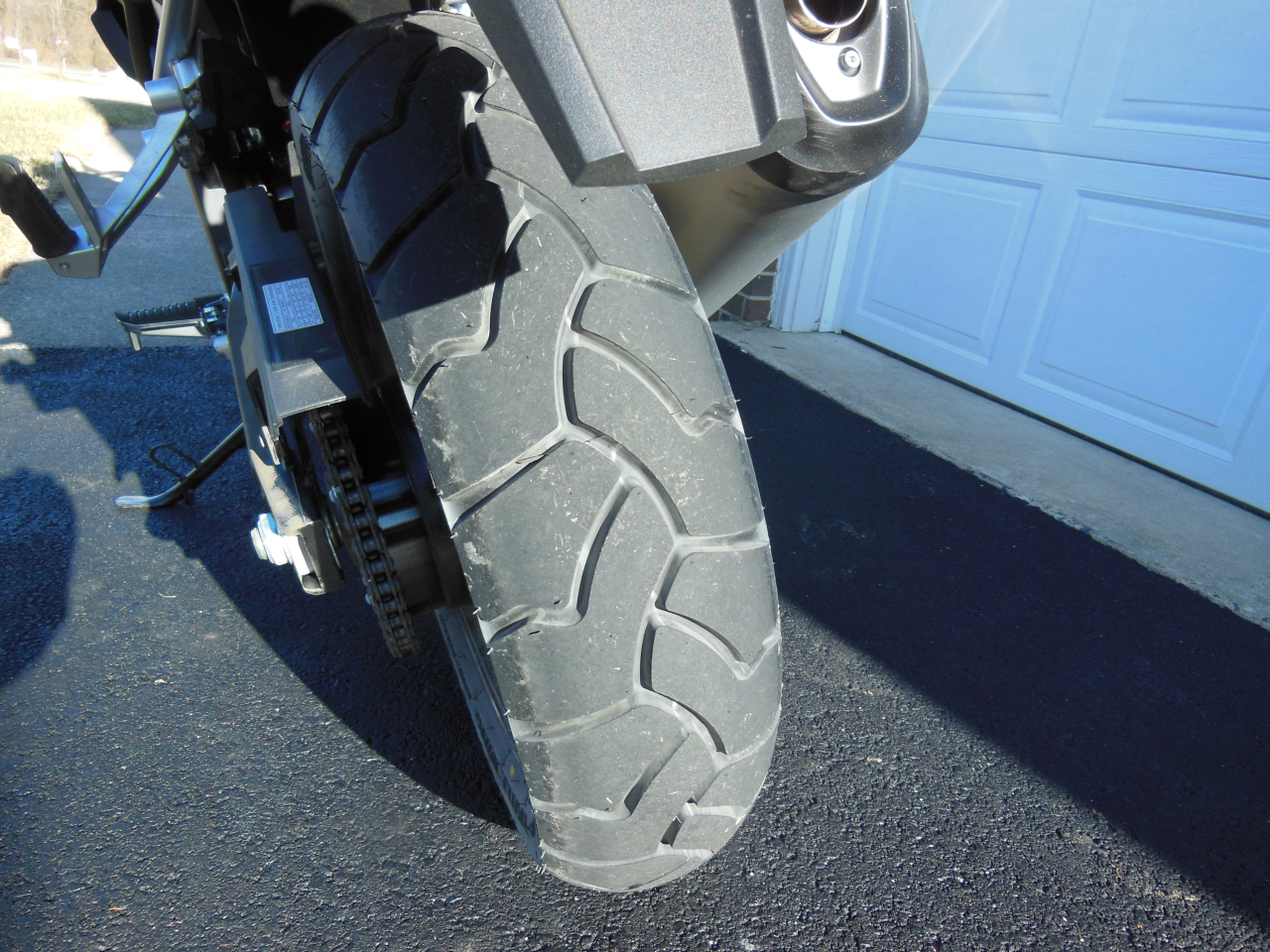 Here she is meeting her older/littler sibling: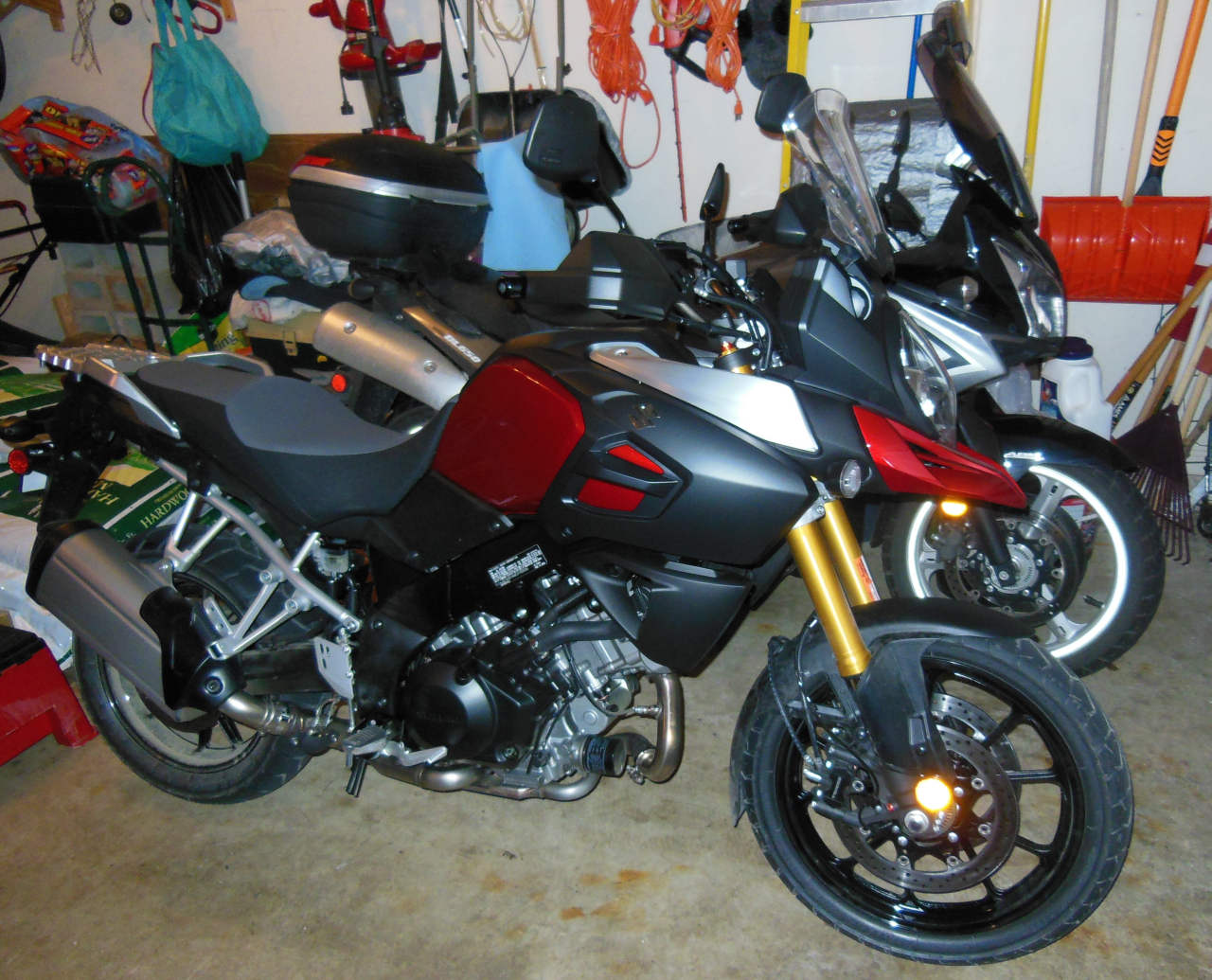 After some yardwork to spread the mulch that was taking up precious space, this will be my garage situation for the foreseeable future... keeping the Wee around as a second bike since it's still a great bike, and I'll see what farkles transfer to the new one:
The first of many: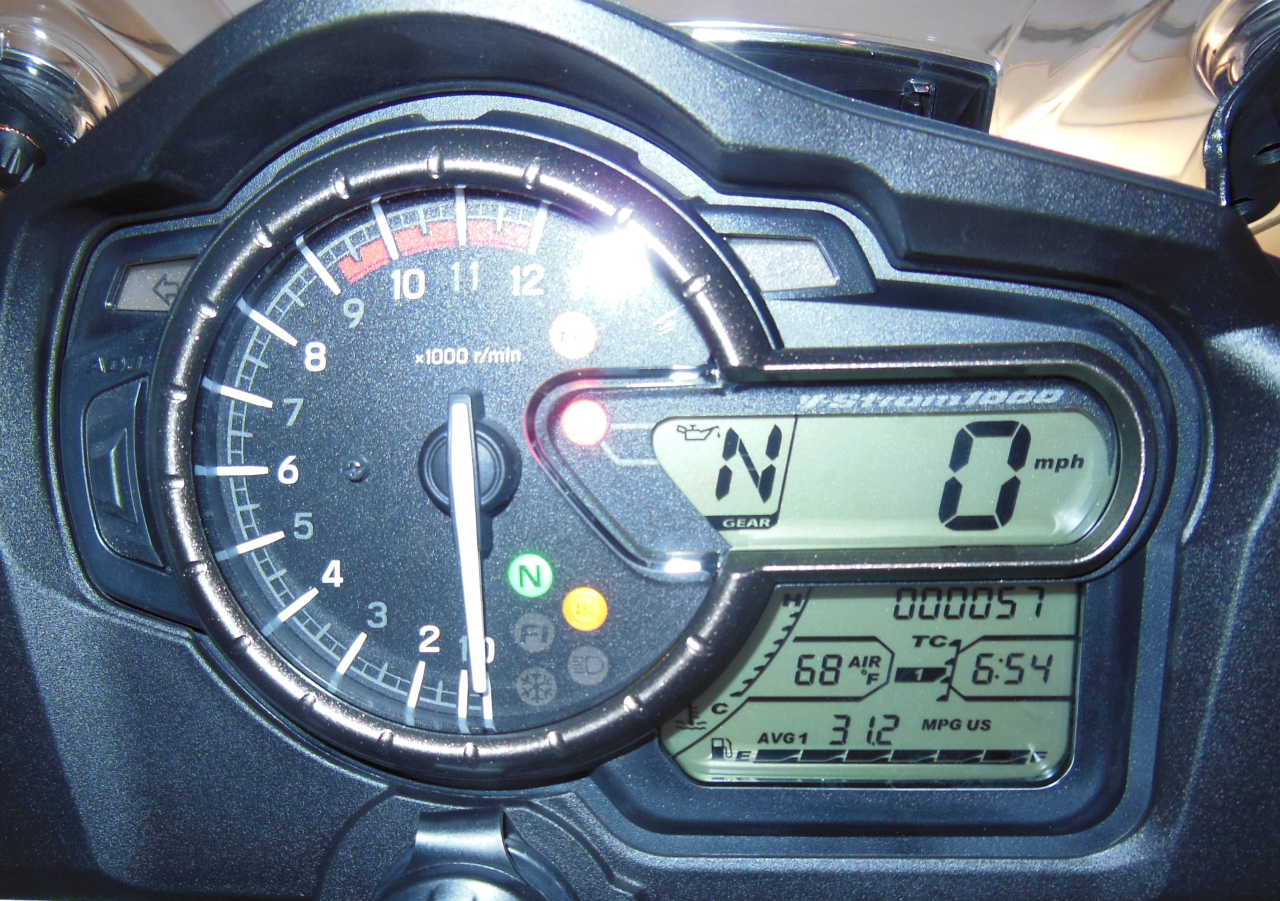 The ride home was terrific, covered single-lane rough blacktop, twisties, smooth roads with long fast sweepers, some dirt, gravel and mud, and a nice sprint on the freeway. It's everything I thought it would be and then some, I was grinning the whole way. Coming from a Wee, there were many similarities except for power, lightness, handling and suspension, all of which are better ('specially the power) than my '09 WABS. I'll post first impressions in another thread for that purpose as soon as I can.
EDIT for some of the below questions/comments (since I don't want to post anything but pictures here and leave room for others who will be coming along):
- Chirosyd, yep that is thestock-height seat, I have no idea on the Givi mount, it's possible it may work but I don't know Givi products, but I'll be mounting a CooCase later next week and can tell you how that goes with their 'universal' mount plate. As for the windscreen, I am almost certain it won't make the trip from the old bike, the mounts look very different in regards to spacing. I'd love to transition my MRA Vario but am certain I won't be able to.
-Greywolf, thanks, ad the average MPG started out in the teens when I picked the bike up. So it's been steadily improving, although not helped much by my frequent "torque checks" getting to know the machine.
- Zedex, thanks and I wrote some first impressions that I carefully thought about on the ride home. Hopefully, it'll tide you over, good luck with the wait!
Second Edit - to show Greywolf where those 68-degree temps went. The Crimson Pigeon can only sit and wait things out now....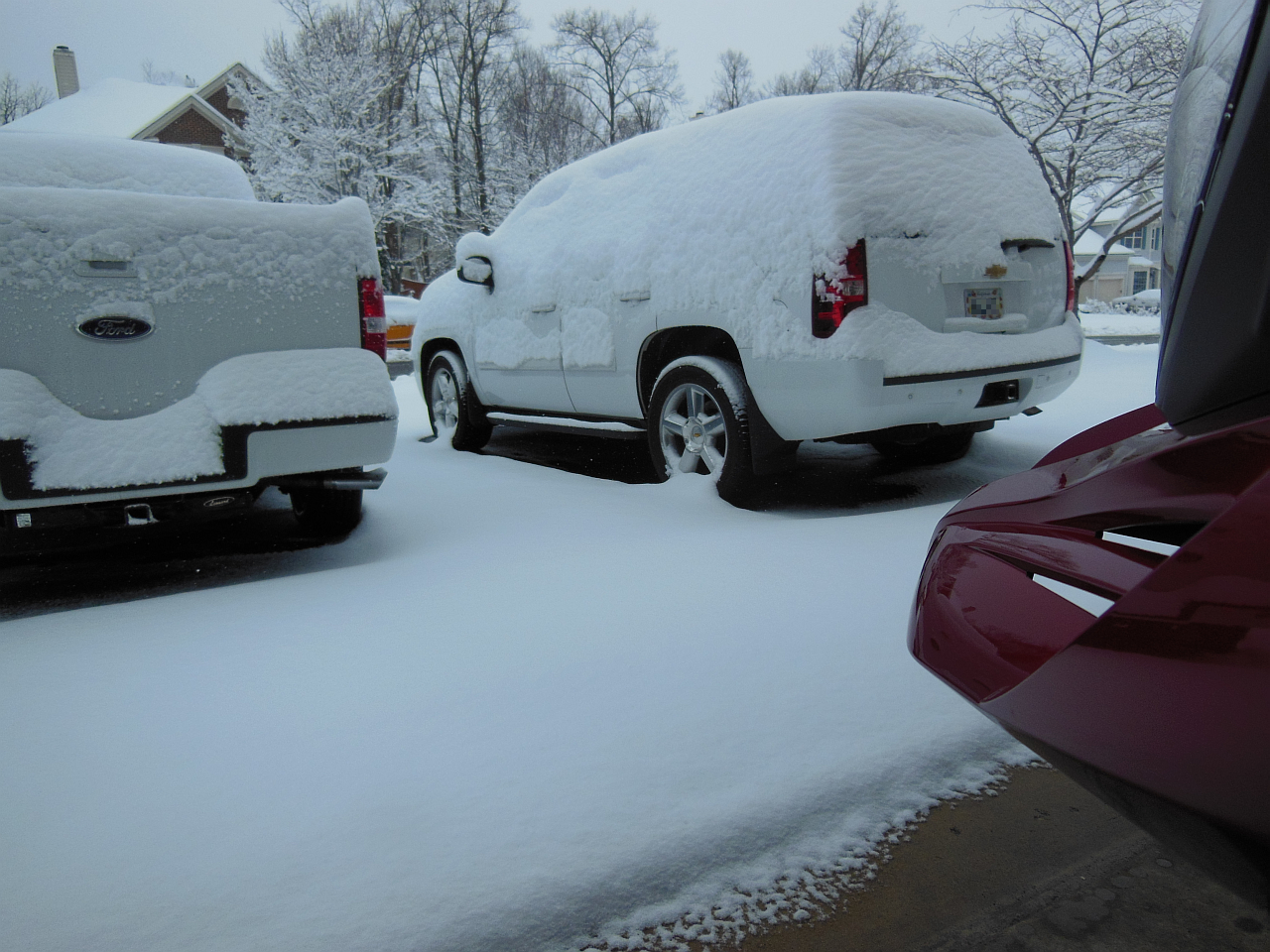 ---
"Ignorance is a powerful tool if applied at the right time, even usually surpassing knowledge." - E.J. Potter
---
Last edited by Stoopy; 03-17-2014 at

02:02 PM

.
Banned
Join Date: Apr 2012
Location: Sydney, Australia
Posts: 1,121
Very nice mate, again congrats
Bike looks great, I see you have the handguards installed.
Can't wait to see more pics, and a good ride report once she's broken in.
Stoopy,
Great pictures! Is that the stock height seat? Do you think my Givi v46 top box and givi adjustable windshield from my 2011 Wee may fit the Vee2?
My dealer will be assembling my red Vee2 on Tuesday, and will take possession shortly afterwards.
Btw, are you atttending the N.E.V.A. Trip to the Berkshires of Massachussets? It is not that far from VA, and it would be great to have a Vee2 contingency.
FORUM GODFATHER.....R.I.P. PAT
Join Date: Jan 2006
Location: Evanston IL USA
Posts: 38,049
I like the 68F, not so much the 31.2mpg. I'm glad you're having lots of fun, including the name.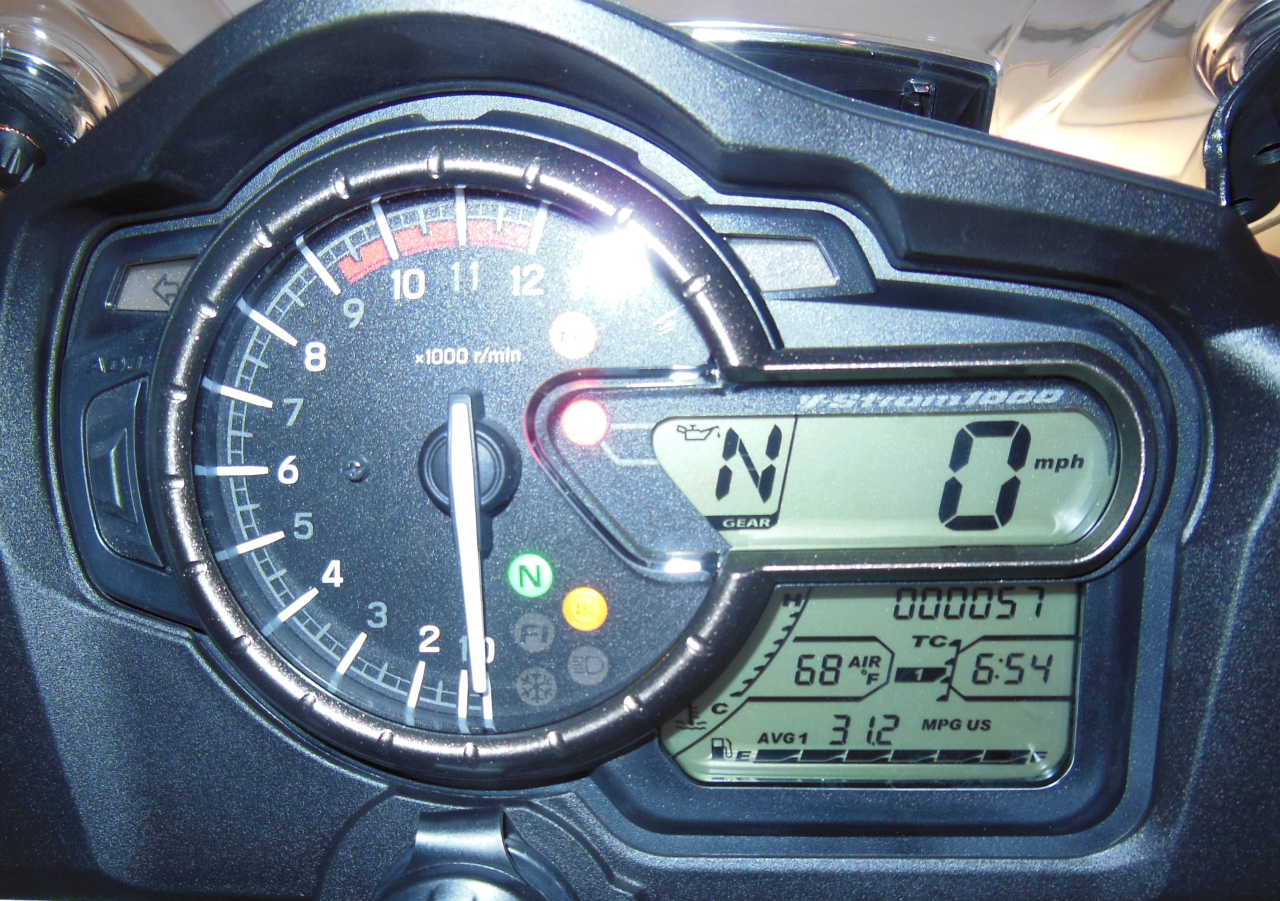 Congratulations!
---
Congratulations Stoopy! Looks like you had a great time on the ride home. From the latest weather report sounds as if you should keep that snow shovel handy for Monday. Hoping I'll be picking mine up next week sometime!

Later

FastLane
---
Last edited by greywolf; 03-16-2014 at

12:34 AM

. Reason: remove extensive quoting rerunning every picture
New Bike is In!
---
New V-Strom is in and working on paper work. Will be picking up Thursday!
FastLane
Quote:
New V-Strom is in and working on paper work. Will be picking up Thursday!
FastLane
Congrats fast lane. Mine is being put together today, and should have paperwork and deal done by Friday. Personally,I really like the whole look of the bike -even more tan my 2011 Wee. Ride safe with all that torque!
Stromthusiast!
Join Date: Dec 2012
Location: Austin, TX
Posts: 209
Congrats!! So far it looks like the east coast and midwest are getting theirs...No love in TX yet....