Stromthusiast!
Join Date: Apr 2019
Location: Raleigh, NC
Posts: 25
-- Please Delete --
---
... Please Delete ...
---
Last edited by Kaine Beedenbender; 05-30-2019 at

02:01 PM

.
Thanks for sharing. Looks like this will be interesting to follow.


Sent from my iPhone using Tapatalk
---
2011 DL650A
[SIGPIC][/SIGPIC]
I pay $85 for unbroken clutch baskets! If you have no need for your old one, I can sure use it.
---
'12 DL 650 '14 BMW R 1200 RT
WERKS
modified clutch baskets
for DL and SV 1000's.
The BEST in chudder control, noise control, and lasting durability! AVAILABLE HERE:
www.werksparts.com
Have questions about the clutch in your DL or SV 1000?
E-mail Terry
[email protected]
That bike will be as good as new when you're done.

You've already addressed the main problems folks encounter with this bike.

The rear cushion rubbers don't last long. I replaced mine once and since have just shimmed with chunks of inner tube.
---
DL1000K6 Two wheels good; four wheels bad.
DRZ400SK17
Stromthusiast!
Junior Trooper
Join Date: May 2019
Location: NW Washington
Posts: 4
Appreciate the post and pics. I'll likely be mirroring your efforts in the very near future.
---
Money cant buy happiness. A motorcycle it can however, which is basically the same thing.
It's comin' along.

Have a look at the area where the clutch slave cylinder mounts. There is often a protruding bit of gasket that keeps crap from draining properly from the area. Trim that away and any water/chain-fling debris has a chance of clearing itself out of there. (Premature slave failure due to chain fling contamination is not uncommon on these bikes.) I have also drilled a second drain hole to the outside of that gasket and nearer the slave assembly which seems to have helped.

Have you looked at the swingarm, rear shock bearings? Given the general state of the bike, they may need attention. Suzuki seems to be quite frugal with bearing grease.
---
DL1000K6 Two wheels good; four wheels bad.
DRZ400SK17
Stromthusiast!
Super Trooper!
Join Date: Mar 2019
Location: Weddington, NC
Posts: 628
Keep Up The Great Work!!!!!!!!!!!!!!!!
---
"There comes a time in the affairs of men, when we must take the bull by the tail and face the situation."
W. C. Fields
Quote:
Originally Posted by
Kaine Beedenbender
View Post
Do you mean this one featured in the pic? I thought this was a terrible gasket design, and i would have to pop the cover back off to cut it, so not sure i want to do that...

I have not addressed the suspension as of yet but i am going to. I am 6'6" and 320lbs so this bike was not exactly made for me. For longevity sake, i am going to touch all the possible service areas. Rebuilding brakes, slave cyl, reservoirs, brakes calipers, etc...
Yes, that is the offending bit of extraneous gasket. A knife will do fine. No need to take anything else apart as long as you have the sprocket cover removed. Just carve that dam away and then that lovely drain hole serves a purpose.
The problem, as I've noted elsewhere, is that the drain hole only works when the bike is upright or leaned to the right. But when you park on the sidestand, the bike is leaned to the left, which directs all kinds of chain fling debris towards the slave cylinder.
It's just not a good design for an "adventure" bike. In my opinion, there needs to be a drain hole nearer the slave. I have drilled one in the casting between the offending gasket and the slave. It clogs with chain gunk and I can easily clear it with a screwdriver without removing any pieces. Those mods cost $0 and take only minutes.
---
DL1000K6 Two wheels good; four wheels bad.
DRZ400SK17
I know that guy in England. Many long time Stromtroopers here will remember him as well. I'll skip why he is not here on Stromtrooper and go straight to the problem.
The bearings are designed to withstand radial forces. Forces perpendicular to the axle. They are not designed to withstand strong thrust forces. Especially uneven thrust forces where one side is pushed and the other pulled.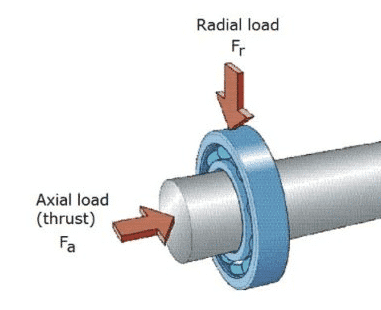 The Gen 1 DL1000 cush rubbers, like all similar motorcycle wheel assemblies, is designed to cushion power pulses from the chain to the hub. These parts need to be held tightly between the rear sprocket drum and the wheel. However, the cush rubbers on the Gen 1 DL1000 are not held tightly between these two parts. This excessive play allows the chain's pull on the sprocket to apply uneven thrust forces on the bearing inside the sprocket drum. As the bearings wear due to these uneven thrust forces the chain starts to catch on the sides of the sprockets teeth. As the teeth catch on the chain the thrust forces on the bearings increase. As one gets worse the other does as well setting up a positive feedback loop that results in rapid bering, chain, and sprocket wear.
People learned early on that simply replacing the affected parts just lets them repeat the process and go through another chain, sprocket, bearing set, in another 7K to 11K miles.
I suggest starting a thread asking people if the spacer change fixed their problem or not. I suspect you will get many responses from people who had the problem and found it fixed afterwards, and many who installed the fix before having the problem who never experienced it because of their proactive action.
I'll check about starting a poll.
---
Richlandrick
http://www.adventuretech.biz/

---
Last edited by richlandrick; 05-13-2019 at

09:34 AM

.