Join Date: Oct 2005
Posts: 12
long ride
---
hey fellow canuks how is ya all im going for a long ride this summer i plan on going from kelowna bc to st catherines ont at the end of july does any one have advice on a route or sould i just point her east and go sould igo thru the us or stay in the home countery these are just a few of the things ive been thinking of thax in advance for any replies also anybody know of any good spots or places to stay along the way
Canadian Troopers
---
Hi monster V. Do what I do. Pick a direction and enjoy the road and scenery. Drove South from Edmonton once and wound up in Roswell New Mexico. Bought a t-shirt. Picked a direction and wound up in South Dakota, bought a t-shirt. Missed a turn one day in Montana, wound up in Southern Idaho, bought a t-shirt. Had fun all the way. I have a lot of t-shirts.
---
05 / 650 in blue
88 / KDX 200 in green
81/82 DT 175 Yamahussies
79/SP 370 Suzuki-bad bike-no keep
78/ GT 750 water pumper
75/Suzuki 125 RV
Do you plan on taking the long route overtop of Lake Superior? Hwy #17 from Thunder Bay to Sault Ste Marie is a nice ride though crossing the praries might bore you to death. If you go that way stop at the Terry Fox Memorial just on the eastern outskirts of Thunder Bay and take a picture of you and the goose at Wawa. Who wouldn't wanna see this great piece of Canadiana?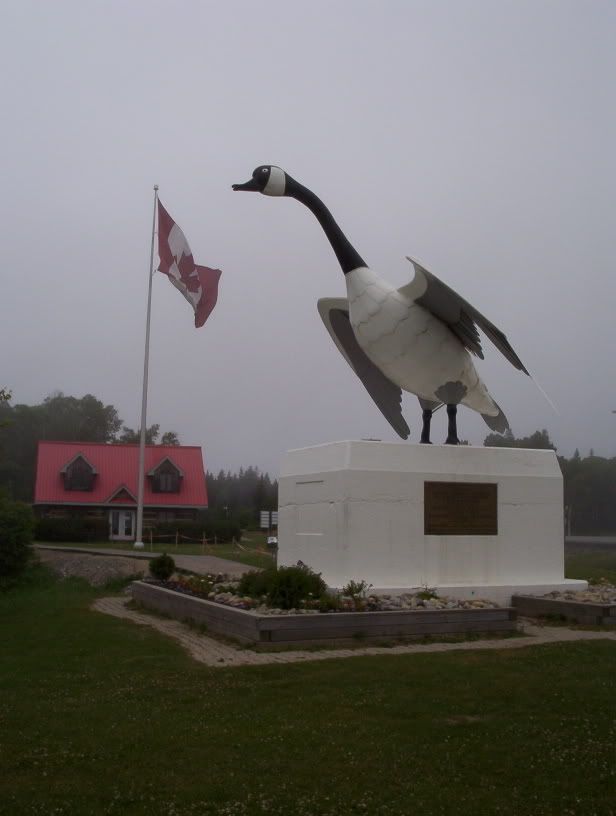 After the Soo you could head to Sudbury and see the big nickel then head south on Hwy #69, there are some twisties along the way that lead you southwards or if Sudbury isn't your thing turn onto Hwy #6 at Espanola and ride Manitoulin Island. It is quite scenic there, a real nice piece of Ontario and take the Chi Cheemaun ferry over to Tobermory and head to St. Catherines from there.
Here is the website for the ferry
www.chicheemaun.com
with rates and schedules.
Have a good trip.
---
Ian

'07 KLX250S - Road
'00 CBR600F4 - Track

"The World is a book, and those who do not travel read only a page" - St. Augustine

Join Date: Jun 2005
Posts: 93
Hey Monster V,

I would try to make sure you just stay awake as you drive through the prairies (LOL). Very boring at times, and tough to keep a high degree of interest after many many hours. ( I used to live and drive for a living there so I speak from experience). Very cool scenery in the summer when all the farmers fields are blooming though.

Do not use the squeegee at the gas stations anywhere as they all contain bits of abrasive bits, bugs, dirt, etc. I did this last summer at a gas station in the North Shore (Vancouver). When I cleaned my windshield and fairing with the foamy side of the squeegee I thought this is good, I got it all cleaned up. But when I squeegeed the water off I saw all the new scratches that I had just rubbed on to the bike. Stay away from other peoples squeegees and avoid wrecking your nice shiny plastic parts.

The foamy brush at car washes is another culprit to avoid on fairing, windsheild, and front fender parts. If you want to keep things looking new.
Cut down into the States and then back up so you can get around Superior and see the monument to Terry Fox. I had a friend make the trip from Toronto to Seattle two years in a rwo. One year she went all USA until close to Ontario 8) Last summer she headed north to BC and then across the Praries. She said never again as there are no bargains and the roads/scenery is terrible. Either way let me know when you get to Southern Ontario and we'll see about getting together for a coffee. My sister used to live in st Catherines and just moved to Montreal
---
Type @ Ya'll Later
Night_Wolf
2007 DL650abs Wee Strom
VSRI 1083/MIG 2625
A Newfie & Damm Proud Of It
Long ride
---
I concur Night Wolf. Travelling the prairies is like being sucked into a black hole where time stops. I prayed for potential road kill, flat tires and a daytime lightening strike to relieve the boredom. At least at nite I could have played with the driving lites. South of the border is far better.
---
05 / 650 in blue
88 / KDX 200 in green
81/82 DT 175 Yamahussies
79/SP 370 Suzuki-bad bike-no keep
78/ GT 750 water pumper
75/Suzuki 125 RV