Nova Scotia
---
Hello Neighbors, yeah I say neighbor while I'm in Utah
Have a couple questions about Nova Scotia. Riding of course would be a topic I'd really like to have.
Other questions are more of a personal nature and would like to communicate via
email , if you are feeling the wintery blues and can't go outside temporarily please PM me you email
address.
---
FB MEMBER #133 - 2008 Wee
Stromthusiast!
Join Date: Nov 2012
Location: Toronto, Ontario, Canada
Posts: 219
What do you want to know? If it's riding related, let's keep it public so everyone can benefit. Nova Scotia's got some great scenic rides.

I spent a fair bit of time in Utah this past summer, and I'm thinking of shipping my bike there next summer to do a lot more...
---
I've never seen a motorcycle parked in front of a psychiatrist's office. And that tells me pretty much everything I ever need to know about why I ride.

My Ride: 2012 DL650A Explorer Package, Fox Orange. Mods/Farkles: Scottoiler vSystem, Rox Risers, Adventuretech Mirror Extenders and Sidestand Foot, SW-Motech Over-The-Dash GPS mount.

Plans: Denali-type lighting, orange LED cowling/engine lighting, LED highlight upgrade, and everything I need to ride the Dempster Highway in 2017.

States/Provinces Ridden: NS, NB, QC, ON, ME, NH, MA, VT, NY, PA, DE, MD, DC, VA, WV, NC, TN, KY, GA, OH, IN, IL, IA, NE, CO, UT, AZ, NE, CA, NM, TX, OK, MO.

Just finished a 12,000 km run from Toronto to Monterey and back.
Stromthusiast!
Join Date: Mar 2011
Location: Pasadna area
Posts: 13,434
As Utah is interesting to you, a lot of us would like to do the Maritimes. I sent Andreas a missive about my ancient relatives that infest the area.
It's a wish list thing.
My sister and uncle attended a family thing in Nova Scotia years ago the same time I was in the east, So Carolina, but the ongoing weather made me wary of riding North.
Phooey, lost opportunities.
---
Last edited by notacop; 12-10-2016 at

03:42 PM

.
I fell in love with Nova Scotia my first ride there in '88. Been travelling there every summer since then. well I think I missed two years. During my work stint with only a couple weeks off I would ship my bike to the area, usually Maine, fly and pick up my bike. I discovered Nova Scotia when I went to visit an old friend who had settled there. What a paradise! Plenty of deserted beaches, scenic rides, friendly people. I hang out around the South Shore, Between Bridgewater and Liverpool. Sometimes ride the 'Cabot Trail.' I have a little campsite on a lake, sometimes rent a cottage or camp at friends. Nova Scotia is like travelling back a few years in time. A few years ago the hot button issue was 'should grocery stores be open on Sundays'?
---
14 tooth for me
Lots of catholic church and associated schools in most lil towns. Very friendly folks. If ya like scenic places and like to go slow and sightsee it is great. take rain gear and plan rain days to hang out, I was there July and fog rain are common but not a trip killer. Plan the ferry when its clear so you get your moneys worth.
Nova Scotia is a lovely area - my fav is the Annapolis Valley and of course Cape Breton.
You have to be careful with temps....particularly Cape Breton..it's definitely late June to early Sept window...weather at the top end is brutal with winds off the Gulf.
Lovely ride tho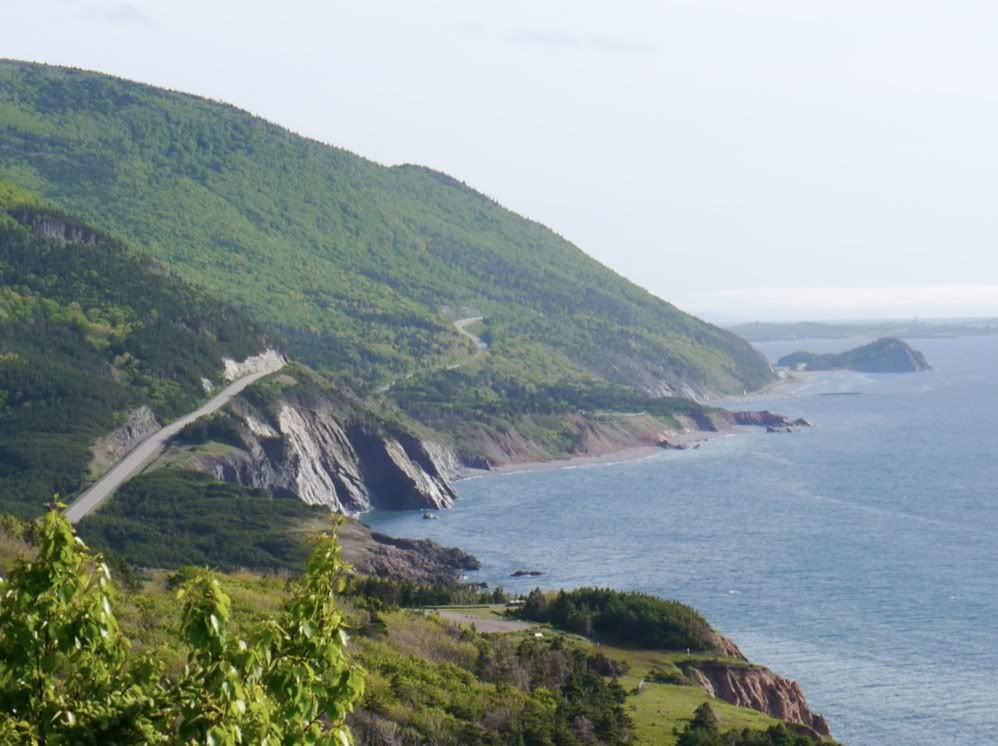 this is the west coast near Cheticamp ( stop in for good Acadian food ..French Canadian ....long story you should learn about Nova Scotia how many ended in Lousiana where they became Cajun and still speak a French dialect )
The Evangeline Trail is lovely and I adore Wolfeville...almost moved there...university town with gastropub and multiple coffee houses.
Bear River is a nice side trip and there is a great gallery in there....number of artists live in the area.
Then across to the East Coast and Peggy's Cove etc...expect lots of tourists in high season and difficulty finding a place to stay.
This the Gaspé Pennisula which you should do if you can but as late into summer as you can ...can be really miserable in spring and early summer
mind the cops.
There are guides for motorcycling in Nova Scotia for purchase or online.
The sheltered Annapolis Valley is 8 degrees warmer in spring so a nice place to kick off...I'd live there in a heartbeat.
---
Ontario Canada rider staying in Cairns Australian Feb to May & Aug-Oct each year
Canada
2018 CB500x
>
2009 CBF1000 sold
• 10 Wee ABS sold • 09 Burgman Exec sold • 10 NT700v sold
Australia> 04 KLR650
• 93 ST1100 sold •
Travel photos
>
https://500px.com/macdoc/galleries
Oz riding >
https://tinyurl.com/y4c7lm87
---
Last edited by Macdoc; 12-10-2016 at

01:31 PM

.
Stromthusiast!
Join Date: Aug 2016
Location: FL's Space Coast
Posts: 307
Did Nova Scotia on a GL1500 sidecar rig back in the mid 90s. I remember the Cabot Trail was rough on 3 wheels. Would be nothing on a DL. Ferries embarked and disembarked bikes first.
You should also plan a side trip to the New Brunswick side of the Bay of Fundy to Hopewell Rocks. Pretty cool!!
http://www.tourismnewbrunswick.ca/Pr...wellRocks.aspx
Stromthusiast!
Join Date: Jun 2015
Location: Richland County Wisconsin
Posts: 1,050
Quote:
What do you want to know? If it's riding related, let's keep it public so everyone can benefit. Nova Scotia's got some great scenic rides.

I spent a fair bit of time in Utah this past summer, and I'm thinking of shipping my bike there next summer to do a lot more...
Yeah, I'm hoping to learn as much as I can here. Hoping/planning on riding up in that neck of the woods next summer. Probably later in the summer.
And I also spent the last two summers in Utah. Awesome!
---
2009 Suzuki DL650
2005 Yamaha RSTD
2002 Triumph Bonneville
1980 Yamaha XS650 chopper

The Best Bike is the Bike You Like
Stromthusiast!
Join Date: May 2016
Location: Halifax, Nova Scotia, Canada
Posts: 27
Nova Scotia eh? Great topic! Great place to ride!! As you can see I live here. Born and raised but have spent a little time away just to help me find myself. I'd be happy to answer any question about NS but I'd like to keep it to biking and share it with other members. If you're coming this way and don't mind some company, give me a heads up. We'll get out a map and go exploring. And that goes for all of you Stromtroopers as well. I've met a handful of tourists over the years and took some time to share some great rides with them. And that was before social media days. I always say to visitors, "Welcome home." and they always know exactly why I say it.
Awesome info...my girlfriend and I are planning to ride to the bay of fundy this coming summer, trying to plan around the tides.