ONTARIO ADVrider: FALL COLORS RIDE 2008
---
CLICK HERE:
ONTARIO ADVrider: FALL COLORS RIDE 2008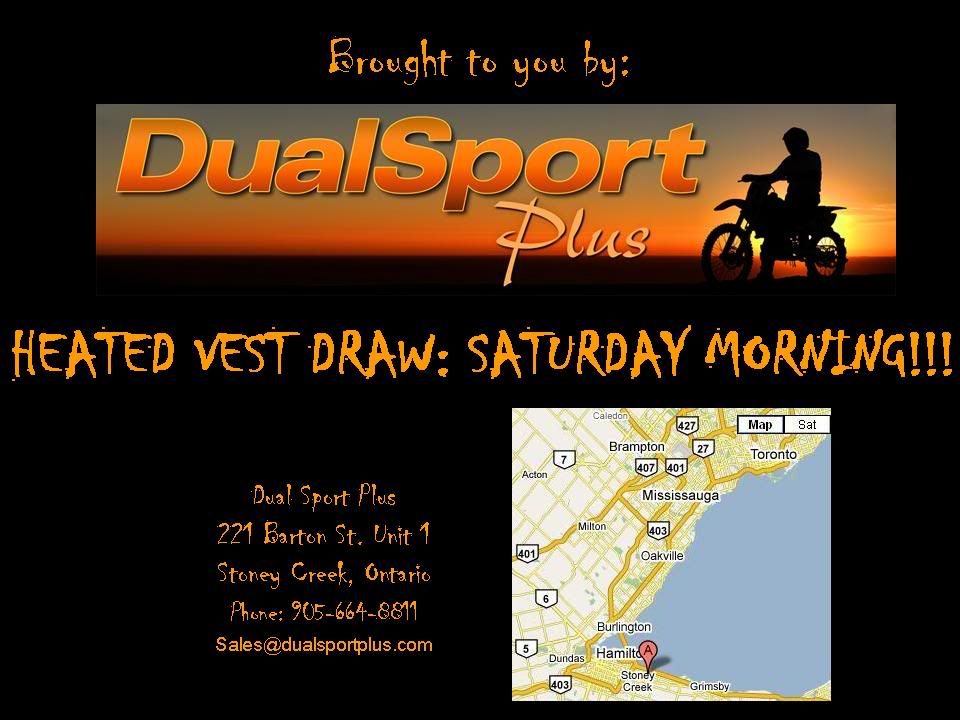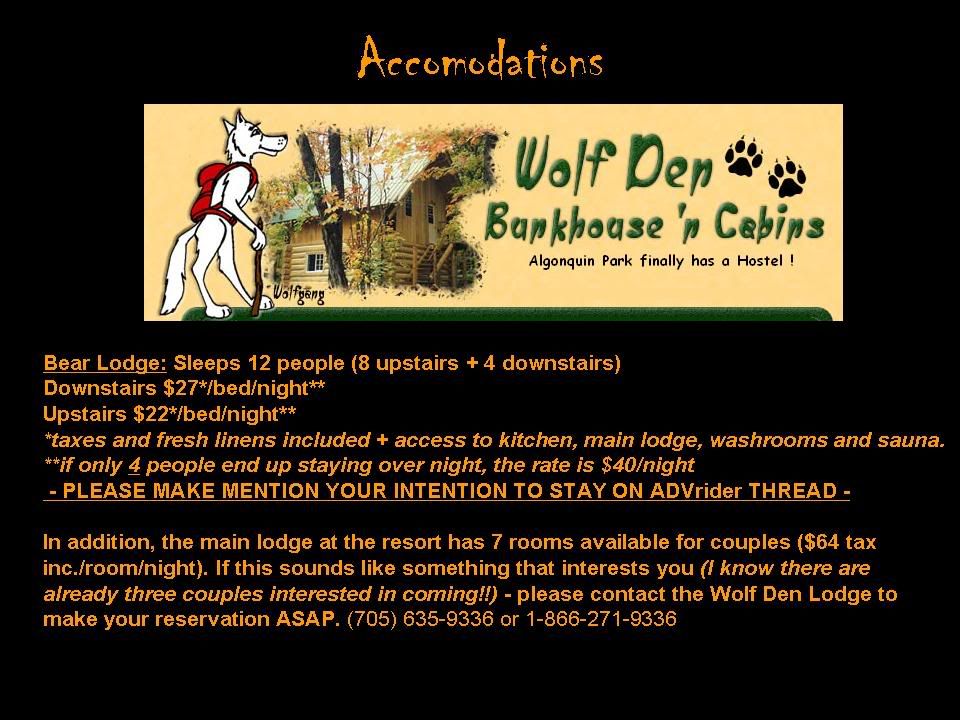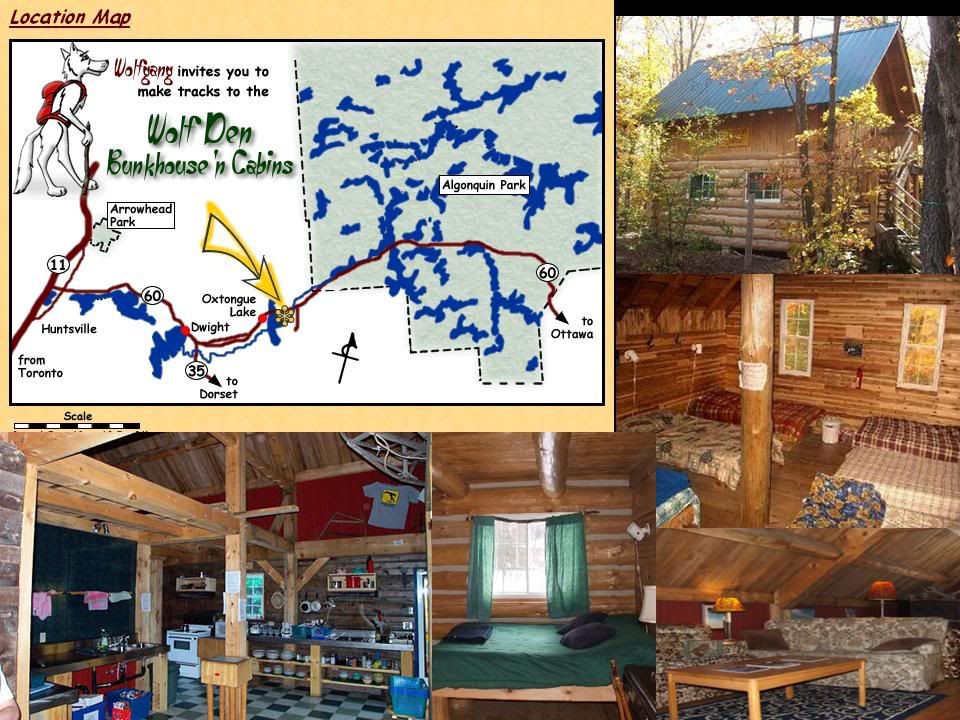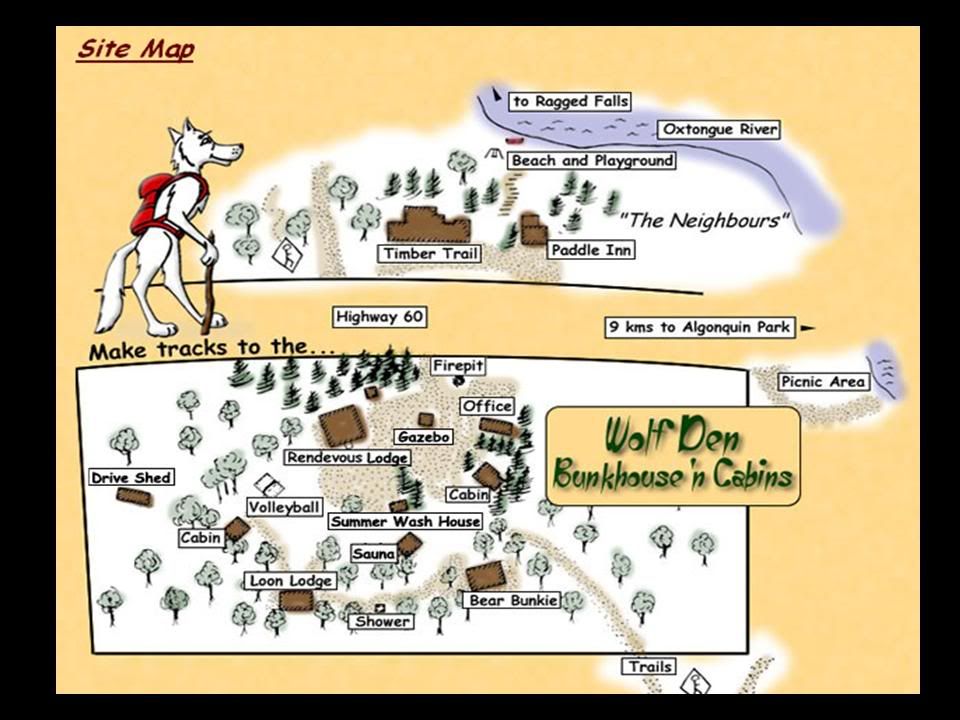 As a formality; please read the disclaimer below:
---
Last edited by Uber-Moto; 10-06-2008 at

10:07 AM

.
FYI... the route will be perfect for both the wee and big Strom!!!
Please see the new banners posted above!!!!!!!!!!!!

Location + Accommodations have changed!!!


Okay folks, we're changing things up a bit. As Bon Echo Provincial Park could prove to be a challenge (it being closed - but not off limits) + the drive/ride out is a bit of a haul. Heaven forbid it snow's that weekend!!!

So, I've reserved us the BEAR lodge at the Wolf Den resort (9km West of Algonquin Park) on Hwy 60. It holds up to 12 people. There are 8 beds on the top floor of the lodge + 4 beds on the first floor (1 bunk + two singles).

Pricing:
Downstairs $27*/bed/night**
Upstairs $22*/bed/night**
*taxes and fresh linens included + access to kitchen, main lodge, washrooms and sauna.
**if only 4 people end up staying over night, the rate is $40/night

In addition, the main lodge at the resort has 7 rooms available for couples ($64 tax inc./room/night). If this sounds like something that interests you (I know there are already three couples interested in coming!!) - please contact the Wolf Den Lodge to make your reservation.

The main lodge houses the dining areas, washrooms & showers, and a fully equipped kitchen. + the cozy lounge, complete with a library, tonnes of comfy couches and chairs, games, TV, fireplace and musical instruments.


I've reserved the BEAR lodge with my VISA card, but everyone pays individually once they check-in. Nevertheless, I need a commitment from at least 4 people (three weeks in advance)... otherwise I will be charged for 4 people @ $40/each even if 2 or 3 show up.

That being said, I plan to show up Friday night/evening and stay two nights.

As for the route, I will be putting together something this week and testing it out this weekend; rest assured, it should be pretty good!!!!!


So let's hear it boy and girls..... who's staying over night!?!?!?!??!?!?!
I'm interested in coming on this ride if I can get the Fri off work.
I'm in the process of registering on ADV so I can respond to Fall Colours Ride thread.
---
"The true adventurer goes forth aimless and uncalculating to meet and greet unknown fate." "O. Henry"
86 HD Softail (170,000 miles)
04 DL650 Suzuki
Quote:
I'm interested in coming on this ride if I can get the Fri off work.
I'm in the process of registering on ADV so I can respond to Fall Colours Ride thread.
Footloose.... looking forward to meeting you.
FYI, there are a more and more women planning on making it out for this ride, should be a good time!
Stromthusiast!
Junior Trooper
Join Date: Aug 2006
Location: Port Huron MI
Posts: 4
I'll be there representin' the Vee's.
Quote:
I'll be there representin' the Vee's.
There you are Dyno....
You're in for an awesome weekend.
In addition to our ride on Saturday, I want to offer everyone the chance to ride Hwy 60 through Algonquin park - since it's not on our route.

God willing, we'll leave at 6:30am and return at ~8am. You'll be treated to a breathtaking "sunrise" ride through the fog and dew. Essentially, we'll ride East through the park, turn around the the East Gates and ride back (120km's round trip).

It's not an overly amazing road to ride in itself, but early in the morning it should prove to be a nice ride.

If you're planning on coming, please try not to wake everyone who wants to sleep in + ensure that you have a full tank of fuel on Friday evening (as there a no fuel stops in the park).
__________________________________________________ ___________
Over and above that:

Have breakfast at your own leisure in the main lodge (~7:30am ~9:30am)
B.Y.O.Breakfast!!!!!! Coffee is provided courtesy of the Wolf Den.

Thereafter, we'll have a riders meeting at ~9:30am + Dual Sport Plus will hold the draw for the heated vest + other goodies!!!!!!!

I hope to be on the road by 10am at the very latest.... you're welcome to come along

We'll stop for fuel once we're near Lake of Bay's (15km's from the lodge) and again in Norland (~112km's down the road). The next fuel stop will be during our lunch break in Port Carling (~117km's away). Thereafter we'll stop for fuel near hwy 35 (~100km's after lunch stop), before we return to the lodge.

Saturday night: B.Y.O.BBQ / dinner - a fully equipped kitchen is at your disposal. If groups of people want to pool their efforts, I'm sure a great dinner can be had. (i.e. a group of four splits breakfast and dinner).

Plan accordingly: Food + gear (based on the weather). Bedding and cooking gear is provided - that should help lighten your load.

Any more questions?!?!?
Just a reminder.. the big day is coming up this weekend.

30+ riders are expected thus far.


Click on the ADV link in the first post to catch up on details.